2
Feed your mind: 8 Twitter accounts to inform and entertain
MANILA, Philippines – It's safe to say that you can find everything on Twitter, from mundane musings to information that can help save a life.
Everyday Juans and Juanas, celebrities, politicians, brands, parody accounts, and even inanimate objects are on Twitter, which means that information that can be found in it is extremely diverse.
But among the memes, bite size poems and stories, feuds, and rants is the occasional account that will draw you in so far that you'll end up browsing its feed for every tweet it has posted. Below are just 8 of many such accounts, covering topics on current events, entertainment, travel, lifestyle, and tech.
Click that follow button and amp up your Twitter feed with information from these:
Open Culture (@openculture)
1200 Free Courses from Top Universities. 40,000+ hours of audio/video lectures. All free https://t.co/Q6aWcru9dW pic.twitter.com/aXZ071Uz40

— Open Culture (@openculture) July 25, 2016
Paramount Now Streaming 175 Free Movies, Including Westerns, Thrillers & Crime Pictures https://t.co/hiJXrvc5tr pic.twitter.com/PhHC0hi8LB

— Open Culture (@openculture) July 26, 2016
@openculture is the Twitter account of Open Culture, a website led by Dan Colman, Director and Associate Dean of Stanford's Continuing Studies Program.
Founded 10 years ago, it's a treasure chest of thousands of cultural and educational media curated from many different websites: online courses by respected colleges and universities, classic movies, audio books, recordings of famous authors reading their own works, important books, language lessons, art and photographs, music, K-12 resources, and even writing tips from literary greats.
And the best part? You can access all these for free!
Official Gazette PH (@govph)
President Rodrigo Duterte Speech during Send-Off Ceremony for the Philippine Delegation in the Rio Olympics 2016: https://t.co/tf1XgnPlRs

— Official Gazette PH (@govph) July 18, 2016
Full Text of the Inaugural Address of President Rodrigo Roa Duterte: https://t.co/5mzifNzpex

— Official Gazette PH (@govph) June 30, 2016
If you happen to be a political geek and you're always looking for full texts of the president's speeches, reports, official documents, archives from the Presidential Museum and Library of the Malacañan Palace, and more – @govph is your best bet. It's a concise yet comprehensive way to keep tabs on the latest on our Head of State.
@govph, or The Official Gazette, is the online version of the official journal of the Republic of the Philippines. Handled by the Presidential Communications Development and Strategic Planning Office (PCDSPO), it went live on July 26, 2010 – the same day former President Benigno Aquino III delivered his first SONA and close to108 years after the very first print edition of the journal came out.
Nat Geo Photography (@NatGeoPhotos)
This scientist hopes to scan every fish species known to man—all thirty-three thousand of them: https://t.co/tA8o6BBcR9

— Nat Geo Photography (@NatGeoPhotos) July 22, 2016
Exclusive photos: A day in the life of a giant panda cub https://t.co/5UvA7DTgrM pic.twitter.com/0rycaPWDzR

— Nat Geo Photography (@NatGeoPhotos) July 22, 2016
Looking for a "feed cleanser" to bump off all those negative rants? The National Geographic Magazine has a long history of delivering beautiful, breathtaking, and sometimes even thought-provoking photographs taken by its esteemed team of photographers around the world. (LOOK: Talented 6-year-old's stunning Nat Geo photos)
@NatGeoPhotos curates some of these photographs which include scenic landscapes, curious animals, and awe-inspiring natural phenomena, to name a few. Aside from photos, the account also posts links to articles on the National Geographic website.
Pepper.ph (@pepperph)
Craving an Icy Treat? Pepper Hacks Razon's Halo-Halo https://t.co/nFMoMzxEX0 pic.twitter.com/5O4RSzwuS2

— Pepper.ph (@pepperph) July 26, 2016
Pepper Guide: The Best Places in Binondo According to Masuki's Ian Ma https://t.co/JX2GbMuBxw pic.twitter.com/ULyAr15Nsy

— Pepper.ph (@pepperph) June 28, 2016
We Filipinos love to eat and are therefore always on the lookout for new places to satisfy our food cravings. And if you like food as much as you like smart, well-written content, you'll love what @pepperph has to offer.
@pepperph is the Twitter account of Pepper, a website that boasts of having "the best food writing in the Philippines"—and deservingly so. On it you'll find not just reviews and news of stores opening, but also hacks of some of our restaurant favorites (Pancake House Chicken and Rodic's Tapa, anyone?), interviews, opinion pieces, and more.
Two Monkeys Travel (@2MonkeysTravel)
We are Kach and Jon, traveling the world for 2 years now! Here's our #love story on the road!https://t.co/OplhUaGO59 pic.twitter.com/ijbmY1ermJ

— Two Monkeys Travel (@2MonkeysTravel) July 6, 2015
Kach and Her mom visited the West Highlands of #Scotland yesterday with @timberbushtours … https://t.co/VQQMugTUAo pic.twitter.com/LEdcm0NSqr

— Two Monkeys Travel (@2MonkeysTravel) July 21, 2016
@2MonkeysTravel links to the travel blog Two Monkeys Travel, brainchild of travel buddies and now-married couple Kach Medina and Jonathan Howe. The couple, a Filipina and a Brit, first met in Luang Prabang 2013 and has been travelling the world together since. (READ: Choose your career or go travel? Why not both?)
While Kach and Howe's blog features chronicles from not only their trips but also those of their writers and contributors, their Twitter account gives followers a more intimate peek of the couple's adventures through snapshots.
Hugot Words (@HugotWords)
Di bale nang single, at least busog.

— HUGOT (@HugotWords) July 28, 2016
Dear Crush, pahiram naman ng puso mo. Panghihilod ko lang. Bato eh.

— HUGOT (@HugotWords) July 28, 2016
If you've been dabbling in local social media for the last year or so, you must already know what hugot is. But to the uninitiated, allow us to briefly define it for you: literally translated, the Tagalog word hugot means to draw or pull something out. In this context, though, hugot is that thing which someone says something seemingly trivial then follows it up with a line that they drew deep from his or her emotions and personal experiences. Or heartbreak, specifically. (READ: Antoinette Jadaone's breakup playlist: Karaoke songs for a broken heart)
The result? Lines ranging from funny to bitter, sarcastic to sad, but overall very much relatable. If you're in need of daily hugot fix to soothe your heart, go follow @HugotWords.
The Verge (@verge)
We tried using VR on the subway, and it was as awkward as it looks on #MrRobot https://t.co/xjqAVJwGSV

— The Verge (@verge) July 28, 2016
Google Maps is testing a Wi-Fi-only mode to help users save data https://t.co/LLv0n61OOi pic.twitter.com/NYCuKI4gUk

— The Verge (@verge) August 1, 2016
Looking for the latest in tech news? @verge has it—along with many others to satisfy not just the serious tech buffs.
@verge posts content from The Verge, a website that "covers the intersection of technology, science, art, and culture." So if you like your tech news, reviews, and other features easy to digest with a dash of culture, art, and more, @verge is your account to follow.
Marty the Smarty (@askmartysmarty)
Wondering why #PokemonGo's mapping system is so on point? Here's why! https://t.co/KOgKGBOkQC

— Marty the Smarty (@askmartysmarty) July 15, 2016
Make your OOTD pic as small as possible! Apps like VSCO let you edit and choose your pic size! #MartyTheSmarty https://t.co/5yBg1MHAj1

— Marty the Smarty (@askmartysmarty) July 16, 2016
Speaking of fun tech accounts, here's another one you'd want to follow. Want to find out how much data you consume whenever you post on your favorite social media page or stream a song or video? Go ask @AskMartySmarty, the newest go-to data dude on Twitter. (READ: The new Twitter guy who's making data education more fun)
With his trademark cap and shades on, the hip yet tech-savvy Marty answers questions from his followers on everything that's related to mobile data from its followers. He also shares helpful content from the Internet, which he curates on his website.
What accounts do YOU think we should follow on Twitter? Tell us! – Rappler.com
---

---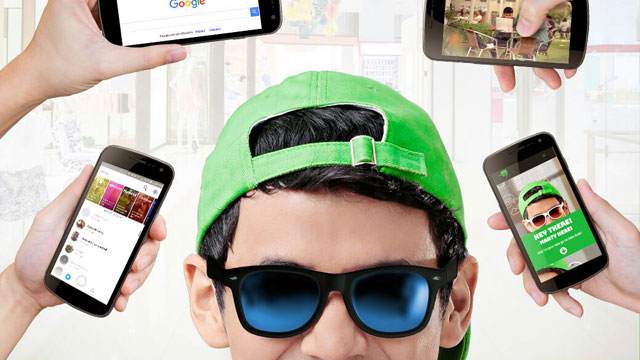 Marty The Smarty is your go-to data dude! He's got you covered for all your concerns on mobile data and how it fits in your life. Visit him at www.martythesmarty.com or tweet him @askmartysmarty.