12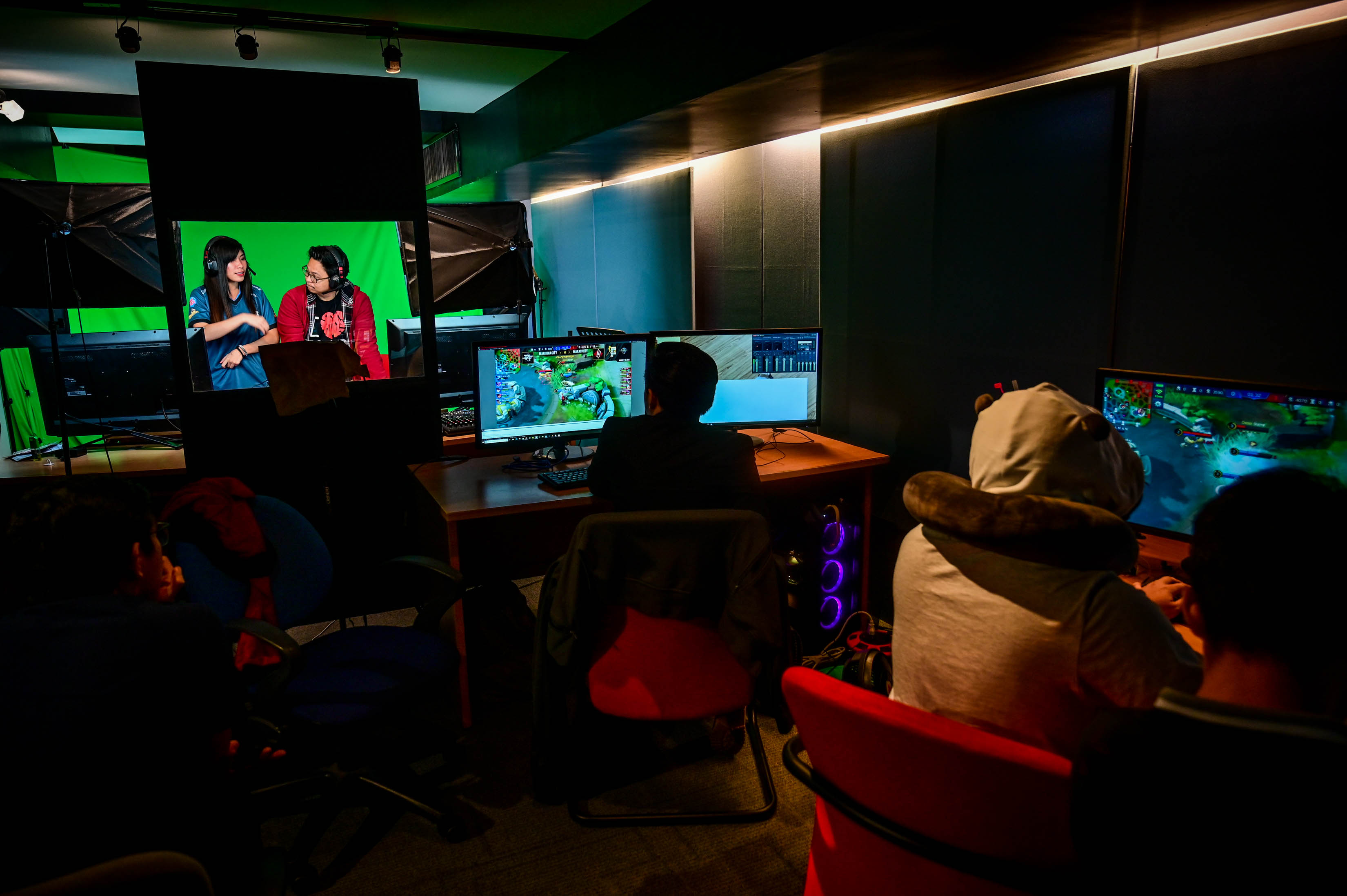 eSports at the grassroots: Bringing the game back to town
desktop
Mobile Legends: Bang Bang tournament 'Bayan Mo vs. Bayan Ko' is taking a ground-up approach to eSports
---
In a side street near the border between Las Piñas and Alabang stands a medium-sized building flanked by a religious youth center on one side and a row of apartments on the other. It is quiet and looks unoccupied, which belies what's been happening there in the last 4 weeks.
At the strike of 5 pm every day, an electric buzz would fill the air as Tron-like lights and the sound of competition reverberates in its halls. Announcers scream for hours as they hype up the games watched by thousands of viewers hooked on the daily match-up.
Computer screens are in every corner of the floor. The rooms are designed to house multiple internet servers, while a studio is equipped with state-of-the-art video equipment.
This old production house has found a new life as the operations base of what's described as the Philippines' largest online eSports tournament, "Bayan Mo vs. Bayan Ko."
"This is where they made RPG: Metanoia," Reginald Liao, head organizer of "Bayan Mo vs. Bayan Ko," told me in an interview.
An inter-municipality Mobile Legends: Bang Bang (MLBB) competition, "Bayan Mo vs. Bayan Ko" started in March this year as an initiative by the eSports World Federation (ESWF). The group aims to transform the Philippines into a home of prestigious eSports competitions.
This includes organizing an "eWorld cup" in the near future.

Rising phenomenon
Video game tournaments have been around since the days of the arcade in the '70s, but with the advent of better technology, faster internet, and social media, came better ways to compete.
eSports, in a nutshell, is competitive gaming at a professional level. The competitions may vary depending on the game. Most, however, are team-based under two categories:
First-person-shooters – weapons-based (often gun-centered) games in the first-person perspective. (e.g. Counter-Strike, Overwatch)

Multiplayer Online Battle Arena (MOBA) – games where two teams of heroes with unique powers and abilities try to destroy their opponents and their respective bases. (e.g. DotA, Mobile Legends: Bang Bang)
There are also one-on-one competitions with fighting games such as Tekken and Street Fighter.
Since the 2000s, eSports has been on the rise. In South Korea – widely considered the mecca of eSports – tournaments can fill out giant stadiums with thousands of screaming fans watching teams duke it out on giant screens on stage. It is expected that, by the end of 2019, eSports will become a billion-dollar industry.
The Philippines, in the past few years, has been trying to play catch up.
This has not stopped Filipinos from dreaming big.
Bayan Mo vs. Bayan Ko
Take the case of "Bayan Mo vs. Bayan Ko." Even though it's relatively new, the tournament's ambitions are not unfounded.
Having just concluded its 2nd season – and with the 3rd one upcoming – "Bayan Mo vs. Bayan Ko" already spans 70 cities and municipalities from Luzon to Mindanao, with close to 300 amateur teams competing, as of last season.


The shoutcasters
"Bayan Mo vs. Bayan Ko" sees itself as a training ground for both players and its staff. Its coordination team is composed mostly of newbies – from their graphic artists to technical crew, to their "shoutcasters."
"Yeah, I've trained these guys from scratch. With gaming, many want to apply. But I'm trying to give chances to those who have nowhere or are unsure of where to go," Reginald shared. "It's a requirement that they should know how to play the game [Mobile Legends]. The other requirements, it's fine that they learn it here."

"Bayan Mo vs. Bayan Ko," in a way, is preparing their shoutcasters to be the faces of the industry. Internationally, these color commentators, who provide energetic play-by-plays during competitions, can become equally as famous as the eSports players themselves.
"It [shoutcasting] is more about delivering the story, how you deliver the emotions. Yung challenge kasi, dapat marami ka ring knowledge at strategies sa game. Kasi kailangan makita mo na yun mga ginagawa kahit di pa tapos. (Shoutcasting is more about delivering the story, how you deliver the emotions. At the same time, there's a challenge in how you need to have deep knowledge of the game. You need to see the strategies as they're being executed)," said Charlie, one of "Bayan Mo vs. Bayan Ko's" shoutcasters.


All of "Bayan Mo vs. Bayan Ko's" shoutcasters do it full time. Joana, who goes by the screen name JeiHan, is an engineering student from the University of the Philippines - Diliman currently taking a gap year. Charlie is a former Vine star during the platform's early days. And, Julia, aka Spicy Baecon, started shoutcasting as a distraction after a heartbreak.
Honing one's skills as a shoutcaster can be lucrative in the Philippines. Many local casters don't rely solely on being competition commentators as their source of income. On their social media channels, they also do livestreams of themselves playing.
You don't even have to be super good in gaming, the "Bayan Mo vs. Bayan Ko's" shoutcasters told me. What you need to have is the confidence to carry yourself in front of the screen, and the charisma to entertain via your commentary.
With an apt following, advertising income from video game livestreaming can bring in a monthly income of P70,000 to P200,000 (some substantially more).


Benet, also known as Prof B, is the most experienced among the "Bayan Mo vs. Bayan Ko" shoutcasters. He serves as a guiding figure to the rest of the bunch. A former English teacher, he now shoutcasts not only for "Bayan Mo vs. Bayan Ko" but for The Nationals (inaugurated in 2019, it's the PBA of Philippine eSports) and the Mobile Legends Professionals League (Moonton's official tournament).
A gamer for over 7 years, it is only now that Prof B considers himself part of the eSports industry. "I consider this the first time. Meron shoutcasting na noon. But madalang ang tournaments. Ngayon nagiging kaliwa't kanan na (Shoutcasting already existed before. But tournaments were sparse. Now it's so common)," he said.
Open invitation
Unlike other competitions, whose definition of going "big" is in terms of venue size, corporate sponsorships, and international tie-ups, "big" for "Bayan Mo vs. Bayan Ko" is about access.
It's opening eSports to the municipal and provincial levels – developing its foundation at the grassroots – before aiming for international prestige.
"Nagulat kami na wala pa palang gumagawa ng nationwide tournament ever (We were surprised that no one has ever organized a nationwide tournament). There are a lot of online and on-ground competitions, but not really coordinated, city vs. city," said Reginald.

The start-up is collaborating with the Philippine Collegiate Champions League – whose school and university-based online tournaments are also mounted by the "Bayan Mo vs. Bayan Ko" team.
Even the choice of game for "Bayan Mo vs. Bayan Ko" is based on accessibility.
The first of eSports titles confirmed for the 2019 Southeast Asian (SEA) Games, Mobile Legends: Bang Bang has become the fastest-growing game in Southeast Asia. This is because the MOBA game is free-to-play for mobile users, and thus is more readily available compared to other eSports titles.
Currently, Mobile Legends has 500 million downloads and has 75 million active players, according to MLBB's developer, Moonton.
As of now, "Bayan Mo vs. Bayan Ko" only holds tournaments for Mobile Legends. But it aims to become multi-game soon with the inclusion of Rules of Survival.
"I don't see any other games that would fit as a good national tournament," Reginald said, emphasizing once again how access is a significant factor in making the tournament truly nationwide.
Challenges
For Reginald, reaching celebrity status as an eSports athlete is still a challenge in the Philippines.
He admitted that, even though the industry is promising, institutional flaws hinder the development of a competitive environment comparable to neighboring Asian countries.
"It's not even a chicken and egg thing," he said. "There are teams and sponsors. And sponsors won't fund if teams are not good enough."
Reginald explained how distance and the lack of good internet connection have not made it easy to expose people to fast internet-dependent mobile games and have them attend events at the same time.

And this is just the first bar in a row of hurdles. Because of the lack of access and exposure, it follows that actual competitions (not only informally set tournaments) are not as frequent.
For example, for every eSports game, there are just about 1 or 2 big local competitions per year. "In a hundred competing teams, possibly, only the top 4 will get a chance at sponsorship. But, then again, most of the attention will be on the winner," Reginald said, describing the scouting process in the Philippines.
He added that even if a team gets a sponsorship many times, they are still on a per-competition basis. And local prizes are often not enough to support a team in the long term. "It's not really a place where you get money kahit manalo ka (even if you win)," Reginald pointed out.
"Few and inconsistent" is the way he best described support for eSports.
Though fixing the internet problem here is out of the hands of "Bayan Mo vs. Bayan Ko," at least in the competition space, they can provide a fertile training ground that offers a higher chance of discoverability for promising eSports athletes not only in the Metro but nationwide.
Since "Bayan Mo vs. Bayan Ko" is all online and doesn't require physical appearance or registration fees, teams from everywhere and from all walks of life get to join – from professionals to university students to 13-year-olds from Palawan.

Reginald said it's not even about the cash prize. Many already get a sense of fulfillment when they end up beating local teams and get to represent their towns or cities in the competition.
At the end of the day, just like any sport, everything starts from the love of play, from the sense that you are part of something. This is what "Bayan Mo vs. Bayan Ko" wants to instill in the participants, and advocate for.
The next level
Structural problems and all, whether it's in competing as an eSports athlete or being a shoutcaster-cum-streamer, the potential of a local eSports industry is undeniable. It is the way of the future, and all signs point to us in the Philippines following suit.
I am reminded of skate culture in the '80s and the '90s. Where from a niche interest, it ballooned to encompassing all forms of media – from movies, music, video games, and to skate celebrities, such as Tony Hawk and Rodney Mullen, becoming household names.
But, just as what skate culture (or the lack thereof) was to the Philippines, and to "Bayan Mo vs. Bayan Ko's" point, aspiring for a competitive eSports landscape will be all for naught without widespread access and, from that, support.
As Prof B said, "Noon, ang players couldn't even go to events. So ang eSports ang pumupunta sa kanila, bayan-bayan. Good thing nagkaroon ng ganito [Bayan Mo vs. Bayan Ko]. It's now easier to be part of this industry. (Back then, players couldn't even go to events. eSports went on caravans from town-to-town. It's a good thing what Bayan Mo vs. Bayan Ko is doing. It's now easier to be part of this industry.)" – Rappler.com
Team registration for "Bayan Ko vs. Bayan Mo" Season 3 is now open. Visit their page to learn more.
"Bayan Ko vs. Bayan Mo" is also looking to train aspiring shoutcasters. Interested applicants may message their page for more details.
#Detours is a column that aims to give you an inside look into under-the-radar communities, groups, individuals, and practices in the Philippines.
Read more #Detours stories: