3
Productivity tips: 6 steps to activate your ideas

MANILA, Philippines — When it comes to productivity in the workplace, there are two kinds of people in the world: those who embrace gadgets and technology wholeheartedly, and those who prefer ye ways of old. Those who operate with the good ol' pen and paper love it because a new page is associated with starting anew, brainstorming, and letting creativity take you over. However, if you operate solely like a scribe, that might hold you back from reaching optimal creative productivity.
Jotting down notes on your planner when you have a dozen projects at a time can be overwhelming and messy to say the least. Technology has found ways to condense this process into all-in-one productivity devices that aren't just practical, but also efficient.
A good example of one of these gadgets is the tablet — a handheld hybrid between a laptop and a phone. Some of these tablets were designed to fuse note-taking methods of writing with the efficiency that technology is known for, like the Samsung Galaxy Tab A with its enhanced S Pen. Because of the functional S Pen, this tablet, doesn't do away with the creative power of doodling. And at the same time, its LTE capabilities allow for fast information gathering and sharing. It's the right tool to turn all these ideas and random bursts of inspiration into realities.
For the skeptics out there, you can use the tablet the same way you would pen and paper without the pitfalls. But if you're finding it hard to make the transition, here are a few hacks on how to activate your ideas through the Galaxy Tab A with S pen. Just hover over the number nodes on the infographic starting from 1 to 6 on the pen and paper side and the tablet side to reveal the process. — Rappler.com


---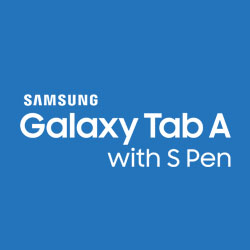 The Samsung Galaxy Tab A is your ultimate productivity device that helps you activate your ideas through its enhanced S-Pen, optimized 4:3 Viewing Ratio and LTE phone functionality, allowing you to effortlessly create and share content on the go.