6
Small steps that lead to a 'bigger,' better you
MANILA, Philippines – What comes to mind when you hear "go big or go home?" Do you tend to second-guess yourself and say that there will be other opportunities to do better? Or do you tell yourself to just give it all you've got?
Leaving the country to study abroad, taking the leap with your significant other to settle down, or leaving your job to pursue your passion: these are some big choices that people have to make at one point in their lives.
The fear that comes with change is inevitable. But realizing and accepting that this change will benefit you in the long run will motivate you take that risk.
This mindset also applies to simple lifestyle choices. When you push yourself to go out of your comfort zone, even in little, everyday things, you open up the possiblity for better things.
All that is even easier to achieve today with the help of technology and a reliable mobile connection.
Stay inspired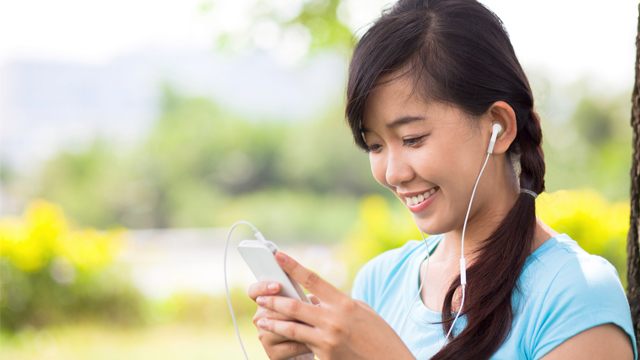 A few tweaks in your daily routine can go a long way in enhancing your drive and productivity. Not a morning person? Maybe it's time to shift things a bit and consider how you can appreciate waking up early even if your body refuses to. Early risers are more proactive, able to handle problems efficiently, and are better planners.
So how can waking up early make a big difference? You'll have more time to do things and accomplish your tasks for the day. You'll also have more "me-time" if you're able to manage your time properly. No more procrastinating and rushing things that don't need to be rushed.
Instead of just loading a feel-good playlist while you work, you can take "motivational breaks" throughout your day, by listening to podcasts or streaming videos that can help you put things into perspective. Online, there's a wide range of content from tech and finance tips to inspiring speeches and talks. Listen to these on your way to work, while you're in the shower or right when you wake up to start your day right.
Know what you eat and get moving

Watching your portions is one thing, but actually knowing what you're putting in your mouth is another. If you're used to eating a half-cup of rice (instead of one cup) for dinner, why don't you also replace white rice with brown rice? Or skip the fried food and go for steamed? Aside from helping you shed pounds, these steps can benefit your overall health and how you feel everyday.
Monitor your overall health with apps that can track your daily steps, calories, heart rate, and the like. If you can't go to the gym, you can download workout apps or stream videos on YouTube, Facebook, Snapchat and Instagram that can guide your fitness journey.
Learn something new every week

Being committed to your career doesn't mean that you stop everything else you're doing in life. You just have to learn how to manage your time better so that you can still pursue your passion or something that excites you on the side. Technology doesn't just help you do work-related tasks better – it can help you learn new skills.
During your free time, learn a new dance move, or practice calligraphy with the help of Youtube tutorials. Be inspired to re-style your favorite plain white shirt with celebrities' #OOTD snippets on Snapchat. Or why not learn a new language and get a teacher that can offer you lessons via Skype? If your schedule permits, go ahead and browse short online courses that can provide certification.
Make smart purchases

As you start to earn your own money and gain more responsibilities, you begin to figure out where you can cut costs.
Simplifying your life will give you room to spend on other necessities or even things that you want. You also gain more savings if you're able to either lessen your expenses or buy things that are of good quality.
Something as simple as getting a better deal for your mobile plan can already make a big difference. Instead of signing up for plans that limit your data for a premium, you can choose to subscribe to a promo that can give you big data – such as 1GB – that you can even pass on and share with your loved ones. The best part? It will only cost you P50 for 3 days. With all that data, you can download or stream videos, listen to your favorite music tracks, play games non-stop, and be online on social media as much you want.
Make choices that will not only get your time and money's worth, but also give you more than you deserve. Imagine all the things that you can achieve if you just take one small step to go big. – Rappler.com

It's time to go BIG with the all-new #SmartGigasurf50! Enjoy a massive 1GB of shareable data + 300MB for streaming YouTube, iflix and more for only P50! Know more about Giga Surf 50 here!