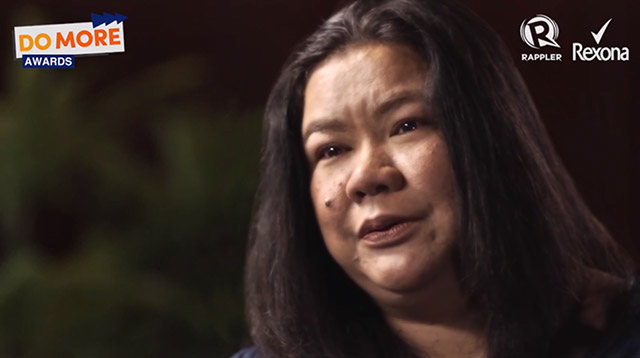 Susan Ople feels that every Filipino worker around the world is an extension of her own family.
She was the former undersecretary of the Department of Labor and Employment. Her father is the late Blas Ople, former senator and Foreign Affairs secretary.
Today, Susan is the president of the Blas Ople Policy Center (BOPC). The center's core mission is to assist distressed overseas Filipino workers (OFWS) in various parts of the world.
She says, "Ang gusto lang namin is matulungan sila and maparamdam yung pagmamahal and pagmamalasakit na pinaramdam rin ng tatay naming nung buhay pa siya (all we want is to help them and let them feel the love and care that my father extended to them during his lifetime)."
As the driving force behind the BOPC, Susan becomes a bridge between OFWs and the government. On a daily basis, she encounters stories of OFWs being abused, discriminated, or encountering life-threatening situations. Everyday, Susan tries her best to bring them home. She says that her fulfillment comes from seeing these workers reunited with their families.
Watch a profile video of Susan and the other finalists of the Global Pinoy category below.

Rescuer
Susan recounts one particularly emotional story, when they facilitated the return of Gerard Gonzalez, the Filipino who was part of the group captured by pirates in Somalia in 2010.
"He was held captive for three years. The longest ever [for a] Filipino hostage in Somalia. And he did not even receive his pay. There was an injustice in both his labor conditions and in the crime of holding him captive. That was the more eye opening case for me," Susan says.
"Nung umuwi siya (when he arrived home), he came to see us," Susan narrates. "Ang pinaka masarap kasi yung kuwentuhan na wala na yung media, walang taga gobyerno. Yung kami kami lang. (The best part is when we have a conversation without the media, without anyone from the government. Just us). In some of them, you see traces of trauma. Di mo maaalis yun eh. (You can't take that away). But the fact na naghihintay na sa kabilang room or sa baba yung mahal nila sa buhay, parang there's always that sense of hope. (But the fact that their loved ones are already waiting for them in the next room provides that sense of hope.)"
However, Susan does not necessarily believe that all OFWs should stop leaving. "A lot of OFWs' lives have been enriched not only financially, but also intellectually and spiritually when they left for abroad," She explains.
Rather, her dream is for OFWs to come home to a better country. "[I want] them to realize that being an OFW is not forever. Even if you're successful, if your family [is] broken apart… I just want to have a more empowered community of migrant workers," she adds.

Empowering others

Recently, Susan went to Hong Kong, Macau, and Taiwan to give lectures on human trafficking, illegal recruitment, and financial literacy. She believes that giving OFWs these information will enable them to take control of their own situation overseas.
In order to keep encouraging OFWs, Susan strives to Do More. "I think I owe it to my sector to keep learning. I really feel a strong sense of obligation to understand what's going on in the world because my constituents are spread all over the world. That's why I study the news, I watch CNN, I read a lot of books. I really try." She explains that understanding the situation better motivates her to keep fighting on their behalf.
"There's nothing wrong with going overseas to work," Susan reiterates. "Going abroad to work is natural in today's context of migration. [But] there's something wrong when we can't offer alternatives. It's not having enough factories to employ workers. It's not having enough jobs for women so they can stay at home and be with their families. That is the one driving them away."
Susan will keep fighting until OFWs' rights are fully recognized. She will not stop teaching, hoping, and learning. –Rappler.com
Follow Susan Ople on Twitter: @susanople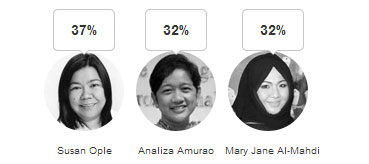 These figures reflect the result of the public voting phase held from October 24 to November 24, 2013.
The final score for each finalist will be computed from the ff:
Public Vote - 40%
Panel Vote - 60%
Total - 100%