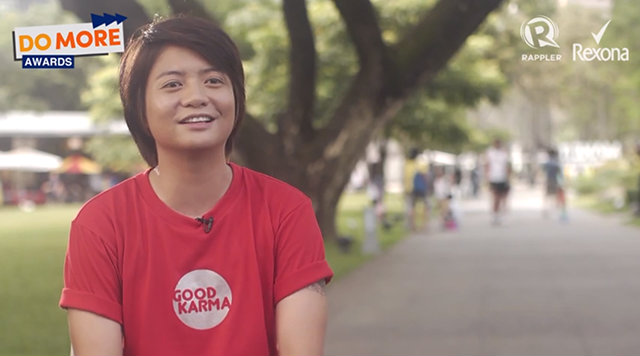 At first glance, Mimi Lucas seems like a typical college student. She's a bubbly 24-year old who loves talking about frisbee, saving trees, and her milk tea business.
But she's also a fast-rising athlete who won a bronze medal in the 2007 Southeast Asian (SEA) games. And she did it when she was just a college freshman.
More recently, she was nominated as Women's Duathlete of the Year in the 2nd Swim Bike Run (SBR) Awards. She is also a top 3 placer in the Subic International Triathlon, the Cobra Ironman, and the Elite Powerade Duathlon.
Mimi is currently finishing her Industrial Engineering Degree at the University of the Philippins (UP) Diliman. She is also a medal-earning member of the UP Varsity Swim Team.
Mimi Lucas is a Challenger not just because of her age, but because of her passion to inspire others.
Watch a profile video of Mimi and the other finalists of the Challenger category below.
Headstart
Mimi got bitten by the sports bug early on. At 6 years old, she started joining her dad's swimming lessons. She remembers joining her first triathlon when she was in grade school. Since then, she's actively found ways to push her body to its limits.
Mimi says, "Yung sports community, may ibang level of happiness siyang nadadala sa iyo. Ibang klase rin talaga pag may kasama ka na gumagawa ng mga bagay na gusto mo rin ginagawa (The sports community brings you a different level of happiness. It's different when you're doing something you love with like-minded people)."
Nowadays, Mimi considers frisbee as her main sport. But more than winning a brand new set of medals, she looks forward to the camarederie that it offers.
"Yung friendship na nabubuo, as in. Ang daming experiences. Yung sports community iba yung salubong, yung pag accept sayo (The friendships formed are something else. There are so many experiences. The sports community has a special way of accepting you)."
Setting the pace
Although Mimi continues to be an excellent athlete, she has decided to focus more on inspiring others to be fit and healthy. Her lightbulb moment happened when she observed how her classmates would focus on academics or partying and neglect taking care of themselves.
She sought ways to help. Through her organization, she heads a project that holds open-for-all activities, such as Takbo Thursdays or Fitness Fridays. She uses her knowledge in sports to teach beginners about proper warm-ups, workouts, and improving their speed for fun runs.
"For us in UP, ang daming tumatakbo sa acad oval (many of us in UP run around the acad oval)," Mimi explains. "Pero parang lagi na lang silang nalilimit sa walk-run, walk-run. I know na they could do more (but they always seem to be limited to walk-runs. I know that they could do more)."
Though she calls her methods simple, Mimi finds joy when her participants start to improve and perform better.
Her focus is not on collecting personal accomplishments. Instead, she wants to continue helping other people to Do More.
"For me, Doing More is actually being like a champion," She says. "You don't just do something for yourself. You find fulfillment, achievement just by seeing yung improvement din ng ibang tao (improvement in others). And yun, dun ka nagiging masaya pag nakita mong natutuwa din sila sa nagagawa na din nila (and thay's where you find joy – when you see them happy that they can do what you do too)." – Rappler.com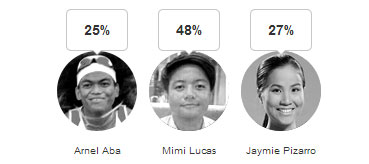 These figures reflect the result of the public voting phase held from October 24 to November 24, 2013.
The final score for each finalist will be computed from the ff:
Public Vote - 40%
Panel Vote - 60%
Total - 100%