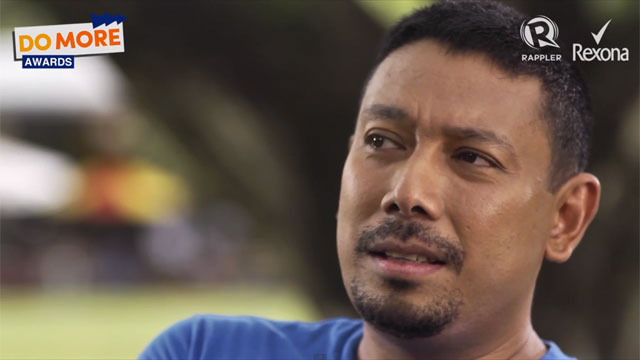 Luis Oquiñena's vision is to end poverty for 5 million Filipino families by 2024.

As the executive director of Gawad Kalinga (GK), he rallies for support from volunteers across the country, and connects with potential partners from other nations as well.

Luis says, "Walang Pilipinong dapat squatter sa sariling bayan." (No Filipino should be a squatter in his hometown.)

He recounts the story of a man who lived inside a cemetery with his family for 40 years. When GK gave him his house keys, the man happily exclaimed that, finally, he had his very own address. It was a dream come true.

For other beneficiaries, living under a roof means being able to look for jobs, worrying less about their families' security, and finally taking root in a community.

Luis believes that providing a proper home makes all the difference for the poor. "Pag ikaw ay umuuwi sa isang tagpi-tagping bahay, ang pananaw mo sa buhay ay tagpi-tagpi rin (when you go home to patchwork house, your outlook in life is patchwork as well)."

"So if 5 million of our countrymen live in dire straits, how can we continue to aspire for bigger and better things for ourselves? This is about building that culture of sharing and caring and leaving no one behind… bayanihan na walang naiiwan."
Watch a profile video of Luis and the other finalists of the Civic Hero category below.


Firm foundation

Luis narrates how at first, everyone was dubious about GK's ability to succeed. "When we started, people were telling us we cannot get free land for the poor. Now land is flowing right out of our ears, people want to donate. We know that we can build houses efficiently and inexpensively."

Now, he wants to Do More by encouraging the youth to be a part of the growing movement.

"We need to inspire more volunteers. We need to build a culture of sharing and caring amongst the young. They need to do more than just aspiring to become a doctor, they need to do more than just paying the right taxes, they need to see that if we do more for others, there would be abundance for everybody."

For his efforts, Luis, along with GK's founder Tony Meloto, won the SKOLL Entrepreneur of the Year Award in 2012. Their 1 million euro prize money went straight to GK's fund. Luis was grateful for the recognition it brought to the country and to their cause.

"We are no longer judged as the home of the Smokey Mountain," Luis says. "We are becoming recognized as the land of the honest and we are not begging for support from the world anymore. The Philippines is starting to rise on its own strength. When we talk about Asia now, it's not just about China, there's also this Philippines."

Building Futures

Following a devastating earthquake that struck the Central Visayas, Luis went to check GK villages in Cebu and Bohol. He remains hopeful even after the earthquake affected some of GK's beneficiaries.

"I see that 10-15 years from now, this will be a very different country when the Filipino youth will not think of themselves but will think of the common good," Luis opines. "I think this will be a very beautiful country that we will all be proud of."

His dream for the country also has a personal foundation: "I really want my kids, my family, to grow in a country where they can interact with just about anybody and feel safe. I want a country that they will inherit that they can really be proud of because everyone is equal with they're worth whether rich or poor – everyone is equal in worth and dignity."

His message to others who want to help: "I guess this is the best time for the Filipinos at this moment. We should do more for our country." – Rappler.com
Follow Gawad Kalinga on Twitter: @GawadKalingaHQ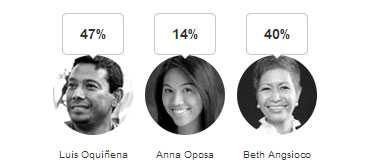 These figures reflect the result of the public voting phase held from October 24 to November 24, 2013.
The final score for each finalist will be computed from the ff:
Public Vote - 40%
Panel Vote - 60%
Total - 100%