3
Holy Saturday retreat: The Easter invitation
To be able to identify our weaknesses
and our strongest temptations –
that is to already take the first step to conversion
towards becoming a new self.

It means to allow Him who can make the silent stones sing
roll away and liberate you from your tomb,
and to let Him summon His angels
to help you pry yourself out of the darkness
of your previous life
and to step into His light.

This is the heart of Easter –
to allow the love of God
and the power of that love
to transform us.

We hope to follow in the footsteps of the Risen Lord
as we leave empty the tomb of our old selves.
The Easter invitation is clear:
"Empty your tomb!"
The Hope of Easter
It may be the case that you are not so optimistic
about changing yourself and improving your life.
The memory of countless past – and failed – attempts
to reform yourself may discourage you.

But Easter is about hope
precisely when it has been devastatingly dashed to the ground.
Easter is about "God making all things new":
More than any other season,
it's the time to get rid of old wineskins,
old ways of seeing things and doing things,
and making the decision to believe –
and to hope against every hope –
that this time may just be different.

Just as our Lord has turned clichéd sayings
into something refreshing and subversive on Holy Thursday and Good Friday,
he does the same for Easter, renovating a familiar phrase
and teaching us something novel.
The Easter mandate is not
"to cross the bridge when we get there!"
Rather, it is this: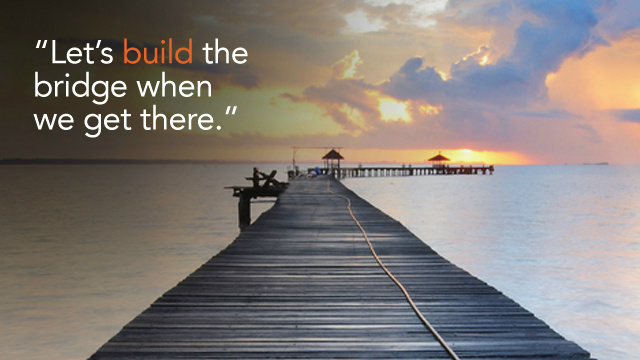 We need to build the bridge
when we get there
because in so many places in the world,
the bridges have yet to be built
and they need to be built.

As children of Easter,
we are called to be bridge-builders.
Bridge image via Shutterstock