8
[Budget Game] Did Congressmen favor your budget priorities?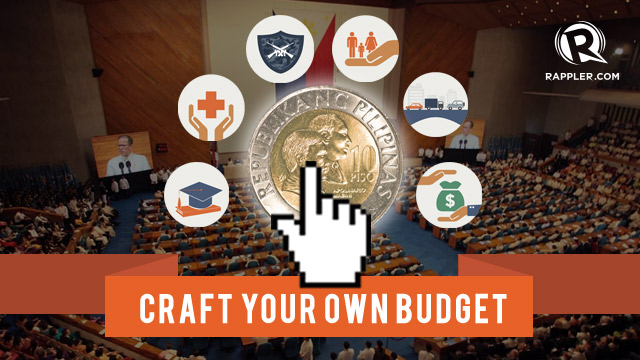 MANILA, Philippines – The House of Representatives on October 22, Wednesday, approved House Bill 2630 or the General Appropriations Bill for 2014. The approved GAB hardly changed from the P2.268 trillion budget that the Aquino government proposed in the National Expenditure Program for 2014.
The budget includes the following:
P316.402 billion for education (inclusive of DepEd and SUCs budgets)
P97.964 billion for social welfare (inclusive of DSWD and DOLE budgets)
P85.123 billion for health
P306.147 billion for infrastructure (Inclusive of DPWH, DA and DAR budgets)
P182.378 billion for defense and security (DND and DILG budgets)
P440.931 billion for debt-servicing
Share your views, craft your own budget










Do you agree with the spending priorities so far? If granted the power over the purse, which services will you fund more? Try your hand at budgeting and promote your favorite advocacy through this game.
1. You have a budget of P100 in P5- and P10-denomination coins. Of this amount, P30 is automatically appropriated to debt servicing and cannot be reallocated. Craft your own version of the national budget by clicking on the thumbnails representing each sector to allot these coins to services/sectors you want to fund. Click on the coins below each icon to reduce the amounts allotted per sector.
2. Your response will be averaged with other user responses to come up with the public's version of the budget.
3. Submit your response, see how it affects totals per sector, and see how different sectors respond to your decision. Be aware that budgeting is also a balancing act, a matter of prioritizing where scarce resources should go. Spending more on one sector could mean cutting funds for another.
4. Spread the word on what you think needs to be prioritized by submitting your vote through your favorite social networks.
5. Through the comments section, tell us what you think are specific programs that you feel deserve to be funded, and share your thoughts via your favorite social media networks.
General Appropriation Bill 2014 (HB 2630)
| Sector | Percentage |
| --- | --- |
| Education | 22% |
| Health | 6% |
| Defense & Security | 13% |
| Social Welfare | 7% |
| Infrastructure | 21% |
| Debt Servicing | 30% |
People's Budget for 2014
| Sector | Percentage |
| --- | --- |
| Education | 20% |
| Health | 20% |
| Defense & Security | 20% |
| Social Welfare | 20% |
| Infrastructure | 10% |
| Debt Servicing | 10% |
Thank you for submitting your proposed budget! Click to see how your priorities affects the people's budget.
Click to share your priority sector: .
Here's how affected sectors could potentially respond to your proposal:


Thank you for increasing the education budget. Now we don't have to hold classes under the mango tree.
The constitution says education has to be prioritized. Because you cut the budget, school kids will have to share the same desk.
Same reaction to education


Glad the health sector is getting a boost! Now we're a step closer in attaining universal health care coverage!
Now that you've cut the health budget, where will poor patients go?
Same reaction to health


Thank you for increasing the defense budget! Now we can have our grounded C-130s repaired.
You cut the defense budget? Don't blame us if we fail to respond to terrorist attacks!
Same reaction to defense-security


With that budget, we can build more roads and bridges!
You cut spending on infra again? We need to spend on infra to sustain growth, create jobs.
Same reaction to infrastructure


Thanks for being a good creditor.
If we don't pay our debts, we won't be able to borrow again!
Same reaction to debt service
Keep watching the process
The budget process is far from over.
At this stage, the appropriations bill is referred to the Senate for further deliberations. At this level more amendments may be made. Senators may opt to reduce or increase appropriations for certain items. Learn about the possible scenarios through this infographic: Slides and ladders: Understanding the budget process.
After the senators approve the bill on third reading, the Senate and the House versions are reconciled at the bicameral conference committee level, traditionally referred to as the "third chamber," where further changes may be made or inserted.
Thereafter, both houses of Congress have to ratify the bicameral version, which goes to the President's office later for review and final approval.
The President has the option to veto line items in the budget. Beyond that, as the controversy over the Disbursement Acceleration Program has indicated, the President's prerogative is so extensive that, while implementing the law, he can impound portions of the budget approved by Congress and re-shape spending the way he wants.
Clearly, each step of the process is open to abuse. Vigilance is a must. – Rappler.com
Track key issues related to the budget process by following #BudgetWatch.