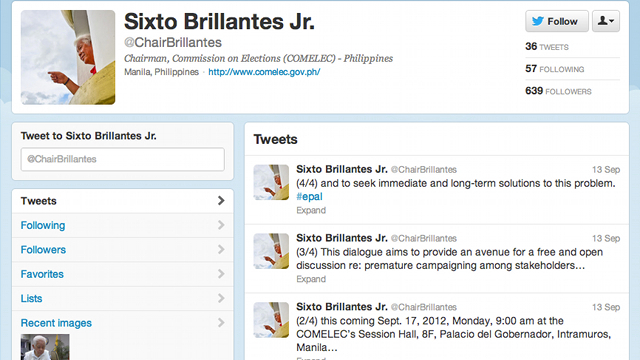 MANILA, Philippines - It's not always easy to teach an old dog new tricks. But in a world where social media is becoming even more important, even a 73-year-old veteran lawyer is willing to try something new.
Welcome to the Twitterverse, Commission of Elections (Comelec) Chairman Sixto Brillantes Jr.
"The elections may be a trending topic next year," he said.
Brillantes joined the popular microblogging and social networking service early this month, much to the surprise of many netizens.

"Initially, I was having a hard time familiarizing myself with the sophistications of Twitter," Brillantes told Rappler in an email interview. With the help of his staff, he eventually familiarized himself with the site.
"[I wanted] to make myself more accessible to the public," he said.
Social media is expected to play a huge role in the coming 2013 mid-term elections, according to Miriam Grace Go, author of "Ambition, Destiny, Victory," a book about the 2010 presidential elections.
There's also a more practical reason behind the social media plunge: "This will also lessen the daily requests for interviews, especially for phone patches."
Brillantes on board
People might be surprised to know that everything on his Twitter account is by the chairman himself. He said he checks it in the morning and before he heads back home from work.
When he doesn't have time, Brillantes goes old school -- he writes down what he wants to Tweet on paper and passes it on to his staff.
"I believe that Twitter and other social media tools will be essential for [Comelec] in order to ensure the active participation and engagement of Filipinos, more particularly the young generation," he said.
It'll come in handy during the elections next year, Brillantes noted.
He isn't exactly the most active person on Twitter. As of posting, his last tweet was sent on September 13. But he's already used his account to warn voters against "epals," or those who campaign prematurely.
"Remember their faces now and forget their names come election day," he said on Twitter.
Flooding on Twitter? He's ready, the 73-year-old said, well-aware of the sheer number of mentions he's bound to get as the elections draw nearer.
For the elections, he plans on asking his staff to help him respond to questions and concerns sent to him via Twitter.
"With the advent of social media, my Twitter followers as well as Facebook friends will be seeing how the Comelec is fully preparing for the 2013 elections," he said. - Rappler.com
View the Elections 2013 Microsite here.
More from #PHVote, Rappler's 2013 Election Coverage: