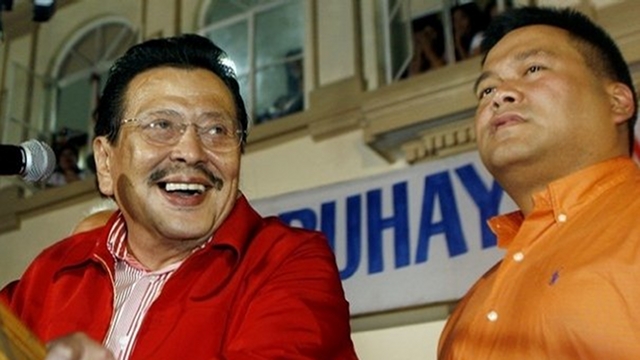 ESTRADA BRAND. Pulse Asia says Rep JV Ejercito's use of the name "Estrada" boosted his survey ranking. File photo from former President Estrada's Facebook page
MANILA, Philippines – What's in a name? For 2013 senatorial election surveys, a lot.
Pulse Asia President Ronald Holmes admitted that the use of popular political names affected the ranking of senatorial aspirants for the 2013 midterm elections.
Holmes made the observation in relation to the August 31 to September 7 Pulse Asia nationwide survey on Filipinos' senatorial preferences.
In an interview on ANC Presents: Road to 2013, Holmes said names were a factor in the performance of the following senatorial bets:
1. From JV Ejercito to JV Estrada
Holmes said the change in name helped San Juan Rep Joseph Victor "JV" Ejercito. Ejercito's ranking went up to 3-5 in September from 6-9 in May.
The reason? Holmes said changing his name from "Ejercito, Joseph Victor 'JV Estrada'" to "Estrada, JV Ejercito" was a factor.
"The use of the name Estrada brought an increase for JV Ejercito's rank such that he moved to the first half [of the magic 12]," Holmes said.
Ejercito's father, former President Joseph Estrada, told the Inquirer he advised his son to use his screen name.
"I told him to use 'Estrada' instead of 'Ejercito.' More or less, that's the reason why he's improving in the surveys," the elder Estrada said.
2. Juan Ponce Enrile 'confusion'
Holmes said another political son benefitted from his father's name: Cagayan Rep Juan Ponce "Jack" Enrile Jr.
The Pulse Asia president admitted that many respondents may have confused Rep Enrile for his father. The Senate President has been reaping high survey numbers after presiding over the impeachment trial of dismissed Chief Justice Renato Corona.
In the May and September Pulse Asia surveys, Rep Enrile did not use his own nickname "Jack" and he is instead listed as "Enrile, Juan Ponce 'Enrile' Jr.'"
"People might think that Jack Enrile is the Senate President. The confusion might still be there," Holmes said.
3. The curious case of Nancy Binay
Vice President Jejomar Binay's daughter Nancy Binay is also doing well in the surveys thanks to her family's name.
In the September survey, Nancy Binay placed 12-15 or well within the so-called winning circle.
Holmes said this was unique because she has no background in public office.
Nancy Binay has also not declared any intention of running for the Senate. She is involved in the campaign only as deputy secretary-general of her father's United Nationalist Alliance (UNA).
4. Battle of the Magsaysays
Speaking of political families, two relatives are running in the same Senate race: former Senator Ramon "Jun" Magsaysay Jr and Zambales Rep Milagros "Mitos" Magsaysay.
Rep Magsaysay is the daughter-in-law of Jun Magsaysay's cousin, former Zambales Governor Vicente Magsaysay.
UNA Spokesperson JV Bautista said in the same ANC program that the drop in Rep Magsaysay's survey ratings can be attributed to the entry of the former senator in the race.
Rep Magsaysay was first to declare her senatorial bid under UNA but the ruling Liberal Party (LP) also decided to field the former senator under its ticket.
From a rank of 22-27 in May, Rep Magsaysay dropped to 24-33 in September. In comparison, former Senator Magsaysay placed 12-16 in the September survey.
"Bumaba kasi si Congresswoman Magsaysay because of the Jun Magsaysay factor eh (She went down because of the Jun Magsaysay factor)," said Bautista. "When Jun Magsaysay entered the picture, I think that was probably purposely done to bring her down and she was brought down."
LP stalwart Senator Franklin Drilon earlier draw flak for calling former Senator Magsaysay "the real Magsaysay." Rep Magsaysay took offense but Drilon said he never accused her of being the "fake Magsaysay."
For former Senator Magsaysay, voters are educated enough to choose who to elect.
With Holmes' observation, it will be no surprise if the politicians retain the names in their certificates of candidacy to be filed in October. – Rappler.com
View the Elections 2013 Microsite here.
More from #PHVote, Rappler's 2013 Election Coverage: