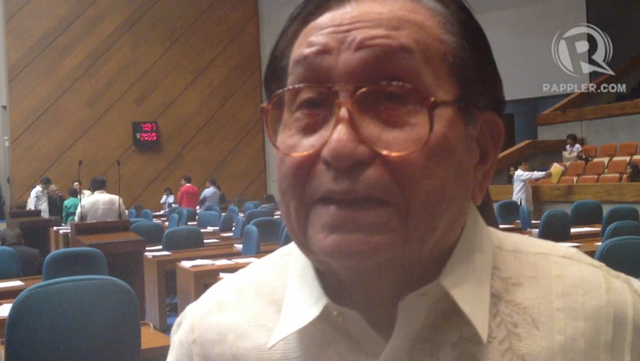 NUP chairman Cebu Rep Pablo Garcia (FILE PHOTO)
MANILA, Philippines - The National Unity Party (NUP), a new political party composed of former members of the abolished Kabalikat ng Malayang Pilipino (Kampi), is forming an informal coalition with the ruling Liberal Party (LP) of President Benigno Aquino III for the 2013 elections.
"We have an ongoing negotiation with LP for a possible coalition. We will support their senatorial candidates," NUP chairman and Cebu Rep Pablo Garcia said on Wednesday, September 26, on the sidelines of the party's first national convention held in an upscale hotel in Pasay City.
NUP is sheduled to sign a partnership agreement with LP on Friday, September 28.
The party was accredited by the Commission on Elections (Comelec) only last year, but Garcia is confident of its future. "NUP will not only endure and survive in the political jungle, but it will triumph and prevail, just watch," he said.
Arroyo's party
Some of NUP's stalwarts helped build Kampi, which was founded by former President Gloria Macapagal Arroyo for her supposed presidential bid in 1998. She was instead persuaded to join Lakas-CMD and run as vice president of standard bearer Jose de Venecia Jr.
When Arroyo became president, her husband Jose Miguel revived Kampi. The same party would merge with Lakas-CMD in 2009 to form the Lakas-Kampi-CMD. (The merger was unsuccessful. The original Lakas members have a pending petition with the Commission on Elections to revert the party's name to Lakas-CMD.)
LP members welcome the coalition with NUP, which is already its coalition ally in the House of Representatives. They see them as allies who will also campaign for the administration's senatorial slate in 2013.
NUP has 30 members in the lower chamber. It has been helping the administration push its priority bills. Aside from its House members, NUP has about 300 other local officials.
NUP also elected LP vice chairman House Speaker Feliciano "Sonny" Belmonte Jr its "chairman emeritus."
"NUP should not just be an acronym. It should be a movement for national unity and reconciliation," said Belmonte, who was present in the convention.
Curiously, senatorial aspirants from the rival coalition United Nationalist Alliance (UNA) were present at the NUP national convention: re-electionist Gregorio Honasan and San Juan Rep JV Ejercito.
Executive Secretary Pacquito "Jojo" Ochoa Jr, whose faction in the administration has been working separately from LP, was also present in the convention. - Rappler.com
For related articles, read: