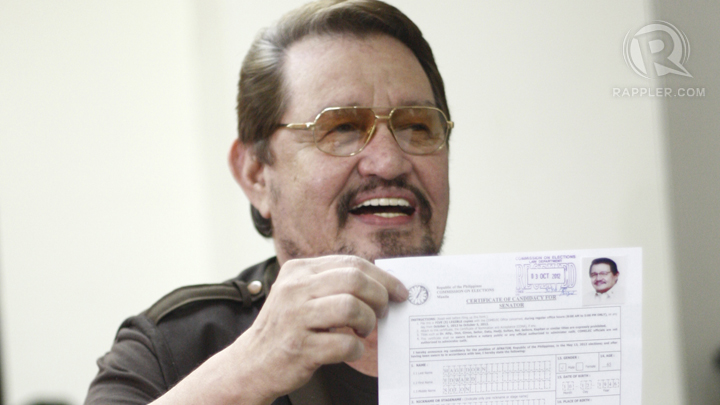 SENATOR HAGEDORN? The Puerto Princesa mayor launches his Senate bid. Photo by Don Regachuelo
MANILA, Philippines (2nd UPDATE) – In a surprise move, Puerto Princesa Mayor Edward Hagedorn launched his Senate bid Wednesday, October 3, as he filed his certificate of candidacy (COC) at the Commission on Elections (Comelec) in Manila.
Hagedorn said he is running as an independent candidate, but will likely receive help from his friend, former President Joseph Estrada. He said it was Esrada who invited him to run for senator, but denied that the United Nationalist Alliance, which Estrada is part of, will assist him in campaigning.
Asked when he decided to run for the Senate, Hagedorn answered: "Kanina lang po, promise." (Just a while ago, promise.)
He said he wants something to do once his term as mayor ends in 2013. "Magpapahinga sana ako kaya lang parang nakakalungkot magpahinga," he said. (I initially planned to rest, but thought it might be lonely to rest.)
Hagedorn said he initially hesitated to run for senator because this will require a paradigm shift – from heading an executive department to helping in the legislative process.
"Sinasabi ko nga, kaya ayokong tumakbo... Hindi naman ako nakatapos ng pag-aaral, tapos gagawa ka ng legislation, gagawa ka ng background ng law. Pero maraming nag-contribute sa akin – 'yung experience ko as local government official," he said.
(I was saying that was why I hesitated to run... I didn't finish schooling, then I will have to produce legislation, deal with the background of law. But many things contributed to me – my experience as a local government official.)
Hagedorn said he will run on a pro-environment platform.
Crime buster
A multi-awarded mayor, Hagedorn once gave his city the reputation of having the lowest crime rate, Newsbreak reported in 2002. Most of these crimes had to do with environmental activities, his advocacy.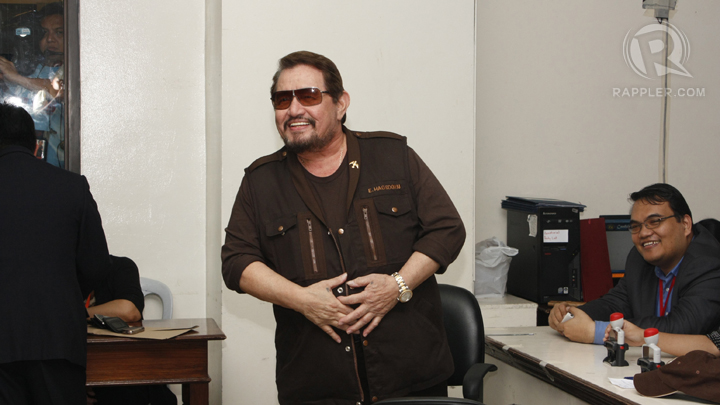 'GREEN' MAYOR. Edward Hagedorn wants to bring his environmental advocacy to the Senate. Photo by Don Regachuelo
This led to an increase of forest cover to over 2,000 hectares, among other things.
"They equated discipline with going back to martial law," Hagedorn told Newsbreak then. "No, we only wanted the residents to go back to obeying laws. And they were not asked to do it for themselves, but for the next generation."
He added: "The root cause of the breakdown of peace and order is poverty and the corrupt and inefficient judicial system. Most of those who are in Munti are fall guys, made so because they didn't have the money and the connections. So you have the criminals roaming freely, committing crimes again."
But Hagedorn had his share of negative publicity.
In 2001, Newsbreak reported that Hagedorn would then leave behind "traffic-plagued and potholed streets." "Despite nearly a billion pesos in the city's annual budget, basic services leave much to be desired," the report added.
He also received criticism or the P23-M helicopter, then unused, that he bought using public funds, according to Newsbreak.
With his reputation, nevertheless, Hagedorn's name surfaced in previous national elections. In 2008, he was reportedly the preferred vice presidential running mate of then Metro Manila Development Authority chair Bayani Fernando, who eventually withdrew his presidential bid.
In 1998, the opposition also courted Hagedorn, when he was hugely popular for his environment-centered leadership, to run for senator. But Hagedorn refused because he "found the cost of running a national campaign prohibitive." – Rappler.com