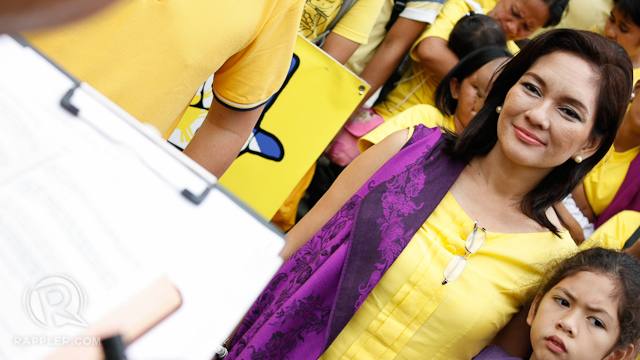 'VALID ISSUES.' Former Akbayan Rep Risa Hontiveros says her criticism of the Villars in 2010 were valid issues that must be addressed. Yet, she says she is not compromising by running on a coalition that includes them. Photo by Don Regachuela
MANILA, Philippines (UPDATED)– She may be running alongside former Las Piñas Rep Cynthia Villar but Risa Hontiveros will not apologize for criticizing Villar's husband.
The former Akbayan representative made the statement as she beat the deadline for the filing of certificates of candidacy on Friday, October 5.

Hontiveros is running under President Benigno Aquino III's so-called rainbow coalition that includes the wife of his former rival, Sen Manny Villar of the Nacionalista Party. Also part of the coalition are the Liberal Party, the Nationalist People's Coalition and the Laban ng Demokratikong Pilipino.

Hontiveros told reporters that she and Mrs Villar may be campaigning together but she will not withdraw her past criticism of Villar's husband as the supposed secret candidate of then President Gloria Macapagal-Arroyo in the 2010 presidential race.

"'Di ako nagaapologize sa mga isyu noon tulad ng Villaroyo at iba pa. Iyan ay mga isyu sa ating kasaysayan na dapat linawin ng bawat tao," Hontiveros said. (I will not apologize for issues before like Villaroyo and others. Those are issues in our history that must be made clear by everyone.)
The Villaroyo tag was believed to have damaged Villar's candidacy.
In a statement on Monday, October 8, Mrs Villar posted on her Facebook and Twitter accounts that the "Villaroyo" tag is not true and that the Villar couple never asked for any favor from Arroyo.
"Senator Manny Villar and I have moved on from the 2010 campaign. I just want to inform Risa Hontiveros that I stood by my record that I voted with her for the impeachment of former President Gloria Macapagal-Arroyo in 2005," Mrs Villar said.
Villar added, "The records of Congress will show that. In fact, I lost my pork barrel because of that vote. Sen Manny Villar and I … live very simple lives and our public life is devoted on public service."
Hontiveros said joining the ticket does not mean she is compromising her principles.

"I'm one person who will never compromise my core values …. I'm glad that the people I criticized before or I fought with on valid issues turned around and decided to support President Noy and his reform agenda. The issues before, they stand and they must be addressed by those who need to be held accountable," she said in a mix of English and Filipino.
Hontiveros said the members of the coalition can "agree on some issues and disagree on other things."
The Akbayan spokesperson was also asked to explain how to reconcile her stand against political dynasty and her decision to run with candidates like Bam Aquino, the President's cousin.

"Si President Noy na spiritual, moral leader ng slate ay tapat sa utos ng Konstitusyon at 'di hahadlang sa ganyang mga reform agenda na alinsunod sa utos ng Konstitusyon," Hontiveros said. (President Noy is the spiritual, moral leader of the slate and he is faithful to the Constitutional provision against political dynasty and he will not stop efforts in his reform agenda that follows the Constitution.)

For Hontiveros, what is important is that all administration senatorial candidates adhere to Aquino's reform agenda.


'Akbayan still for marginalized'

Hontiveros also responded to the disqualification case filed against Akbayan on grounds that it is no longer a marginalized partylist because many of its members are ranking government officials.

These include Presidential Political Adviser Ronald Llamas, Human Rights Chairperson Loretta Ann Rosales, and National Anti-Poverty Commission head Joel Rocamora.

Hontiveros said Akbayan is proud to be part of Aquino's reform agenda. She said the Commission on Elections decided to allow her group to remain in the partylist race.

"Di masasabing overrepresented ang mga marginalized sectors sa Kongreso. Ang Akbayan na isa sa mga una at mabunga, matagumpay na magsulong ng mga batas para sa mga marginalized sectors: Quality Affordable Medicines law, Comprehensive Agrarian Reform Program with Extension and Reforms Law at ang Reproductive Health Law." (You can't say marginalized sectors are overrepresented in Congress. Akbayan is one of the first and effective groups to push for laws for marginalized sectors.)
On her second bid for the Senate, Hontiveros said she will apply lessons learned from the 2010 campaign.
"We will make up for our shortcomings before by preparing earlier, by reaching out to an even wider network of Filipinos, constituents, voters, just to get the word out to ordinary citizens that we have a fighting chance. That women have a chance in an institution like the Senate," she said.
'I'm the Magsaysay backed by the President'

Former Sen Ramon "Jun" Magsaysay Jr also filed his certificate of candidacy Friday. He said it was Aquino who convinced him to leave retirement to return to the Senate. Magsaysay ended his Senate term in 2007.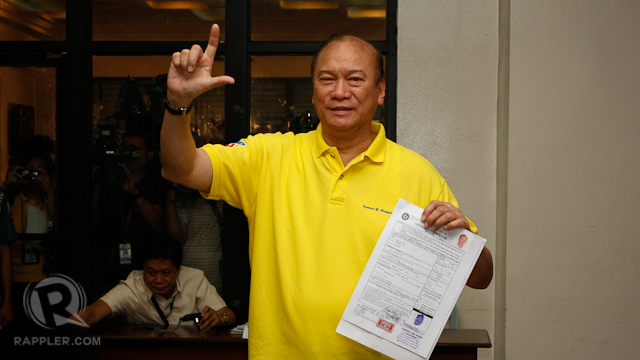 FAMILY SPLIT? Former Sen Jun Magsaysay there is no problem with his niece-in-law Rep Mitos Magsaysay also running for the Senate. He says unlike her, he is the candidate of the President. Photo by Don Regachuela
Magsaysay, however, denied that he was asked to run to undermine the senatorial campaign of his niece-in-law, Zambales Rep Milagros "Mitos" Magsaysay of the opposition United Nationalist Alliance (UNA).

"The speculation that I came back to so the other person will not win is baseless because we can both win, we can both lose or she wins and I lose. Or she loses and I win. It's the option of the voter," Magsaysay said.

Magsaysay said it is not a problem for him that Rep Magsaysay is running. Asked if he will support her, he said, "I'm committed to support the entire Liberal Party."

The former senator said he will pursue his advocacies on agriculture, the development of rural areas, and the proper allocation and management of funds if elected.

Magsaysay also commented on the statement of his partymate, Sen Franklin Drilon, that he is the "real Magsaysay."
"I would not speculate anymore. I'm the son of my father but for the other Magsaysays, I cannot answer for them kasi buhay nila iyon. Maraming Magsaysay, hindi naman lahat magagaling na lalaki (it's their life. There are many Magsaysays but not all of us are good men.)

Magsaysay is the son of the late popular President Ramon Magsaysay.

Even if they have the same last name, Magsaysay said voters can easily distinguish between him and the congresswoman.

"She can be a better Magsaysay but as I said the final choice is up to the voter. I'm Ramon Magsaysay Jr, I support the LP, the President. Mitos is with UNA and has been very critical of the president. That is the difference." – Rappler.com


---
More from #PHVote, Rappler's 2013 Election Coverage: