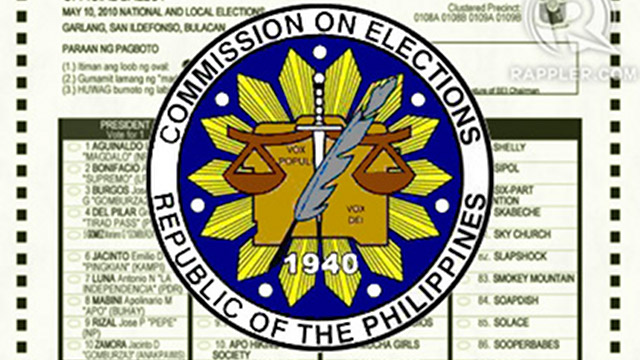 MANILA, Philippines – The Commission on Elections (Comelec) on Friday afternoon, October 5, officially ended the period for filing of certificates of candidacy (COC), with 84 Filipinos having filed their candidacies for the 2013 senatorial race.
Comelec Chair Sixto Brillantes Jr said the week-long COC filing period ended peacefully. He said he hopes the 2013 campaign period would be as peaceful, even as the country anticipates local races marred by family feuds and prolonged rivalries.
Brillantes noted the increase in number of candidates for 2013, compared to the 2010 senatorial race.
"Mukhang mas marami nang konti ngayon pero mukhang marami rin namang nuisance, sa tingin ko, 'yung puwedeng matanggal. So the ultimate listing, palagay ko dapat lumabas na mas maliit," Brillantes told reporters. (There seems to be an increase, but there are a lot of nuisance candidates, who, I think, can be disqualified. So the ultimate listing, in my opinion, could end up shorter.)
Brillantes said the forming of coalitions could have also lessened the number of traditional candidates, since the set-up did not require parties to have a full 12-candidate slate. "Dalawang ticket lang, with common candidates," Brillantes said, referring to the Liberal Party-led coalition formed by President Benigno Aquino III, and the United Nationalist Alliance led by Vice President Jejomar Binay.
Most candidates: KBL
In a separate tweet, Brillantes said 36 of those who filed COCs ran with political parties, while 48 of them ran as independent candidates.
The most number of candidates came from the Marcos-era Kilusang Bagong Lipunan, as it fielded 9 senatorial candidates. UNA had 8; LDP-Laban, 1; PDP-Laban, 1; Liberal Party, 3; DPP, 3; Makabayan, 1; Nacionalista Party, 3; Kapatiran, 3; Nationalist People's Coalition, 2; SJS, 1; and Akbayan, 1.
Brillantes said in the next 10 to 15 days, the Comelec will screen some possible nuisance candidates. He said it is crucial that the candidates be given due process before the Comelec disqualifies them.
On party-list groups, Brillantes said the Comelec will release next week a list of disqualified nominees so far. On Thursday, October 4, he said at least 37 nominees have been disqualified. "Marami pang matatanggal," he said. (More will be disqualified.)
To be held in May 2013, the midterm elections will, to a certain extent, be a litmus test of President Benigno Aquino III's effectiveness. – Rappler.com