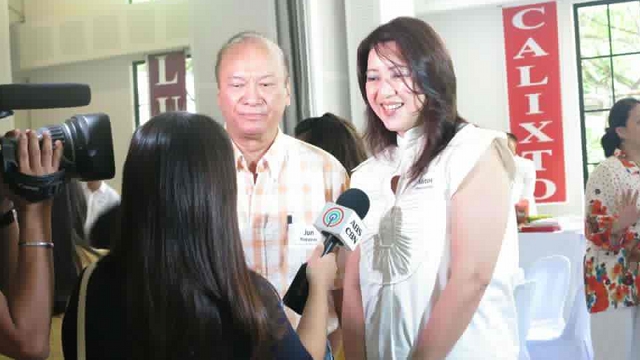 TWO MAGSAYSAYS? If both former Sen Jun Magsaysay and Zambales Rep Mitos Magsaysay win, it will be one of the rare elections voters choose two candidates with the same surname. File photo from Rep Magsaysay's Facebook page
MANILA, Philippines – The 2013 senatorial election is not the first national contest pitting a Magsaysay against another Magsaysay.
In 1992, two Magsaysays sought the vice presidency. Ramon "Jun" Magsaysay Jr was the running mate of then presidential candidate Miriam Defensor Santiago of the People's Reform Party. His cousin, Vicente "Vic" Magsaysay, was in tandem with presidential bet former First Lady Imelda Marcos of the Kilusang Bagong Lipunan.
The two Magsaysays lost to Joseph Estrada. Jun finished 4th while Vic ranked 6th.
In 2013, members of the clan made popular by the well-loved late President Ramon Magsaysay are again on opposing sides. This time, however, the voters can vote for both of them, given the multiple slots available in the position they are running for.
Former senator Jun, son of the late president, seeks a comeback under the ruling Liberal Party (LP). Vic's daughter-in-law, Zambales Rep Milagros "Mitos" Magsaysay, is running under the so-called "constructive opposition," the United Nationalist Alliance (UNA).
Should voters decide to elect the two Magsaysays, it will be one of rare times when candidates with similar surnames ran for senator and both won.
Drop in Mitos' ratings
Jun concedes that, unlike Mitos, he initially did not plan to run in 2013. After finishing his second Senate term in 2007, the 74-year-old Jun retired from politics and focused on running a dairy farm.
It was only when President Benigno Aquino III, Senator Franklin Drilon and other LP leaders prodded him that he decided to consider running again.
"In fairness to [Mitos], nauna siyang tumakbo (She decided to run for senator first). She's been campaigning for two years. That's the way it is," Jun told reporters after filing his certificate of candidacy on October 5.
With Jun's belated decision to join the senatorial race, speculation has been rife that the LP asked him to run to undermine Mitos's candidacy. The 48-year-old Zambales representative is a member of the House minority and is one of the most vocal critics of the Aquino administration.
Mitos herself had the same suspicion back in June. She told the Inquirer: "I have not yet confirmed whether he is indeed running or not. What is confirmed is that the LP seems so desperate to beat me that they are trying to convince somebody out of retirement to run specifically against me. It speaks so much about their insecurity."
Her uncle-in-law, though, denied this. Jun said he agreed to return to politics after the impeachment trial of former Chief Justice Renato Corona showed Aquino's commitment to reform and the support the administration enjoys in Congress.
"So the speculation that I came back so the other person will not win is baseless because we can both win, we can both lose, or she wins and I lose, or she loses and I win. It's the option of the voter," the elder Magsaysay said.
Deliberate or not, Mitos's survey ratings dropped after Jun Magsaysay declared his senatorial bid.
In May, Mitos's rating climbed to 22-27 in a Pulse Asia survey, up from 26-42 in a poll done February 26 to March 9. Yet when former Sen Jun Magsaysay's name was included in the September survey, she dropped to 24-33. In contrast, Jun immediately placed 12-16, within the so-called winning circle.
"Bumaba kasi si Congresswoman Magsaysay because of the Jun Magsaysay factor eh (She went down because of the Jun Magsaysay factor)," said UNA Spokesperson JV Bautista. "When Jun Magsaysay entered the picture, I think that was probably purposely done to bring her down and she was brought down."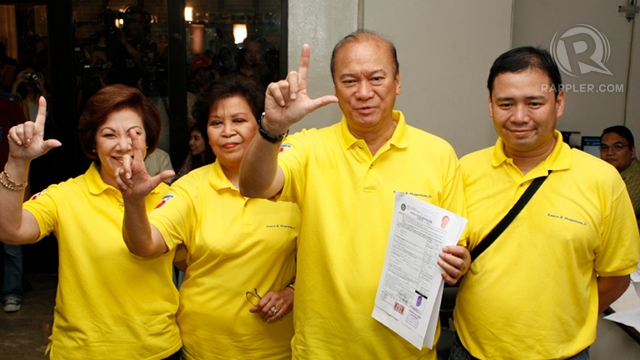 NO DYNASTY. Former Sen Ramon "Jun" Magsaysay Jr says his father, former President Ramon Magsaysay, was against putting up a political dynasty. File photo by Don Regachuelo
Voters can differentiate
For the former senator, the results were a sign that voters can differentiate between him and Mitos.
"The pollsters use the supposed listing, alphabetical in the PCOS, so 'Magsaysay, Milagros, Habana H. [and] Magsaysay, Ramon B. Jr.' The respondents, they were able to differentiate, so to me it's not a problem. She was first on the list, but they were able to differentiate," he said.
In her certificate of candidacy, Mitos listed her name as "Magsaysay, Maria Milagros Esperanza Habana," with the nickname "Mitos." The former senator chose the nickname "Jun Magsaysay" to go with his full name of "Magsaysay, Ramon Jr."
How will voters distinguish between the two? Drilon was the first to draw the line, calling Jun "the real Magsaysay." Mitos took offense, but the former senator said he does not want to put any meaning into the phrase.
"I'm the son of my father, but for the other Magsaysays, I cannot answer for them kasi buhay nila iyon. Maraming Magsaysay, hindi naman lahat magagaling na lalaki." (It's their life. There are many Magsaysays, not all great men.)
The former senator said voters are smart enough to set him and Mitos apart by researching and looking into their track records.
Jun is a two-term senator, who is known for leading the Senate probe into the fertilizer fund scam during the Arroyo administration. His advocacies include agriculture and the development of rural areas. Mitos is a two-term congresswoman running on a platform of health, education and skills training.
Besides, Jun said he and his niece-in-law are on different sides of the political fence.
"Filipino voters are discerning, it is easy to search for us in Google or Wikipedia so people will know which Magsaysay is the candidate of President Aquino," said Jun.
"She can be a better Magsaysay, but as I said the final choice is up to the voter. I'm Ramon Magsaysay Jr, I support the LP, the President. Mitos is with UNA and has been very critical of the President. That is the difference," he added.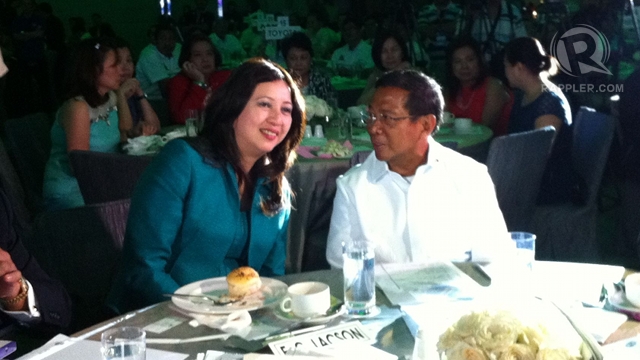 BINAY'S CANDIDATE. Former Sen Jun Magsaysay says a key difference between him and his niece-in-law is that he is the President's candidate while Mitos is running under VP Binay's 2013 coalition. File photo by Purple Romero
'Family lucky'
In past two senatorial races, candidates with the same last name also ran against each other. Each time, only one of them won a Senate seat.
In 2007, then Sen Benigno Aquino III of the Genuine Opposition beat his aunt, Tessie Aquino-Oreta of Team Unity. In 2010, Sen Sergio "Serge" Osmeña III also defeated his cousin, former Cebu Gov Emilio Mario "Lito" Osmeña.
Vic Magsaysay does not see any problem with two Magsaysays running in 2013.
"The family is lucky. You know why?" he told ABS-CBN during a clan reunion in July. "Because the Magsaysays can vote for two."
Indeed, voters can. The question is, will they? – Rappler.com
More on #PHVote, Rappler's coverage of the 2013 elections: