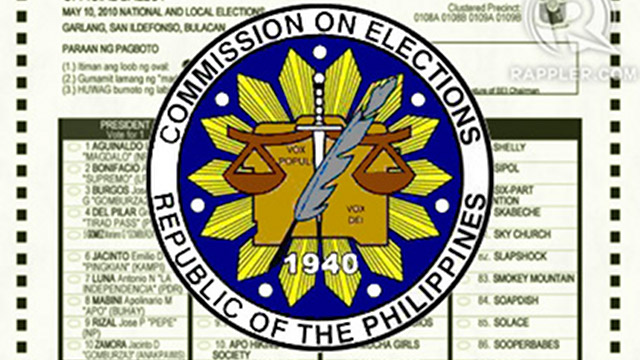 MANILA, Philippines – Akbayan's fate will soon be written.
A Commission on Elections (Comelec) commissioner is now drafting the poll body's resolution on the controversial party-list group, which will then be up for debate by the commission en banc, Comelec Chair Sixto Brillantes Jr told reporters Wednesday, October 17.
Brillantes said the Comelec left the initial draft all to the unnamed commissioner. "I do not know his position. He did not want to give it to us yet," Brillantes said.
He said the resolution will likely be out next week, but declined to specify the date.
"Hindi ko sasabihin, baka nagkagulo na. Baka sugurin na 'yan ng Anakbayan," the 73-year-old Brillantes said in jest, referring to a rival party-list group that stormed the former's press conference Tuesday, October 14. (I will not tell you, it might lead to chaos. Anakbayan might storm them again.)
Anakbayan has sharply criticized Akbayan for running as a party-list group despite its close ties with the Aquino administration. A Supreme Court resolution only allows "Filipino citizens belonging to marginalized and underrepresented sectors" to run under the party-list system.
But Brillantes said the two groups' rivalries shouldn't affect the party-list screening process.
"We don't really care if they want to fight... We're going over almost 300 party-lists. We don't want to rush any particular party-list just because they're fighting," Brillantes said in a mix of English and Filipino.
No 'vulgar acts'
On Monday, Brillantes also showed apparent disapproval over the Akbayan-Anakbayan incident, without naming the two leftist groups.
"While I encourage public discourse and debate over the issue of whether certain party-list organizations are marginalized or not, we cannot, however, resort to violence and commit disrespectful and vulgar acts just to make a point. With this, I call for mutual respect and civility among party-list groups," Brillantes said through his Twitter account @ChairBrillantes.
The Comelec has disqualified over 20 party-list groups, including some incumbent groups like 2010's party-list frontrunner, Ako Bicol.
Meanwhile, Brillantes said the new Comelec commissioner, Grace Padaca, will serve as the poll body's tie-breaker in contentious cases, or those that have 3-3 votes among commissioners. The Comelec only had 6 commissioners before Padaca was appointed last October 2.
"We gave her one week up to next Wednesday for her to break the tie," Brillantes said.
In an interview on dzMM on Wednesday, Padaca said she is willing to take on this task.
The former Isabela governor was also asked if her ties with President Benigno Aquino III, who chairs the Liberal Party, which she previously belongs to, could cause a conflict of interest. She declined to comment, explaining that she would study Comelec's records first.
Padaca has faced criticism for alleged special treatment by the President, who paid for her P70,000 bail for a graft case.– Rappler.com
Click on the links below for more.