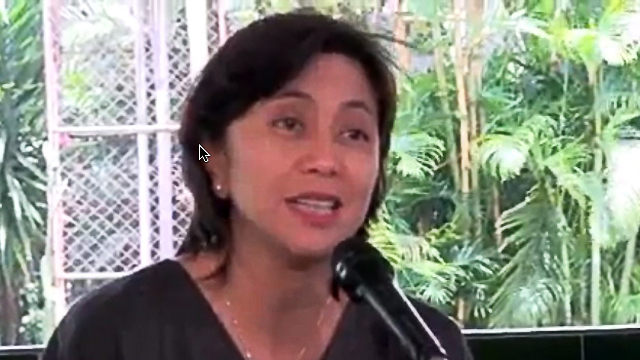 READY TO RUN. Leni Robredo speaks to the media in after her husband's death in this file photo.
MANILA, Philippines - If lawyer Leni Robredo stands a chance of winning a congressional seat in Camarines Sur, then surely sympathy vote will have a lot to do with it.
Just a lot, but not everything.
Experts say the outpouring of emotions brought by the death of Leni's husband, Naga City's beloved former Mayor Jesse Robredo, would not be enough to sweep her to victory in the coming May 2013 elections. She is running for a congressional post in Camarines Sur's 3rd district, up against the matriarch of the well-entrenched Villafuerte clan, Nelly Villafuerte.
If Mrs Robredo has to win, most of the tried and tested requisites of winning elections will have to be present in the campaign: the predecessor's good record, the perception that the candidate herself is good enough, and the machinery.
Political psychologist Cristina Montiel explained that a death is not enough to trigger sympathy vote. The deceased must have specific qualities.
"First is somebody has to die and that person who passed away is popular politically and loved, but not only that--that person has a network," she said.
"The pragmatic side is they have operators on the electoral field who can be activated for another person who is associated with the person who passed away."
This was the case even with Corazon Aquino, the first woman elected Philippine president, after her husband, Senator Benigno "Ninoy" Aquino Jr, was shot to death. Ninoy was the staunchest critic of dictator Ferdinand Marcos.
Over two decades later, her own death also sparked the nomination and eventual election of her senator son, current President Benigno "Noynoy" Aquino III.
Montiel pointed out that Ninoy and Jesse both had followers and supporters that could bring in a significant number of votes.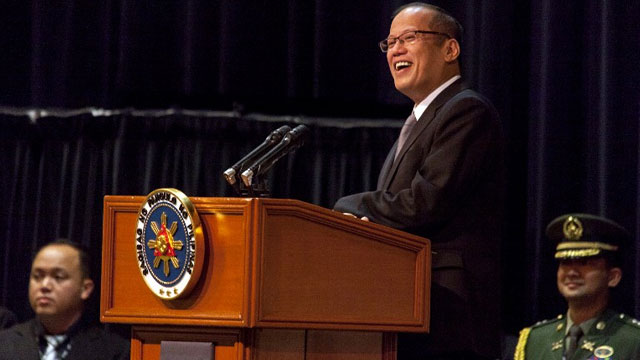 MOTHER'S SON. President Benigno Aquino III was pushed to run for president after the death of his mother, former President Corazon Aquino. (FILE PHOTO)
Pulse Asia pollster Ana Tabunda agreed, adding that the person who died must be extraordinary. She pointed out that not all politicians who die prompt the public to vote for his or her kin.
"[The deceased has to be a] good leader, a good politician, someone people tend to vote for even if they were still alive," she said. "The one who died has to have more than your regular performance."
Just 'an added boost'
While feeling sorry may play a part, it takes more for people to vote for the bereaved, said Tabunda and Montiel.
"The reason [people] say they vote for the son is, 'Susunod sa yapak ng magulang.' It's not that they sympathize with the bereaved, as much as they want someone sharing [the deceased's] ideals, their vision and concern for the people," Tabunda said.
Hope among voters can fuel them to take to the polls and back the deceased politician's family member, especially if they feel a sense of loss and are hoping for an extension of the late leader's work.
"You can't contribute it all to sympathy. Sympathy is greater if the one who died is loved, but with media focusing on what he has done, then it's people realizing they lost someone, a leader that could have done much more," Tabunda added.
Instead, Tabunda believes "sympathy is an added boost," especially for Filipinos who have a tendency to magnify the virtues of the departed and who refuse to speak ill of those who have died.
GETTING ELECTED. Sen Pia Cayetano gained popularity after a television show associated her with her late father. (FILE PHOTO)
Tabunda cited Sen Pia Cayetano, who was hardly known despite the last name and the legal advice TV program she shared with her father, Sen Renato "Compañero" Cayetano--until a dramatic television episode aired shortly before Election Day in 2004. It was the life story of the father, showing Pia as the one who looked after him until he died, thus associating her more closely to her popular father.
The older Cayetano died in June of 2003. His daughter, who had no experience in politics and was originally pushed by legislators to continue her father's advocacies, was elected the youngest woman senator in 2004.
Still, campaign dynamics and changes in messaging strategies made voters see Pia in another light, as somebody more than just her father's daughter.
Tabunda said that Filipinos feel a great amount of sympathy even toward politicians they don't like--and that doesn't always translate to concrete numbers on voting day.
In 2010, for example, former governor Armand Sanchez of Batangas died of stroke during the campaign, when he was running against re-electionist Vilma Santos-Recto. Sanchez's wife, Edna, the mayor of Sto. Tomas town, took over her husband's candidacy, but lost.
Close copy
In addition to the leadership or the popularity of the deceased, the replacements, the ones chosen by the people to take their place, must exhibit specific qualities as well.
The degree of closeness to the deceased is often a significant factor, so the spouses and children are naturally the ones people go to.
"Political logic is, 'We have seen this person associated with you and have seen you closely work with this person,'" said Montiel.
"I guess if they're associated with that person, it's like a semi-poll on the the popularity and the political clout of the one who passed away."
Tabunda said the family member must also be dedicated to public service, and someone who the people believe can serve them.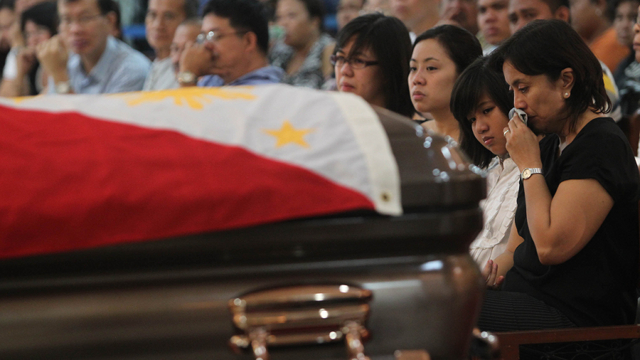 MOURNING. The family of the late Interior Secretary Jesse Robredo holds a mass for him as soon as his remains are brought back to Naga. Photo courtesy of Malacañang Photo Bureau
While Cory Aquino was only a housewife, for example, she was also risking her life during the Marcos era, sticking with her husband and standing in opposition to the government, Tabunda pointed out.
Leni Robredo herself said in a recent television interview that when she was being forced to run, she was told that she could unite the party, and put an end to the political dynasty of the Villafuertes in their province. Nelly Villafuerte will be running against her for the post that will be vacated by her husband, incumbent congressman Luis Villafuerte. The Villafuerte patriarch is running for Camarines governor.
"[Voters] have to see something in the kin," Tabunda said. "[Someone who] is perceived to be a close copy in so far as relating to them."
It appears that a spark, a connection with the people, is a quality not only required from the deceased, but from their replacements as well -- regardless of their political experience.
Parties jump in
In the end, politics is about the numbers, and capitalizing on sympathy is one way to get there.
Often, the final push that convinces replacements to run are the top officials of their parties themselves, the support of the political elite.
When they see people expressing interest in a prospective candidate, the political parties jump on the chance to get those votes, and willingly field that person in demand.
This was the case when the Liberal Party leaders saw the nation's grief over the death of former President Corazon Aquino in 2009--they pushed her neophyte senator son Noynoy to run for president. And this is certainly what they have done as well with Leni Robredo when her husband died. - Rappler.com