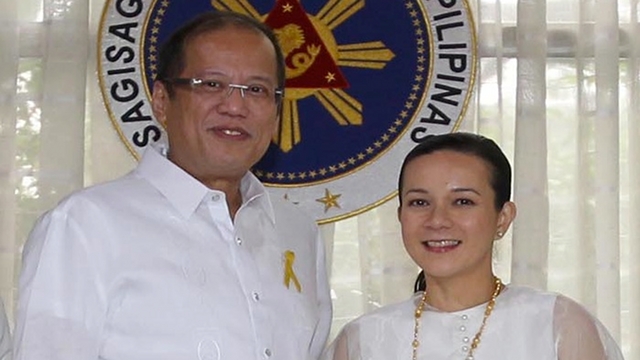 BOTH AGONIZING. Grace Poe-Llamanzares reveals that both she and the President agonized over her senatorial bid because of the difficulties of mounting a national campaign. File photo by Malacañang Photo Bureau
MANILA, Philippines – With her father's legacy looming large, Grace Poe-Llamanzares was sought after by both 2013 senatorial slates. But it took a lot of hemming and hawing from both her and President Benigno Aquino III to make her senatorial bid a go.
Llamanzares revealed what went into the decision-making in an interview on the ABS-CBN morning show Kris TV on Monday, November 5. The daughter of the late actor and presidential candidate Fernando Poe Jr granted the interview along with her mother, actress Susan Roces.
The Movie and Television Review and Classification Board (MTRCB) chief told host Kris Aquino that even the President was initially not convinced about her running.
"Prior to [my birthday], we've had several talks but as you know ang kapatid mo, very honest iyan. Sinasabi niya, 'Napakahirap ng takbong nasyunal. Dapat gustuhin mo talaga. Gusto mo ba talaga?' (Your brother is very honest. He would tell me, "A national campaign is very difficult." You need to really want it. Do you?)
Llamanzares said she would tell the President, "'Di ako sigurado. Kayo, gusto niyo ba? So pasahan lang kaming dalawa." (I'm not sure. How about you? Do you want me to run? So we just kept passing the decision to each other.)
Finally, Llamanzares sent the President a text message: "Mr President, if you think I'll be an asset to your team then it'll be an honor to be considered by you but you have to let me know so I can prepare myself."
To her surprise, Aquino suddenly announced in September on the sidelines of the Asia-Pacific Economic Cooperation Summit in Vladivostok, Russia that she will be part of his slate in the ruling Liberal Party (LP).
With the President's wishes already made public, Llamanzares said, "Parang duwag na yata ako kung 'di ako matuloy nito..." (I'd be like a coward if I don't pursue this.)
Weeks later, Llamanzares joined the President for the LP proclamation on October 1. One day later, she filed her certificate of candidacy for senator.
Llamanzares is also a guest candidate of LP's rival, the United Nationalist Alliance, whose leaders include former President Joseph Estrada, the best friend and fellow actor of her late father. Llamanzares' decision to run with LP surprised UNA leaders but Estrada said that owing to his ties with her family, they will still support her.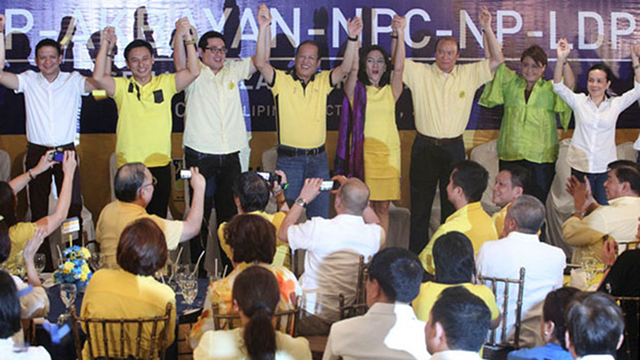 LP BET. Grace Poe-Llamanzares joins the Liberal Party proclamation in October where the President officially endorsed her as one of his senatorial bets. File photo by Malacañang Photo Bureau
'Don't embarrass me'
Llamanzares said she started to become active in socio-political events following her father's death in 2004. She would join events and protests to help her mother represent the family.
Poe died after losing the presidency in 2004 to Gloria Macapagal-Arroyo in an allegedly rigged election. Llamanzares participated in rallies against the so-called "Hello Garci" controversy surrounding Arroyo's phone call to then Election Commissioner Virgilio Garcillano.
Roces famously accused Arroyo, "She stole the presidency not once, but twice!" The line was in reference to 2004, and the ouster of Estrada in 2001 following the so-called EDSA 2.
"Sayang naman kung hindi ipagpapatuloy ang ipinaglaban ni FPJ," Llamanzares said. (It's a shame if we do not continue what FPJ fought for.)
Llamanzares said she had since contemplated running for public office in 2007 and 2010 but her mother would tell her to first have experience in public service.
She told Kris Aquino, "Noong na-appoint ako ng kapatid mo, ni President PNoy, sabi ng mom ko, 'Kayanin mo iyan ha, 'wag mo akong papahiyain.'" (So when your brother, President PNoy, appointed me, my mom said, "Do the job well. Do not embarrass me.)
Llamanzares added, "Iyon ang words of wisdom niya sa akin so talagang nakatatak sa isip ko, ayaw kong mapahiya." (Those were her words of wisdom to me so that stuck in my mind that I don't want to be embarrassed.)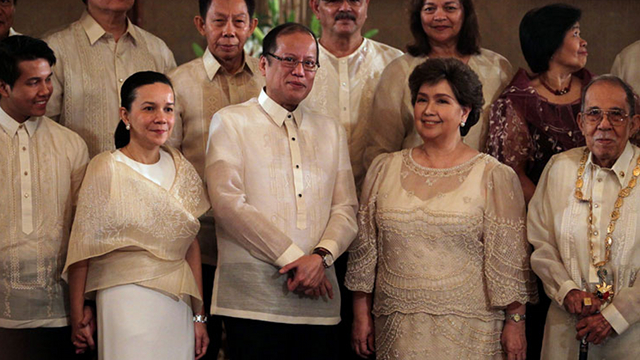 FAMILY TIES. The Poe family has strong ties with the Aquino family, with Susan Roces considering Cory Aquino a friend. File photo by Malacañang Photo Bureau
PNoy, Grace and the mom factor
Susan Roces said she decided to support her daughter's senatorial bid because she remembered that former President Cory Aquino had the same experience.
Roces told Kris Aquino, "I remember your mom said before that Noynoy has long been wanting to run for the Senate but she would say, 'Not now, next time, next time.' She kept postponing it until she finally said, 'I'm not getting any younger. Okay, you run so I can help you.'"
"So when Grace told me about her interest in politics, I remembered her and our conversation so I said, 'Why not? Okay. While I'm still here and I'm strong, go ahead, while I can still accompany you."
Roces said what was important to her was that her daughter is ready for the outcome, win or lose.
"She told me with a straight face her plans if she doesn't make it. That was all we talked about and that was the more important thing [for] a mother. If your child is emotionally, mentally ready, then go." – Rappler.com