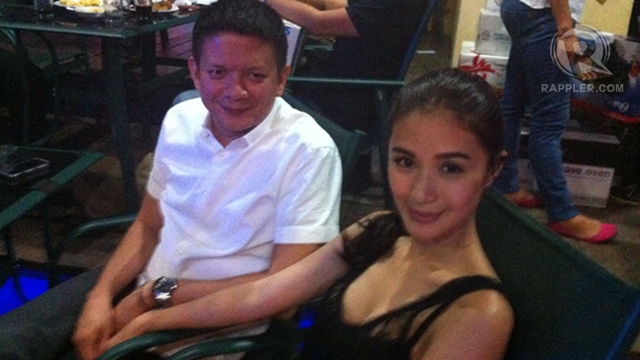 RELAXED MOMENT. Sen Chiz Escudero and Heart Evangelista spend time together at Escudero's Christmas party for Senate reporters.
MANILA, Philippines - Is Sen Chiz Escudero's relationship with actress Heart Evangelista, which he admitted on national TV in October, giving the senator's re-election bid any boost?
Maybe not so much, if the latest Social Weather Stations (SWS) senatorial survey is any indication. In this latest poll, conducted from November 29 to December 3, Escudero was overtaken by his fiercest rival for the top spot, another re-electionist Loren Legarda -- and with the highest recorded lead so far.
Legarda was preferred by 68% of the respondents; Escudero, by 61% -- a lead of 7 percentage points.
In a previous SWS survey conducted in August, Escudero was ahead of Legarda but only by 5 percentage points. Escudero then was preferred by 61% of respondents, while Legarda was the choice of 57%.
Now, Legarda's rating is up by 11 percentage points, while Escudero's
dropped by 1 percentage point.
Legarda and Escudero have been alternating in the top spot in surveys done by SWS and another polling firm, Pulse Asia this year. Until this latest SWS poll, however, neither of them registered a considerable lead.
In a previous story, Rappler
made a conservative estimate that 1% point would be equivalent to 300,000 votes (based on usual turnout vs total voters' population of 55 million). With this computation, Legarda now leads Escudero by 2.1 million votes.
Chiz-Heart romance
What could have spelled the difference betwen August and December?
A cursory review of media coverage of Escudero, especially in social media, revealed that most stories about him focused on his relationship with Evangelista, not on his legislative work as a senator. And when stories focused on them, they tended to be negative.
Escudero admitted his relationship with Evangelista in the first week of October, a few days after filing his certificate of candidacy and after admitting a "personal oversight" when he signed the committee report on the controversial Cybercime Prevention Act of 2012 that contained "inserted" provisions on libel.
Since then, the two have been regularly seen in public together and have also been openly expressing their affections on Twitter.
Public perception on the relationship has been on the extreme -- it's either you love them or you hate them.
Some have criticized the relationship as a mere political move to help buoy Escudero's candidacy. But others have also become fans of the couple.
Although Escudero retains a comfortable spot in the Magic 12, it appears that based on the survey, publicity about his romance with Evangelista may not have done him any political good.
Legarda's strategy
In contrast, Legarda has been less controversial than Escudero in the past 3 months. The biggest issue hurled against her since August had been questions regarding her political allegiance.
Legarda was accused of being a "political butterfly" when she joined the senatorial slate of the administration Liberal Party-Nacionalista Party-Nationalist People's Coalition (LP-NP-NPC) alliance for the 2013 polls even after becoming a guest candidate in the "constructive opposition," the United Nationalist Alliance.
Still, news reports about Legarda had been largely focused on her legislative work as a senator.
As the chair of the Senate foreign relations committee, Legarda was involved in the Senate probe on the alleged dumping of toxic wastes by a US marine navy contractor in Subic. She also joined the President in calling for a resolution to the West Philippine Sea dispute.
Legarda has also managed to be consistent in pursuing her advocacy for the environment and has been involved in conversations about climate change mitigation.
Winners, losers
A lot can still change on the road to 2013. Case in point, LP-NP-NPC bet Cynthia Villar, wife of Sen Manny Villar, jumped from the 10th-11th place to the 4th place -- gaining 17 percentage points to 51%. UNA candidate Nancy Binay, on the other hand, went from nil to top 9-10, gaining a rating of 41%. These results are consistent with an earlier Pulse Asia survey.
In the SWS survey, Escudero was one of the 4 senatorial bets in the Magic 13 whose ratings decreased from August to December. The other 3 were Sen Gringo Honasan, Aurora Rep Edgardo "Sonny" Angara, and Cagayan Rep Juan Ponce "Jack" Enrile. Everyone else impoved in their ratings.
Below are the comparisons of voting preferences in August and December 2012. - Rappler.com