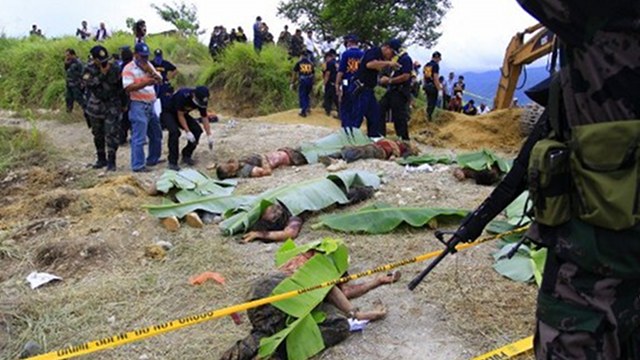 ELECTION-RELATED. Police investigators look at the victims of the massacre in the town of Ampatuan in Maguindanao. File photo from AFP
MANILA, Philippines – The Philippine National Police (PNP) announced on December 17, Monday, having recorded 27 incidents of violence that were initially classified as election-related.
However, while half of these incidents happened in some of the 15 so-called "high risk" provinces, the PNP's Directorate for Investigation and Detective Management (DIDM) said that so far only 4 of them were confirmed to be poll-related.
The 27 incidents led to the death of 21 persons, including candidates for next year's polls and their supporters. The rest are still being investigated.
"We started counting since October 1 up to date. So far, today, there are 27 incidents, out of that 27 incidents there are 40 victims with 21 killed, 17 wounded, and two unharmed," said Chief Superintendent Jose Jorge Corpuz, deputy director of DIDM.
Twenty-five of the incidents involved shootings; one, strafing; one, stabbing.
Corpuz mentioned 7 provinces—identified by the interior department in November as among 15 potentially violence-prone ones—where these 27 incidents occurred.
He said Pampanga had the most number of violent incidents recorded, with 4. The others provinces in the DIDM's report were Abra, La Union, Lanao del Sur, Maguindanao, Masbate, and Pangasinan.
Among those killed in some of these incidents were incumbent mayors, barangay chairpersons, and barangay councilors.
Corpuz said the police has so far filed only two cases based on the 27 violent incidents recorded.
He said the PNP expects the number of election-related violence to go down since all special operations task group commanders have been instructed to hit all private armed groups. – Rappler.com