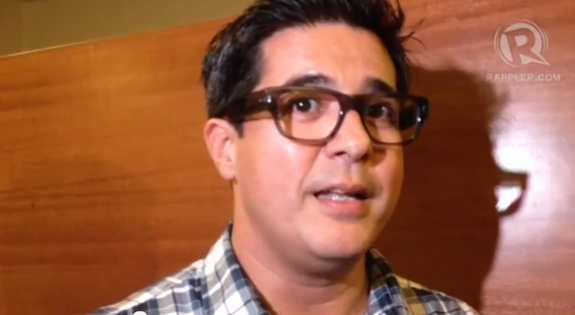 FACING CASES. Congressional candidate Aga Muhlach is facing two cases against him including a disqualification case of his candidacy. File photo.
MANILA, Philippines - The Liberal Party in Camarines Sur is hardly fazed by the possibility that actor Aga Muhlach may not be allowed to run for congress in 2013.
On Friday, December 21, Commission on Elections Chairman Sixto Brillantes Jr. confirmed that a local court in Bicol ruled to strike out Muhlach's and his wife Charlene's names from the voters' list of San Jose, Camarines Sur, for failing to complete the required 6-month residency for registered voters.
Being a registered voter in that area is a requirement to run for a local office.
Despite the decision, LP Camarines Sur treasurer Abet Bercasio told Rappler that Muhlach's lawyer, Romulo Macalintal, remains confident that they will be able to obtain a temporary restraining order (TRO) against the decision. This will allow Muhlach to continue with his candidacy.
In the event that Muhlach is unable to run, Bercasio admitted that the effect would not be as significant for the party, citing Muhlach's unusual situation and non-LP allies.
"We have special arrangements with Aga," Bercasio told Rappler over the phone. "He's working closely more with Gov LRay (Villafuerte) than us with LP. Even the people he has, the local leaders that he has in the district, are LRay's people, not really LP."
Muhlach is eyeing the 4th district congressional seat of Camarines Sur. Villafuerte, the incumbent 3rd-term governor and a member of the Nacionalista Party, is gunning to be the 2nd district's representative, but is fielding his son to succeed him as governor.
Local dynamics
As it stands, the LP is fielding candidates in 4 of 5 of the province's districts. The LP has no candidate for the first district.
Bercasio explained that Muhlach's alliances were formed because the party had not anticipated the gubernatorial bid of LP's Jose Cadiz.
Earlier, LP didn't have a gubernatorial candidate in Camarines Sur, so its national leadership allowed its local candidates to form tactical alliances with local leaders. So by the time LP's Cadiz filed his candidacy, there had already been agreements made between some candidates -- including Muhlach and Villafuerte.
According to Bercasio, the partnership between the two would help soften the blow of losing an LP candidate, compared to if they lost other candidates from the party.
"Honestly, it won't be that big of an effect, not unless the likes of Atty. Leni (Robredo) or Aban (Mulleda) were not allowed to run because they are through and through LP," he said. "We are confident they stand on party ideals."
Robredo, the wife of the late Interior Secretary Jesse Robredo, is running for 3rd district representative against Gov Villafuerte's mother Nelly Villafuerte of the Nationalist People's Coalition (NPC), independent candidate Charina Pante, and UNA's Oscar Arcilla. Mulleda meanwhile faces off with LRay Villafuerte and incumbent Dato Arroyo of Lakas-CMD.
Because Muhlach's only opponent in the district is former congressman Wimpy Fuentebella, the NPC's candidate will likely run unopposed if Muhlach is disqualified.
Incumbent Salvio Fortuno is the LP's bet in the 5th district. He will be up against UNA's Res Cortez and Felix Alfelor of the NPC. Alfelor, Bercasio said, has a larger mass bate than Fortuno in the district.
Bercasio said he is most confident of Robredo's bid, while Mulleda's is an "uphill battle." All LP candidates are battling political dynasties in the province, specifically Alfelor, Fuentebella and the Villafuertes.
Even if Muhlach were to run, Bercasio said the actor faces a tough challenge in order to win, especially because the Fuentebellas have been in power for more than 100 years.
"Though Aga is perceived to be the toughest opponent for the Fuentebellas so far because of his popularity, Aga's problem would be how to convert his popularity into vote, which the Funetebellas have through their machinery and loyal mass base," Bercasio said.
Muhlach's options
In November, Muhlach appealed a court ruling by a Camarines Sur Municipal Trial Court (MTC) that ruled his and his wife's ineligibility to vote.
Brillantes said that as soon as the denial of Muhlach's registration is final, he will be disqualified.
But he agreed that Muhlach has options to reverse the decision.
"He can still run to a higher court. The MTC and regional trial courts are done. The rule says that in registration, the RTC is final but you can still go up on certiorari in higher courts," he said.
Brillantes added that disqualification cases must be resolved before ballots are configured, which could start as early as January 2013.
Aside from the residency case Muhlach is facing, the congressional hopeful is in the middle of another trial case with the Comelec questioning his citizenship and seeking to disqualify him from the elections.
Camarines Sur resident Gilmar Pacamara accused Muhlach of being a Spanish citizen, alleging that Muhlach applied for Spanish citizenship in 2011 and renounced his Filipino citizenship.
Macalintal said they have already filed a memorandum regarding the case, and expressed confidence that it would be easier to resolve than Muhlach's residency case. - Rappler.com