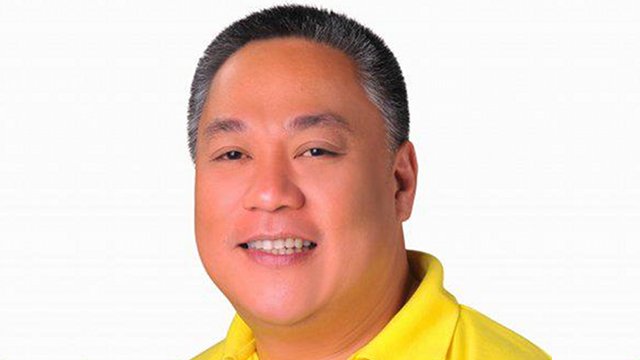 RUNNING AGAIN. Hilario "Junjun" Davide III will join the 2013 gubernatorial elections in Cebu even after losing in the same race in 2010. Photo from Davide's Facebook page
MANILA, Philippines – Amid the verbal fireworks between the camps of suspended Cebu Gov Gwendolyn Garcia and acting governor Agnes Magpale, the man who stands to benefit from the possible political weakening of the Garcias has made himself scarce: Hilario "Junjun" Davide III.
(Read here and here the rare instances he commented on the ongoing drama at the capitol.)
The son and namesake of a former politician and Chief Justice, Davide is the Liberal Party (LP) gubernatorial candidate in the 2013 elections. (Magpale, the current vice governor, will be his running mate.)
He also leads the rather long list of gubernatorial hopefuls who lost in 2010 and are now taking another shot at the post.
As LP bet in 2010, he lost to Garcia by 96,341 votes in a 4-cornered fight. This year, he is running for governor again, this time against Garcia's brother, current 3rd district congressman John Pablo Garcia.
Rappler's database of certificate of candidacy filers shows there are 27 of such repeaters in 2013 – or in a third of the total provinces in the country.
Aside from them, there are 7 running for governor after their relatives lost their bids for the same post in 2010.
Mario Angelo Padaca of Isabela (brother of Grace Padaca, who lost to Faustino Dy III)
Donna Lyn Gerdan of Nueva Vizcaya (wife of Florante Gerdan, who lost to Luisa Cuaresma)
Josefina Joson of Nueva Ecija (sister of Edward Thomas Joson, who lost to Aurelio Umali)
Antonio Kho of Masbate (husband of Elisa Kho, who lost to Rizalina Lanete)
Rita Gallardo of Camiguin (niece of Rogelio Gallardo, who lost to Jurdin Jesus Romualdo)
Robert Lyndon Barbers of Surigao del Norte (brother of Robert Ace Barbers, who lost to Sol Matugas)
Public administration professor Prospero de Vera of the University of the Philippines told Rappler that it's normal to have such perennial contenders, especially if they are from political clans.
"If you lose in one election, the political structure is still there. It's easy for the losing candidate to be back in the race," he said.
He added that in the local race, gauging a candidate's chances at winning are based on the amount of the campaign funds and party alignments in a particular election. The odds in a past election may not be the same in the next.
Preserving coalitions
Most of the returning gubernatorial candidates – 11 of them – are independents. Five are with the Nationalist People's Coalition (NPC); 4 with LP; 4 with the United Nationalist Alliance and its partner, the PDP-Laban; 2 Kilusang Bagong Lipunan; and 1 National Unity Party.
Those running under NPC and LP now also ran under the same parties' banners in 2010.
Those who have shifted from being independent to being a party member, or transferred parties were:
Amado Almazan of Apayao (KBL in 2010 to UNA in 2013)
Tomas Dumpit of La Union (independent to NUP)
Telesforo Castillejos of Batanes (Lakas-Kampi to UNA)
Jose Antonio Carrion of Marinduque (Lakas-Kampi to NPC)
Richard Lopez of Palawan (independent to KBL)
Omar Ali of Lanao del Sur (Nacionalista Party to PDP-Laban)
Kadra Masihul of Sulu (KM to KBL)
Rashidin Matba of Tawi-tawi (NPC to UNA)
De Vera explained that most candidates run again even after a defeat because they have to preserve local political coalitions.
"It's difficult to preserve that. So if they lose, the machinery is there even if dormant. It's easy to revive that in the next elections," he said.
He added that if a candidate who lost wouldn't run again, his allies "will gravitate toward other candidates."
Some are not entirely new in the gubernatorial race. Eight of the returning candidates are former governors who tried but failed to get a new term in 2010. They are:
Amado Almazan (Apayao)
Tomas Dumpit (La Union)
Telesforo Castillejos (Batanes)
Eddie Panlilio (Pampanga)
Amor Deloso (Zambales)
Jose Antonio Carrion (Marinduque)
Emmanuel Piñol (North Cotabato)
Rashidin Matba (Tawi-tawi)
"For perennial politicians, elections can be very invigorating," De Vera said. "It reinforces their belief that they can win against all odds." – Rappler.com
---
---
More from #PHVote, Rappler's 2013 Election Coverage: