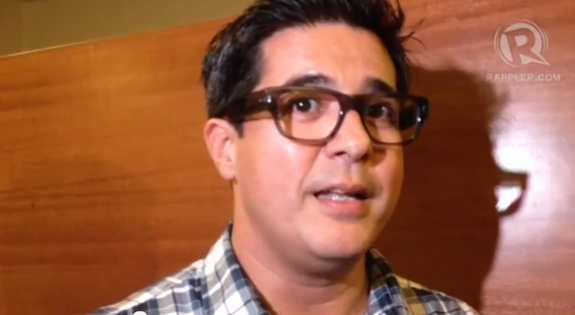 FOR NOW. The CA temporarily lifts a roadblock in Aga Muhlach's congressional bid. File photo
MANILA, Philippines – The Court of Appeals (CA) on Tuesday, January 15, stopped the removal of Aga Muhlach and his wife, Charlene Gonzales, from the Camarines Sur voters' list, temporarily clearing a roadblock in Muhlach's congressional bid.
But the CA's temporary restraining order (TRO) is good only for 60 days. CA associate justices Jane Aurora Lantion, Eduardo Peralta Jr, and Vicente Veloso signed the TRO.
Last January 3, the couple asked the CA to issue a TRO even as a lower court had not enforced its decision compelling the Election Registration Board to remove them from the voters' list.
If the couple will be removed from the list, Muhlach may be disqualified from running as Camarines Sur 4th district congressman, according to his lawyer Romulo Macalintal. Muhlach is running under the ruling Liberal Party.
On Dec 17, 2012, the San Jose, Camarines Sur, Regional Trial Court upheld a decision by the Municipal Circuit Trial Court which said the ERB should exclude the Muhlach couple from the voter's list. The courts said the couple failed to meet the 6-month residency requirement.
For Macalintal, however, the 6-month residency period will begin 6 months before the elections. In this case, that's on November 14, 2012 – not before the deadline for voter's registration, which was on October 31.
The Muhlachs established residency in the district as early as February 2012, and registered as voters there in March, or more than a year before the 2013 elections.
Macalintal said this is what the CA said in its decision involving Rep Romeo Jalosjos Jr. The CA, in 2010, ruled in favor of Jalosjos because the 6-month residency period had yet to start when the petition for his exclusion from the voters' list was filed.
The LP in Camarines Sur, for its part, earlier told Rappler that it was not worried about Muhlach's possible disqualification because it wouldn't be a loss to the party. Muhlach, although officially an LP, is associated more with the local Nacionalista Party camp of Gov. LRay Villafuerte. – Rappler.com