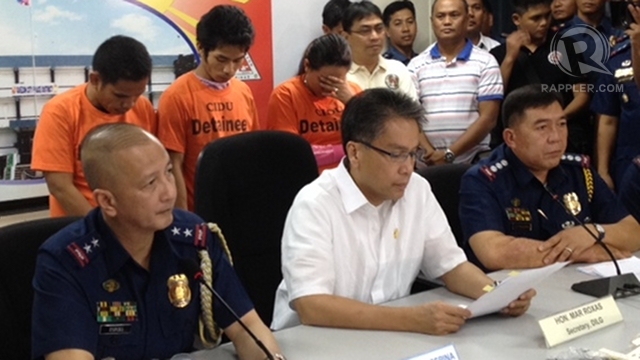 MURDER SUSPECTS. One of the 3 suspects in the murder of Mayor Erlinda Domingo is only 26. Photo by Paterno Esmaquel II
MANILA, Philippines – To prevent poll-related violence, a police checkpoint was 10 minutes away from the place where an Isabela town mayor was killed Tuesday evening, January 22.
The checkpoint failed to prevent the murder of Maconacon Mayor Erlinda Domingo, Interior Secretary Mar Roxas admitted on Wednesday, January 23. Roxas, however, said the checkpoint led to the quick arrest of a suspect in the case.
In a press conference, Quezon City police chief Senior Supt Richard Albano said it took only around 10 minutes for them to arrest Christian Pajenado, a suspect aged 26. He said police arrested Pajenado "in line with those checkpoints."
For Roxas, Pajenado's quick arrest also shows that checkpoints work.
"Nakalusot nga ito. Ang mga kriminal ay talagang itatago nila 'yung kanilang mga baril o kutsilyo o kung ano pang mga kasangkapan. 'Yung 10 minutes away na nahuli sila, nagpapatunay ito na may silbi itong mga checkpoints na ito. It's just as well na maaari na papunta sila sa crime scene ay nahuli rin sila," Roxas explained.
(It did escape our attention. Criminals will really conceal their guns, knives, and other weapons. That the suspect was arrested 10 minutes away from the scene, proves that these checkpoints work. It's just as well that they were going to the crime scene and were arrested.)
Domingo was killed at around 8 pm on Tuesday, in front of Park Villa Apartelle, at the corner of Quezon Avenue and Examiner Street in Barangay West Triangle, Quezon City. The area is not secluded and, in fact, is a kilometer away from Metro Manila's main thoroughfare, Edsa, and television giant ABS-CBN.
National Capital Region police chief Director Leonardo Espina, for his part, said checkpoints have prevented "so many untold events or situations."
Espina said for the past 8 days, in fact, the Metro Manila police has seized an average of 5 firearms, deadly weapons, and explosives daily.
"Sa bawat iligal na instrumento na nahuhuli sa mga checkpoint, that is potentially one crime that was avoided," Roxas added. (For every illegal instrument that is seized at checkpoints, that is potentially one crime that was avoided.)
Checkpoints have sprouted around the country in line with the Commission on Elections (Comelec) gun ban, which is in place from January 13 to June 12. The ban, which exempts only around 40 groups of offficials, aims to prevent election-related violence.
Two hours after the press conference, Quezon City station commander Supt Pedro Sanchez said Roxas and Espina didn't refer to Comelec checkpoints.
In an interview with Rappler, Sanchez said the suspect was indeed seized at a checkpoint – but not an official Comelec checkpoint, which is usually installed in various locations after 8 pm. He said what led to a suspect's arrest was a checkpoint for "Oplan Sita." (Read: What a Comelec checkpoint looks like.)
3 suspects, 1 place
Meanwhile, the PNP on Wednesday released additional details on Domingo's murder.
In a statement, the PNP said it has arrested 3 suspects who, incidentally, come from Barangay Commonwealth in Quezon City.
The first was Pajenado, a native of Samar who lives in Purok Riverside in Commonwealth. He was reportedly armed with a .45 cal pistol with two magazines when the police arrested him.
Hours later, the PNP arrested two other suspects in East Riverside, still in Commonwealth – Michael Domingo and Mary Grace Malones-Abduhadi.
From the two, the police seized a motorcycle, which could have been used in the crime, and the following weapons – two pistols, .25 and .45 caliber guns, pistol magazines, and ammunition. The police also confiscated dried marijuana leaves and drug paraphernalia.
Three other suspects remain at large – the alleged gunman, Marsibal Abduhadi alias Bagwis; a certain Khalid; and Ryan Santiago.
Murdered mayors
Is politics a motive for the murder? Roxas said this is speculation for now. He wants a thorough probe.
An ally of Isabela Gov Faustino Dy III, Domingo was running for re-election under the Nationalist People's Coalition. She was allied with the Dys and Albanos of Isabela.
She was vice mayor to Francisco Talosig until 2009, when the former mayor was ambushed in Tuguegarao. Domingo assumed the remainder of Talosig's term.
Police then said the possible motive for Talosig's killing was his crusade against anti-illegal logging and illegal fishing.
For Roxas, two murdered mayors in 3 years appear unusual.
"Hindi natin alam kung two isolated events ito, o magkakonekta ito... A small town in a remote area of Isabela, on the coast, facing the Pacific... in a span of 3 years, two mayors have been shot," Roxas said. (We don't know if these are two isolated events, or if these are connected... A small town in a remote area of Isabela, on the coast, facing the Pacific... in a span of 3 years, two mayors have been shot.)
Roxas said investigators should explore the link between the two killings. – Rappler.com