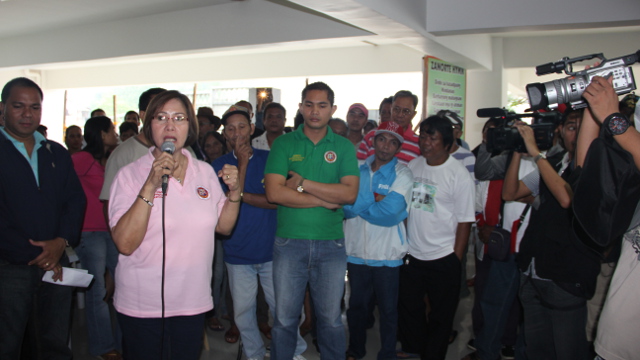 Mayor Patri Chan and supporters. Photo by Gualberto Laput
DAPITAN CITY, Philippines – Tension gripped this city Friday, January 25, as the defeated 2010 mayoral candidate, who was recently sworn in by the Commission on Elections (Comelec) in Manila, was poised to take over from sitting Mayor Patri Chan, who vowed not to vacate her office.
"I'm fighting for my right, I will not take this without a fight, because the Supreme Court and the Comelec have violated my right," said Chan, former vice mayor who took over as mayor in April last year after Dapitan Mayor Dominador Jalosjos Jr. resigned to run for governor in Zamboanga del Sur.
Three years ago, retired Army colonel Agapito Cardino lost to Jalosjos Jr., brother of convicted rapist Romeo G. Jalosjos, by a wide margin. Jalosjos Jr. got more than 30,000 votes while Cardino had 6,000.
Cardino petitioned before the Supreme Court to deny Jalosjos Jr.'s certificate of candidacy claiming that the latter was convicted of robbery in band by a court in Cebu City.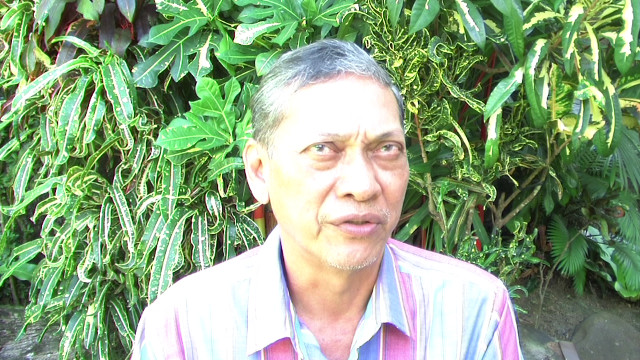 Retired Army colonel Agapito Cardino. Photo by Gualberto Laput
On Aug 11, 2012, the Supreme Court declared Jalosjos Jr disqualified, and said that made Cardino an unopposed candidate in 2010.
On January 17, the Comelec issued a writ of execution to enforce court decision. The poll body, however, did not specifiy whether Chan will go back as vice mayor.
But Cardino had already taken his oath at the Comelec head office in Manila. He was originally expected to arrive here Friday and would head straight to the city hall accompanied by his supporters. His arrival has been moved to Monday.
"This is what I am fighting for," Chan explained. "I was elected vice mayor, and became mayor only by law of succession. Now the Supreme Court and Comelec recognized my cousin (Cardino) as the mayor without saying what will happen to me or to Ruben Cad, who succeeded as vice mayor from being the first councilor."
Chan filed a Petition for Prohibition and Certiorari before the Supreme Court "with urgent prayer for temporary restraining order against the Writ of Execution issued by the Comelec."
Meanwhille, Chan's supporters occupied the city hall to prevent Cardino from taking over. The city hall is also surrounded by police while two platoons of anti-riot police were on standby. - Rappler.com