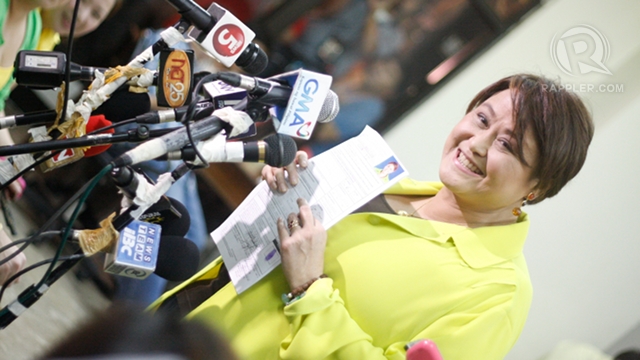 MANILA, Philippines - Jamby Madrigal will never back down from a fight.
She is feisty, confrontational, and will speak her mind without hesitation.
She is unafraid to be unpopular, especially when she believes her stance is right and will benefit the greater good.
This is what she prides herself in.
In her first television ad, she trumpets her aggressive nature, calling herself "palaban." On her website, she acknowledges she is known for her "audacity." And in interviews, she says this is what voters can expect from her.
"I just think that my politics is for the collective good. I'm not in politics for my personal gain. If it were only for my personal gain I wouldn't go into politics," she told Rappler.
"But to be unpopular with those who judge you, you can never please everyone. But I will stand for principled battles. I will take a principled stand even if it's unpopular, if it will do the greatest service to the greatest number."
This is her promise.
Against Villar
Madrigal is unapologetic, and while it has attracted voters to elect her as senator in 2004, she has also featured in several political feuds over the years.
In 2010, Madrigal's presidential campaign largely targeted then presidential bet Manny Villar, accusing him of corruption over alleged double funding in the controversial C-5 road that was supposedly diverted to pass through the Villars' housing projects.
She was a staunch critic of Villar in the Senate, but Villar denied the allegations and the Senate committee on the whole would eventually clear him. Along the way, news reports show she called Villar "coward," "evil," and "corrupt," among other names, and often made snide comments about him on stage during debates.
Villar's wife, Las Piñas Rep Cynthia Villar, is now allied with Madrigal in President Benigno Aquino III's coalition, Team PNoy. The Villars say they harbor no hard feelings towards her.
Issue-based attacks
Madrigal also clashed with Sen Alan Peter Cayetano when the two were still together in the Senate. The former lashed out at Cayetano, accusing him of being allies with Villar, while Cayetano in 2010 called Madrigal a nuisance candidate and asked the Commission on Elections to disqualify her from the presidential campaign.
Cayetano, also part of Team PNoy, earlier admitted he is uncomfortable running with Madrigal but said he could work with her.
Even Madrigal and then Senate President Juan Ponce Enrile -- a stalwart of the opposition United Nationalist Alliance (UNA) -- had attacked each other in the Senate in the past, ending with Madrigal in tears.
Yet despite all the harsh words exchanged, disagreements and fights, Madrigal maintains none of her past fights are personal. She said she attacks principles and issues, and not people themselves.
"Honestly because I always do my work based on issues, my differences with them were issue-based they were never personal. Although I would receive a lot of personal attacks from Sen Cayetano below the belt, but how will you feel, it's just the difference of opinion on different issues," she said.
"It's really not personal. so I guess, it is just so hard when there are other senators who make it personal...It's their problem not mine."
Misunderstood?
When Madrigal took her oath as a Liberal Party (LP) member just days before she was declared candidate of the administration, critics complained she was undeserving of the slot, and that other long-time LP members -- like Quezon Rep Erin Tañada and TESDA Director-General Joel Villanueva -- deserved it more.
Madrigal was a member of Laban ng Demokratikong Pilipino, later PDP-Laban, then became an independent, before joining LP. She was also first appointed to government by former president Joseph Estrada who is one of the leaders of UNA.
But Madrigal brushed off the reactions, and said she did not feel guilty for being handpicked by the LP leadership. She admitted she was not invited by UNA, but said the invite extended to her by the LP was much welcomed. She said she has been "always attracted" to Aquino's "tuwid na daan."
Madrigal, a member of an old-rich billionaire clan, acknowledges she has been at the receiving end of criticisms in the past, but insists she has only been misunderstood.
She blames former President Gloria Macapagal-Arroyo for how she was "demonized" in the media, which gave people the wrong idea about her.
Arroyo critic
"As you know, I was the one of the biggest critics of Mrs. Arroyo and any of those who were associated with her. For 6 years I did nothing but be a major opposition and it was very hard because she controlled everything, even media. So a lot of what I was fighting for was misunderstood," she said.
"You know, you can do something and then it's paraphrased differently, but I was willing to take the...batikos (critcism), as long as I felt that I was doing my job as senator."
It is not the first time Madrigal said she was misunderstood.
In 2010, Madrigal criticized the use of actors in endorsing candidates, calling it an "insult to the Filipino intelligence." This, 6 years after actress Judy Ann Santos endorsed her as senator, which, Madrigal said, she "regrets."
Santos replied, saying, she was "deeply hurt" by the statements. She said she would make sure to know candidates thoroughly before endorsing them again in the future.
Madrigal later said her statements were misinterpreted, adding, she is forever thankful for Santos' help in 2004. What she condemns is the use of actors without revealing their platforms, Madrigal clarified.
New role, old role
After her share of rough roads, Madrigal is eager to ditch being on the defensive, including being part of the opposition.
She said she looks forward to being on the administration's side, and contributing in a way that does not include slamming the current government.
"Instead of being a fiscalizer, instead of being in the opposition, being in the administration I think I can do a lot of positive projects for the people. So it's more on the positive growth side, project side, that I think I can do good this time," she said.
If elected, the 54-year-old Madrigal hopes to focus on the environment, women, and children.
Political family
Madrigal, a member of a political family, is related to former Supreme Court Chief Justice Jose Abad Santos, and pre-Commonwealth Assemblyman Pedro Abad Santos. She is the granddaughter of former Sen Vicente Lopez Madrigal, and the niece of former Sen Pacita Madrigal-Gonzales.
Madrigal first joined government in 1999, after being appointed by Estrada as head of the Office of the Presidential Adviser for Children's Affairs. She became undersecretary of the Department of Social Welfare and Development in 2001, and won as senator in 2004.
She chaired the Committee on Environment and Natural Resources; Youth, Women and Family Relations; Cultural Communities; and Peace, Unification and Reconciliation. During her time there, the Magna Carta of Women law was enacted, and the Anti-Child Pornography Law, which she authored, was passed.
She also boasts of having passed the Tubbataha Reefs Natural Park (TRNP) Act of 2008, calling for its protection -- an act which, she said, now serves as a framework, as the Philippines asks for monetary compensation from the US for the damage inflicted upon the reef by the US navy minesweeper USS Guardian.
But while Madrigal said she is looking forward to spending less time attacking the administration and more time working on actual projects, she promises supporters and voters she will be the same person she has been for them through the years -- a fighter.
Walk the talk
"I have a principle to stand my ground. I'll walk my talk," she said.
"What you see is what you get. Hindi ako nagpapakipot. Hindi ako nagpapa-plastic. Yung taos-puso kong serbisyo ang ibinibigay ko sa taong bayan para sa kabutihan nila. Wala naman akong nakukuha diyan. It's not for me. It's for them." (I'm not playing coy. I'm for real. My heart-felt service is what I offer to the people for their good. I don't get anything from it.)
It is ironic, but clear.
The same quality that turns off others, is what draws others to her.
The question come May is, which opinion of her will prevail? - Rappler.com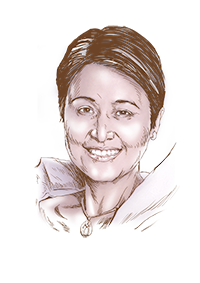 FAST FACTS
Senate Designations:
Chairperson: Committee on Environment and Natural Resources and oversight committees; Committee on Youth, Women and Family Relations; Committee on Peace, Unification and Reconciliation; Committee on Cultural Committees
Member: Commission of Appointments

Political Party: Liberal Party

Senate terms: 2004-2010

Survey ranking: 14th (Social Weather Stations, February 15-17, 2013 survey)

Age on Election Day (May 13, 2013): 55

Education:
Degree in Economics and French, Sta. Clara University, California USA
International and Developmental Economics, Yale University
Trade and Shipping special course, Cambridge University UK
Professional Background:
Presidential Adviser for Children's Affairs 1999-2000
Founder, Books-for-the-Barangay Foundation Inc
Founder and chairperson, Abad Santos Madrigal Foundation Inc
Chairperson, ABLE Foundation Inc (Scholarships for the deserving poor)
Former undersecretary, Department of Social Welfare and Development
Bills authored and passed:
Magna Carta For Women
Anti-child Pornography Law
Tubattaha Protected Area Act Un Silver Medal Winner
Protected Area Bills
Log Ban Bills In Selected Areas
Declaration Of Child Abandonment Adoption Law
Child Legitimation Law
Marine Pollution Bill
Non Discrimination Bill (Muslims And Ethnic Minorities)