MANILA, Philippines - One senatorial candidate thinks sex education should be taught only to high school seniors. Another thinks marijuana should be legalized. Another one thinks faith, hope and love is what's missing from government.
Fourteen senatorial candidates joined "The Rundown" senatorial debate held at the University of the Philippines Diliman on Thursday, February 7. Watched by students from top universities in the country, the candidates shared their thoughts on a range of topics.
The contrasting views highlighted the wide spectrum of choices available for voters.
One topic that exposed stark differences among candidates was the proposal to allow divorce in the country.
Former Akbayan Rep Risa Hontiveros, who is running with the administration slate, voiced her support for the measure. Hontiveros talked about women's rights to justify her answer, pointing out that wives do not have enough options even when caught in abusive situations.
"We should talk about it. The current situation is not good enough especially in situations of wife battering or when children are beat up, marital rape, and incest… I believe harmonious societies start with harmonious families," she said.
Zambales 1st district Rep Mitos Magsaysay opposes it. She said what is needed isn't a divorce law but marriage seminars. Magsaysay said people must think harder about getting married in order to avoid divorce in the future.
"Before a couple decides to plunge into marriage, the first thing they need and require is a marrige license that requires a seminar.... The seminar tells you when you're psychologically, emotionally, spiritually, financially prepared to plunge into marriage," she said.
Magsaysay said current laws are in place to protect women against spousal abuse. She added that annulment and legal separation are options for married couples who can no longer work out their differences.
Another senatorial bet, Rizalito David, also opposes it. He said for every reason divorce should be approved, there are many more reasons it shouldn't be.
"Look at the U.S. Has America benefited from divorce? There are more negative impacts on American families," he said. "A lot of teachings in the church are based on empirical evidence."
David was also asked about what things he would like to change about the government. He said there are 3 main things missing that he would like to restore -- faith, hope and love.
Sex ed at 18?

Other issues also sparked widely different responses, raising the question of whether or not it was a generational gap.
On the sexual education requirement in schools, a provision of the controversial Reproductive Health bill that has recently been passed, Magsaysay, 48, again emphasized the necessity of value formation which she said could help curb the incidence of pre-marital sex.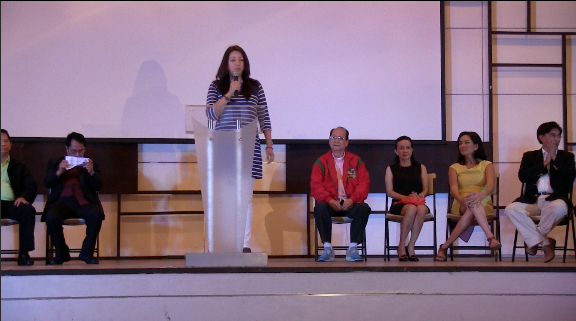 Hontiveros, 46, said she supports comprehensive sexuality education both at home and school.
But 77-year-old Ernesto Maceda, one of the oldest senatorial candidates running, said he is in favor of sex education for students -- but only when they are about 18.
"I am in favor of sex education, the debate is when. Some say grade school, others say high school, college. I think now that we have K-12, it should be given to seniors in high school," he said.
Presently, sex education is given to 6th graders.
Maceda was later asked if he would be willing to learn social media, a forum for discussions and conversation among the youth. Maceda said he already has Facebook.
Marijuana for healing?

But the candidate that got the most attention was UNA candidate San Juan Rep JV Ejercito, who was asked if he would be open to legalizing marijuana. The question was only addressed to him.
A smiling Ejercito responded, "If it will heal the body, why not?"
The answer drew cheers from the young crowd.
Not all issues were controversial however.
Among the issues that earned unanimous approval from the candidates included the Freedom of Information Bill and the removal of the right of reply provision. All agreed the provision would take away the rights of media.
Candidates also agreed on the need to improve healthcare services, to review the cybercrime law, and to make changes in the Department of Education. - Rappler.com