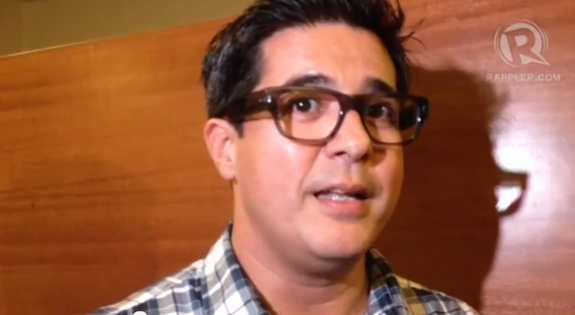 STOP LOWER COURT. Actor Aga Muhlach asks the CA to block the lower court in Camarines Sur from implementing its order removing him from the voters' list.
MANILA, Philippines - Finally good to go.
Actor Aga Muhlach surmounted the second and last obstacle to his congressional bid, after the Court of Appeals (CA) ruled he and wife Charlene are registered voters of San Jose, Camarines Sur.
The decision by Associate Justice Vicente reinstated the couple, whose names were stricken off the new voters' list by local courts.
"The Election Registration Board (ERB) is consequently ordered to permanently Reinstate and Reactivate the names of petitioners Ariel A. Muhlach and Charlene Mae B. Muhlach in the list of Voters of Precinct No. 10A, Barangay San Juan, San Jose, Camarines Sur and Annotate them on the Voters Registration Record (VRR) of the Office of the Election Officer of San Jose, Camarines Sur," the decision said.
The Muhlachs' exclusion from the voters' list would have meant the actor's disqualification from the race. The election inspector in the locality earlier justified the Muhlachs' delisting citing their alleged failure to meet the 6-month residency requirement in San Jose town that would allow them to vote there.
Muhlach appealed the verdict with the CA, which ruled in his favor. On January 15, the CA stopped the removal of the Muhlachs from the Camarines Sur voters' list but the CA's temporary restraining order was good only for 60 days. The February 15 decision finally resolves the issue.
Muhlach celebrated the decision, telling Rappler the allegations were "all lies" and that he is happy "our arguments were heard."
"I feel like a congressman already. Parang feeling ko nanalo [na] ako. People from the district won the battle. They were demoralized [when we were delisted]," he said.
Muhlach is the Liberal Party's congressional bet in the 4th district of Camarines Sur.
He said the 4th district is the poorest in the province. "Every time I go around, it's like they [people] really want change," he said.
"The ones who have been here for 100 years haven't done anything," he said, apparently referring to his rival who comes from the oldest ruling clan in the province.
I'm not saying I will fix all their problems, but I'll make sure I don't steal from them. And the money that should be given to you will be given to you na walang bawas," Muhlach said.
Against a clan
Running for public office for the first time, Muhlach is up against Wimpy Fuentebella, son of Rep Arnulfo Fuentebella, part of the political clan that has ruled the province since 1907.
Aside from the residency case, the congressional hopeful was facing another trial case with the Commission on Elections (Comelec) questioning his citizenship and seeking to disqualify him from the elections.
Camarines Sur resident Gilmar Pacamara accused Muhlach of being a Spanish citizen, alleging that Muhlach applied for Spanish citizenship in 2011 and renounced his Filipino citizenship.
But on January 15, the Comelec first division dismissed the petition saying Pacamara "failed to present any direct, nor substantial and convincing evidence, that respondent has lost his Filipino citizenship, or is not a Filipino citizen." - Rappler.com