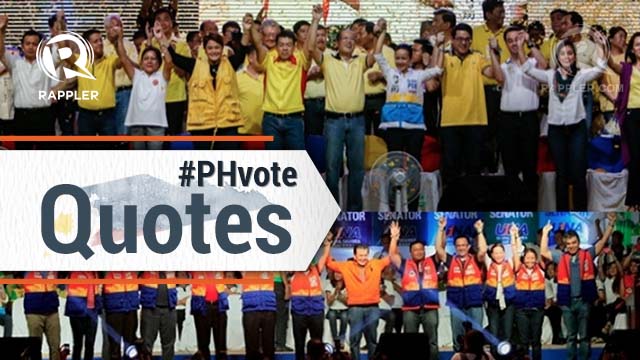 Photo of Team PNoy by John Javellana, Photo of UNA by Charlie Saceda
MANILA, Philippines – What do you get when you combine the campaign period and Valentine's Day? Not-so-sweet nothings.
Sound and fury marked the start of the campaign period for national candidates. The campaign opened on the same week as hearts' day, highlighting the love-hate relationship between the two coalitions, the president and romance (or the lack of it), and even a journalist and a congressional staffer.
It's a tug-of-war not just for common candidates but also for the voters' heart.
Here are Rappler's #PHvote quotes of the week:
Scathing editorial
"The fact remains that she is seriously unqualified to be in the Senate …. Nancy Binay is running on a 'Gaganda ang buhay' theme, taking off from her father's successful campaign slogan. That's easy for her to say: Life becomes beautiful, is made easier, if you're someone's daughter."
- The Philippine Daily Inquirer in an editorial on senatorial candidate and vice presidential daughter Nancy Binay
- Nancy Binay in a tweet about the editorial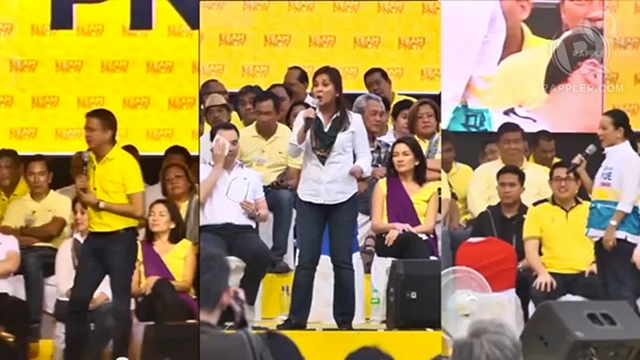 NO SHOWS. The tug-of-war for common candidates Sen Francis Escudero, Sen Loren Legarda and Grace Poe intensifies after UNA threatens to drop them for snubbing its Cebu proclamation.
UNA, the shunned suitor?
"There are no common candidates. The 3 candidates are candidates of the administration."
- Liberal Party (LP) campaign manager Sen Franklin Drilon on Sen Loren Legarda, Sen Francis Escudero, and Grace Poe. All 3 attended the LP proclamation in Plaza Miranda, Manila.
"Parang panliligaw iyan eh. Kung nakikita mo pareho kayo nagyaya ng date pero doon sa isa laging sumasama, anong gagawin mo kung ayaw sa iyo?"
(It's like courtship. If you both ask the girl out for a date but she goes out with the other guy, what can you do if she doesn't like you?)
- United Nationalist Alliance (UNA) campaign manager Toby Tiangco in a Rappler interview on the common candidates. UNA has threatened to drop them from the slate for snubbing its Cebu rally.
Epals-turned-criminals?
"Kung epal ka ngayon, bukas kriminal ka na." (If you're credit-grabbing today, tomorrow you'll be a criminal.)
- Comelec Spokesperson James Jimenez on the eve of the campaign period. Now that the campaign has begun, he said the poll body will go after publicity-hungry politicians violating election rules.
Tiya Pusit's name game
Tiya Pusit: Bigyan mo ako ng mga kandidato ng UNA. (Name me UNA candidates.)
Man from crowd: Cayetano? Villar? Grace Poe?
Tiya Pusit, bobbing her microphone on his head: Sa kabila 'yun! (They belong to the other side.)
- Comedian Tiya Pusit playing a name recall game before the start of the UNA proclamation rally in Plaza Independencia, Cebu. She is a friend of UNA's Cebu congressional candidate, talent manager Annabelle Rama. Tiya Pusit also made politicians and supporters dance to the hit 'Pusong Bato.'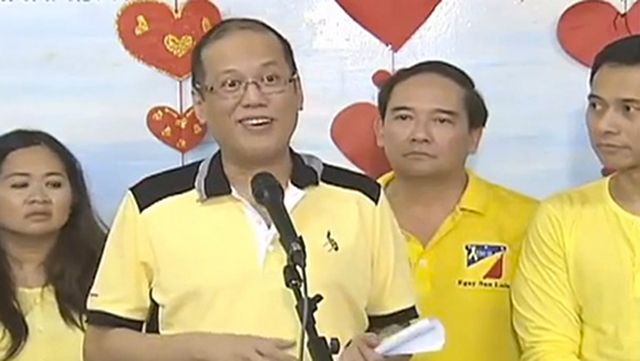 FINDING LOVE. President Aquino said he will try to find someone to talk to over the Internet on Valentine's Day. Screengrab from RTVM
PNoy tries online dating?
"Maghahanap ako nang makakausap mamayang gabi para hindi naman magsawa si Joshua, kaming dalawa lang nag-uusap. Baka naman sumubok na lang tayo sa Internet na."
(I will look for someone to chat with tonight so Joshua won't get tired of the two of us always talking. Maybe we can try through the Internet.)
- President Benigno Aquino III tells reporters in Laguna about his non-Valentine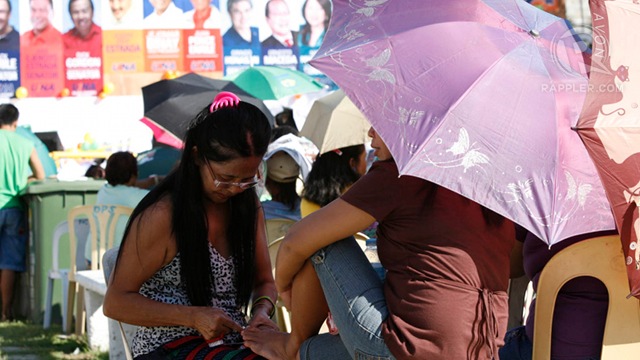 DO YOU FEEL IT? Cebuano voters wait for the start of the UNA rally in Cebu. Later that day, Cagayan Rep Jack Enrile tells them they cannot eat the GDP the administration is boasting about. Photo by Charlie Saceda
Eating the GDP
"Kahit pinagmamayabang ng pamahalaan ang 6.6% growth rate, 'di natin nararamdaman. Nakakain niyo ba ang GDP? Nakakain niyo ba 'yung growth rate? Nakakain niyo ba ang sinasabi nilang pag-angat ng stock exchange?"
(Even if the government boasts of the 6.6% growth rate, we don't feel that. Can you eat the GDP? Can you eat the growth rate? Can you eat the stock exchange boom?)
- UNA senatorial bet Cagayan Rep Jack Enrile addresses Cebuanos in his proclamation speech
"We will not get to daang maganda (beautiful path) if we don't first go through daang matuwid (straight path)."
- Team PNoy senatorial bet Aurora Rep Sonny Angara hits back at UNA in a Laguna sortie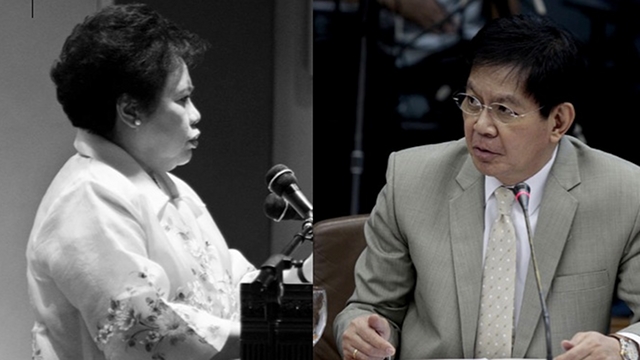 NON-ISSUE. Senatorial bets weigh in on gender after Sen Miriam Defensor Santiago revived gay rumors against Sen Panfilo Lacson. File photo of Santiago from her Facebook page, File photo of Lacson by Edward Ganal/Senate PRIB
Gay senators? Why not?
"There were some not exactly masculine senators way, way in the past. It's the same. They served well, that's all that matters. It's a non-issue. Just be yourself… and try not to scandalize anybody."
- LP senatorial bet former Sen Jun Magsaysay on gender and the Senate after the "Pinky Lacson" rumors revived by Sen Miriam Defensor Santiago. Sen Panfilo Lacson denied he is gay.
Social media 101
"That is the problem mam. U assume these things are legit when u don't read more on it outside of your teleprompters. :( …. You have to hit at bitches to keep them in check."
- Vince Borneo, legislative staff of Bayan Muna Rep Teddy Casiño, in tweets to and about journalist Ces Drilon. Borneo hit Drilon for retweeting questions about Casiño's alleged links to communists. He has since apologized. – Compiled by Ayee Macaraig/Rappler.com