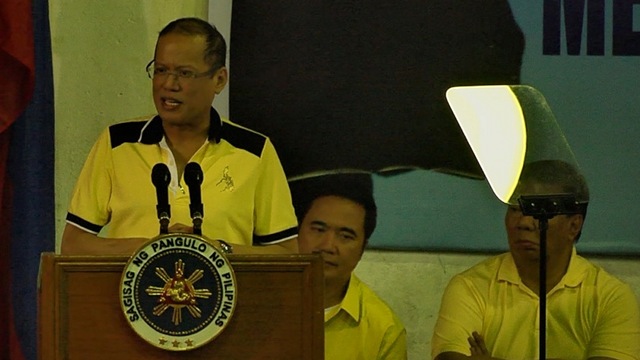 CEBU, Philippines - In promoting his party's gubernatorial candidate in this most vote rich province, President Benigno Aquino III took a swipe at suspended Gov Gwendolyn Garcia during Team PNoy's campaign rally in Talisay City Tuesday, February 19.
Aquino did not name Garcia, but in introducing Liberal Party (LP) bet Hilario "Junjun" Davide III, he sneered at Garcia's refusal to follow a suspension order against her, which she has been defying since December.

"I can guarantee you that one of the leaders who will follow 'Tuwid na Daan' will be the person that Cebu will elect in May -- Junjun Davide," the President said to a clapping audience.

"He will not tolerate corruption. He will not be tempted by money and power. He will not keep himself inside the capitol to try to escape justice," the President added.

Garcia barricaded herself inside the Capitol in December to prevent the implemenation of a suspension order in relation to a case of "grave abuse of authority." She was said to have diverted the funds meant for the office of the vice governor, who belonged to a rival party.
Because of Garcia's suspension, Vice Gov Agnes Magpale is now the acting governor. She has managed to have Garcia's office locked after the suspended governor left the capitol to visit her father, a congressman and former governor.
Davide, son and namesake of former Cebu politician and Supreme Court chief justice, battled it out with Gwendolyn Garcia in the 2010 elections. He lost by almost 100,000 votes. He is one of the many losing gubernatorial candidates in 2010 who are taking a fresh shot at the post.

This time, Davide is up against Gwendolyn's brother, current 3rd district congressman John Pablo Garcia.

UNA, whic is allied with Garcia's One Cebu Party, has consistently assailed the LP for the suspension of Garcia, saying it was a power grab, but has avoided directing their attacks at President Aquino.
UNA's leaders -- Vice President Jejomar Binay, Senate President Juan Ponce Enrile, and former President Joseph Estrada -- have advised Garcia not to give up her post. - Rappler.com