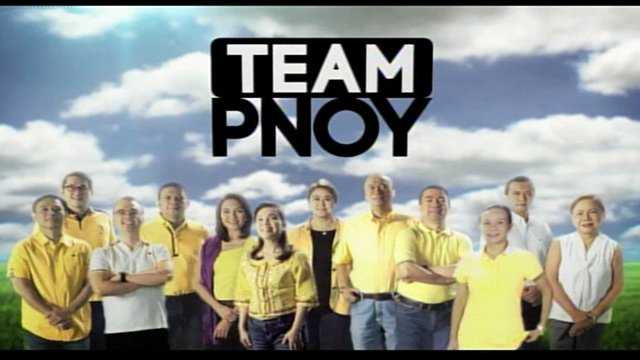 FIRST TV AD. Team PNoy's campaign ad
PAMPANGA, Philippines – Don't look at us. It's your ad that's devoid of platform.
The opposition United Nationalist Alliance (UNA) struck back at the ruling Liberal Party (LP) for saying it failed to talk about its platforms during the campaign.
In a sortie in Angeles City on Wednesday, February 20, UNA senatorial bet resigned Sen Juan Miguel Zubiri took exception to the LP charge, saying UNA has always been presenting its platforms in its rallies.
Zubiri said it is the LP that is not presenting its platform, as seen in the ad of its Team PNoy senatorial ticket.
"Lahat naman ng kandidato may plataporma. Hamon ko sa LP, panoorin ang mga rallies kasi nilalabas namin ang platform of governance ng mga kandidato. Sa commercial pa lang namin, kita na. 'Di tulad ng commercial diyan na palakad-lakad lang sila, wala silang sinasabi."
(All candidates have platforms. My challenge to the LP is to watch our rallies because our candidates discuss it there. Even in our commercial, you see that. Unlike in their commercial, they just keep walking without talking about it.)
Zubiri's statement was a swipe against the LP ad, which featured a voiceover of President Benigno Aquino III introducing the candidates who were seen walking on his straight and narrow path.
In comparison, UNA's senatorial slate ad featured each of the candidates talking about their advocacies.
The barb was made in reaction to a statement of LP Spokesperson Marikina Rep Miro Quimbo who criticized UNA for always talking about its common candidates with the LP.
In a press conference on Monday, February 18, Quimbo said, "It is all UNA has been talking about, the 3 candidates, casting aspersion and smear campaign on other personalities but we have yet to hear the programs or advocacies of UNA as against Team PNoy's."
In the Pampanga sortie, 7 of UNA's senatorial candidates discussed their platform, and sought to appeal to the cabalens of former President Gloria Macapagal-Arroyo.
Pampanga is known as an Arroyo bailiwick, and the former president is seeking reelection as representative of the 2nd district.
'Common bets not our problem'
Aside from Sen Gregorio Honasan II and Cagayan Rep Jack Enrile, UNA's 3 common candidates with LP again skipped the sortie.
Sen Loren Legarda, Sen Francis Escudero, and Grace Poe were again absent in the UNA event.
True to its word, UNA excluded the 3 from its campaign banners, posters and their names were not mentioned in the sortie.
Former Sen Ernesto Maceda said UNA is still on a wait-and-see mode after threatening to drop the common bets for snubbing UNA events.
"We will see in the next two to 3 weeks if they will show up. Dropping them may be the necessary consequence," Maceda told reporters.
Vice President Jejomar Binay's daughter, Nancy Binay, said her father and the two other top leaders of UNA, former President Joseph Estrada and Senate President Juan Ponce Enrile have yet to meet to discuss what to do with the perennial no-show common candidates.
The issue has hogged the headlines for days after Binay said dropping the 3 will be the worst-case scenario following their decision to choose the LP proclamation in Manila over UNA's rally in Cebu.
Former Tarlac Gov Tingting Cojuangco explained Binay's rationale. "I think they promised Noynoy not to appear on stage with us. It's an advantage for them they're candidates of both parties but it's a disadvantage for us. That's the truth."
Despite the media attention, UNA's candidates said it does not matter whether they show up or not.
San Juan Rep JV Ejercito said he has had enough of the issue.
"Kaming lahat may sariling pinoproblema, inaaddress so para problemahin ko pa ang 3 kandidato, unahin ko na problema ko. Hayaan mo na sila sa problema nila." (All of us have our own problems to address so for me to make the 3 candidates a problem, I'd rather focus on my problem. Let them deal with their own problems.) – Rappler.com