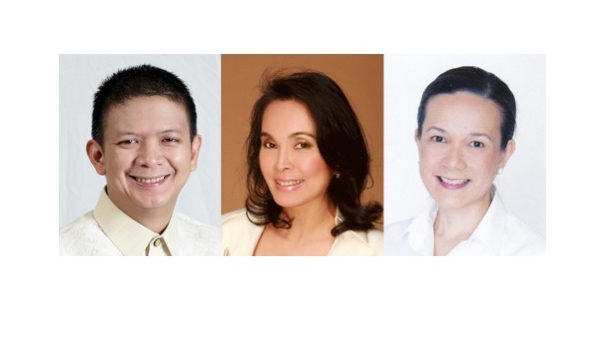 MANILA, Philippines – The opposition United Nationalist Alliance (UNA) will stick to its slate of 9 senatorial candidates.
In a press statement on Friday, February 22, UNA campaign manager Navotas Rep Tobias "Toby" Tiangco announced that the alliance will not replace Sen Loren Legarda, Sen Francis Escudero and former censors chief Grace Poe in its ticket.
The statement was made a day after UNA dropped the 3 candidates it shared with the administration slate Team PNoy for failing to appear in its proclamation rally and sorties.
"We have no plans of replacing the 3 former guest candidates. We freed ourselves from our obligation to campaign for the 3 former guest candidates not so we can replace them but so we can move on," said Tiangco.
"We will focus on our 9 UNA candidates."
Tiangco also responded to reports that UNA may tap independent candidates evangelist Bro Eddie Villanueva, Puerto Princesa, Palawan Mayor Edward Hagedorn, and Bayan Muna Rep Teddy Casiño to fill the vacated 3 slots.
"UNA holds in high regard [their] candidacies but UNA has not officially made and will not make an offer for them to join us as guest candidates," Tiangco said.
The announcement puts to rest the long-running issue of common candidates. Vice President Jejomar Binay had warned about dropping Legarda, Escudero and Poe if they still snub UNA events.
The decision to finally drop the 3 sparked rumors that the independent candidates will replace them on the slate.
UNA stalwart former President Joseph Estrada initially said he was open to talks about including Villanueva in the UNA ticket.
Besides Villanueva, Casiño and Hagedorn were initially in talks with Estrada about possibly joining UNA.
Yet in past days, Tiangco and UNA's senatorial bets said they prefer that the alliance just stick to the 9 exclusive candidates.
"Personally, I am already comfortable with the 9. I want to stick with that because they've been with us through thick and thin. They deserve our support," Tiangco told Rappler in a previous interview.
Binay's daughter, Nancy, expressed the same opinion.
"I think 9-0 is more doable than 12-0. I guess it will be easier for us to go around and court voters. It's easier to ask for 9 votes instead of 12. At least, the voters will still have 3 other names they can add," Binay said.
UNA's 9 senatorial candidates are Binay, Cagayan Rep Juan Ponce "Jack" Enrile Jr, San Juan Rep JV Ejercito, Sen Gregorio Honasan II, former Senate President Ernesto Maceda, former Sen Richard "Dick" Gordon, Zambales Rep Milagros "Mitos" Magsaysay, former Tarlac Gov Margarita "Tingting" Cojuangco, and resigned Sen Juan Miguel Zubiri. – Rappler.com