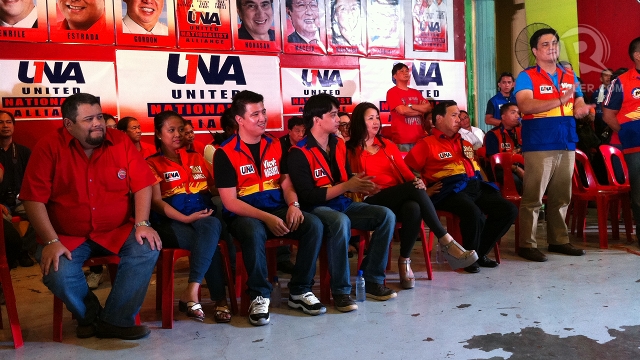 NO RIVALRY FOR A NIGHT. Former Sen Richard Gordon's son, Brian (leftmost), shares the UNA stage with his rival for vice mayor, Vic-Vic Magsaysay (3rd from left). Vic-Vic is son of Zambales Rep Mitos Magsaysay. Another Magsaysay son, Jobo (4th from left) is running against Gordon's brother, Olongapo Mayor Bong Gordon, for Zambales 1st district representative. Photo by Ayee Macaraig
OLONGAPO CITY, Philippines – Awkward or not at all?
It was a rare sight that piqued the interest of many Olongapo residents -- seated together on one stage were the opposing politicians of the city and province.
Former Sen Richard Gordon, Zambales Rep Milagros "Mitos" Magsaysay, and their feuding sons set aside local rivalry for a night at the grand rally of the United Nationalist Alliance (UNA) here on Thursday, February 21.
"Sabi nga nila, first time po nagsama po kami ni Dick Gordon sa isang stage. Diyan 'niyo po makikita na kami sa Team UNA, ang pinipili naming kandidato ang may mga track record at performance na naglingkod na sa taumbayan," Magsaysay told the crowd at the Rizal Triangle. (They say this is the first time Dick Gordon and I are together in one stage. There you can see that in Team UNA, we choose candidates with track record and performance serving the people.)
The UNA rally forced the Gordons and the Magsaysays to come together even if they are contesting the same positions in the local level.
Gordon's brother, Olongapo City Mayor James "Bong" Gordon Jr, is running for representative of the 1st district of Zambales against Magsaysay's eldest son, 29-year-old Jobo. Gordon's son, Brian, is also up against Magsaysay's second eldest son, 28-year-old Vic-Vic, in the Olongapo vice mayoral race.
Yet on Thursday night, the Magsaysay boys climbed the UNA stage with their mother. The Magsaysays are UNA's official candidates. Even Brian Gordon, an independent candidate, was present.
Mayor James Gordon, though, was not seen on stage. He is running under UNA's rival, the ruling Liberal Party.
Still, UNA hosts and senatorial candidates took pains to thank Mayor Gordon and his wife, Anne, for allowing the alliance to hold the rally in the city. Anne Gordon is running to replace her husband as mayor. She is running against her husband's nephew, James "Bugsy" delos Reyes.
In the same breath, UNA's candidates also acknowledged Magsaysay's sons as the official UNA bets.
When it was her turn to speak, Rep Magsaysay also greeted Brian as "the son of our Sen Dick Gordon."
Gordon in turn asked the voters to ensure that two candidates from Zambales will be elected to the Senate.
An Olongapo mayor for 11 years, Gordon was also founding chairman and administrator of the Subic Bay Metropolitan Authority. Magsaysay is a 3-term congresswoman in the 1st district of Zambales.
UNA pushed through with the arrangement to allow Brian Gordon on stage but not Mayor Gordon supposedly upon the request of the Magsaysays.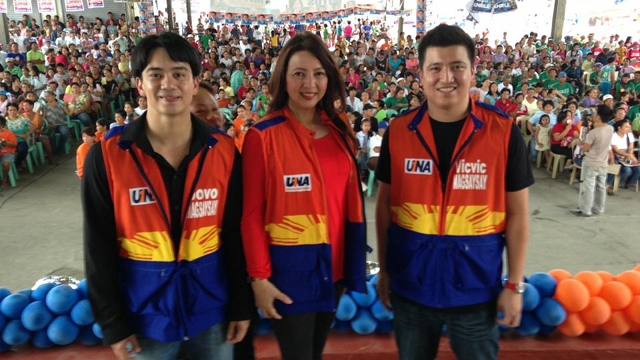 MOTHER AND SONS. UNA is fielding Rep Mitos Magsaysay's sons as candidates in Zambales. Jobo (left) is running to replace her as Zambales representative while Vic-Vic (right) is running for vice mayor of Olongapo. Both are competing against relatives of UNA senatorial bet former Sen Richard Gordon. Photo from Vic-Vic Magsaysay's Facebook page
'Political maturity' or strange bedfellows?
The Gordons and the Magsaysays are long-time rivals in Zambales. This led critics to question the inclusion of members of both clans in the same senatorial slate.
The local dynamics in Zambales triggered criticism that the Gordon-Magsaysay alliance in the national level smacked of "strange bedfellow" politics.
Rep Magsaysay dismissed the charge.
"Actually, it's not awkward," Magsaysay told Rappler after the rally.
"If you notice, I was the first one pa to introduce his (Gordon's) son on stage knowing his son is the opponent of my son here. It just goes to show that as far as politics for the Magsaysays are concerned, we are not insecure as for what we can do for our city and for our district. So for me, may the best candidate win."
Magsaysay said that the rally showed UNA's "political maturity."
"Ang maganda sa UNA, we're politically mature so sa amin, ang goal namin is to serve and we can always bury whatever issues we have in the past. It has no relation anymore to what we want to do in the country in the Senate. Marami naman kaming advocacy that we can share together." (We have many advocies we can share together.)
Former Sen Gordon also sought to downplay the local rivalry.
"No, it's not awkward. We're independent-minded. They can do whatever they can."
"Strange bedfellows? No. UNA has a lot of friends. That's what it says," said Gordon.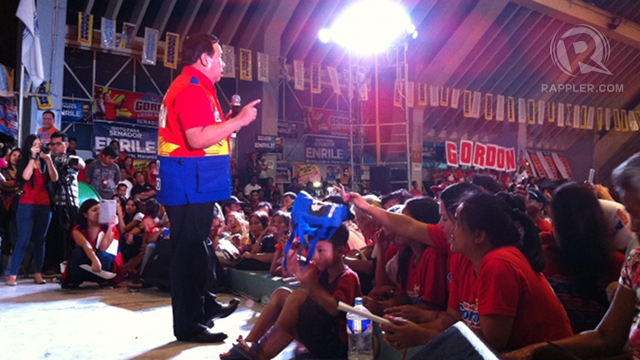 'ON HIS OWN.' Former Sen Dick Gordon tells Olongapo residents that his son, Brian, will have to campaign on his own, and he will not force them to vote for him.
High-level campaigning?
Rep Magsaysay and former Sen Gordon though said they will not meddle with their children's rivalry.
Magsaysay said, "We're both professionals. When elections come, I've always engaged in high-level campaigning in my district and I know my sons will also do high-level campaigning – platforms and advocacies – and it's up to the people to decide who will be the next vice mayor or congressman in the district."
In his speech at the rally, Gordon said he and his wife, Kate, will vote for their son but Brian will have to court voters by himself.
"Brian is on his own. He has to run by himself. I did that. He can do that," Gordon told Rappler.
Gordon added, "There are no permanent friends, no permanent enemies [in politics], just the permanent common good for our country." – Rappler.com