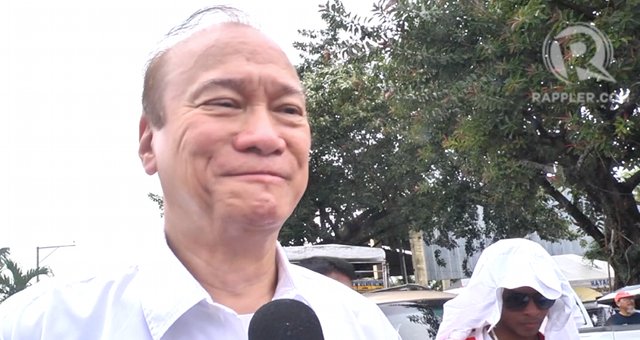 MANILA, Philippines – While Mitos Magsaysay was taking her fellow senatorial candidates of the United Nationalist Alliance (UNA) around Zambales last week, her uncle-in-law was with the rival slate in the Visayas expressing confidence that their provincemates will go for somebody who is a Magsaysay by blood.
Former senator Ramon "Jun" Magsaysay Jr, who is running under the administration's Team PNoy, said their home province will always support the "true Magsaysay."
"I'm the son of my father, the late President Ramon Magsaysay. It defines maybe genes or background or history. That is the message. I am the 'Tunay na Magsaysay.' I'm the only son of the late President Magsaysay," he told Rappler on the sidelines of the administration sorties in the Visayas this week.
"We have served Zambales. We are very much appreciative of their support since after the war," he added.
Zambales Rep Mitos Magsaysay, married to Ramon Jr's nephew, was first to bring her slate to Zambales last week. There's no definite schedule for the administration slate Team PNoy to go to Central Luzon yet.
The older Magsaysay said he is not worried. "That's alright. UNA sila. Kami huli pero sabi nga eh the dessert is the best of any meal," he said.
Mitos, a 3-term congresswoman, was the first to declare her senatorial bid. Former Sen Jun Magsaysay was later approached by the Liberal Party stalwarts to join its senatorial ticket. Mitos said LP intended to confuse the voters and take votes from her, so it persuaded her uncle-in-law.
Mitos had said that in past elections where a Magsaysay ran against a Magsaysay, her branch of the clan had always filed candidacies first. Ramon Jr always filed his candidacy later. In 1992, Mitos's father-in-law Vicente Magsaysay had already filed for vice president before Ramon Jr did.
Ramon Magsaysay Jr served two consecutive terms in the Senate or a total of 12 years -- from 1995 to 2007. He also joined the vice-presidential race in 1992 but he lost to Joseph Estrada.
Vicente Magsaysay ran for the Senate in 2007 under President Gloria Arroyo's Team Unity. He lost.
Two other senatorial candidates hail from Zambales: former senator Richard Gordon of UNA and former Olongapo City councilor JC delos Reyes of Ang Kapatiran. - Rappler.com