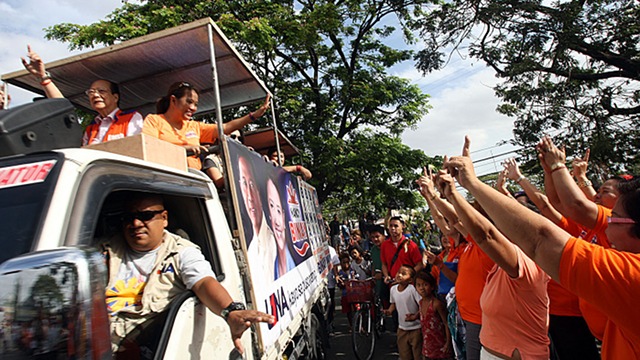 'PERSONAL TOUCH.' While rival candidates offer iPads via social media, UNA bets rely on a template of motorcades, shows and messages. Is it effective? Photo courtesy: UNA
MANILA, Philippines – If Sen Jamby Madrigal's volunteers offered iPads in a social media promo, the opposition candidates have a different touch.
While visiting townsfolk in Central Visayas and Central Luzon, senatorial bets of the United Nationalist Alliance (UNA) hit the campaign trail with another tactic.
"Ako, wala akong pambili ng iPad," said survey frontrunner Nancy Binay, daughter of Vice President Jejomar Binay." (I don't have money to buy an iPad.)
"Ang turo sa akin ng ama ko, dapat daw marami akong makamayan kasi talagang kailangang may personal touch tsaka interaction. 'Yun lang ang gimik ko," Binay told reporters in Angeles City, Pampanga. (My dad taught me that you should be able to shake hands with many people because you really need personal touch and interaction. That's my only gimmick.)
Handshakes though are not the only trick up Binay and UNA's sleeves. The slate relies on its own template of campaign gimmickry.
In every sortie, the show and the script are almost the same. Two weeks since the start of the campaign period, reporters joke that they already memorized the lines.
First up is emcee Erwin Maceda, son of senatorial bet Ernesto Maceda, who rouses the crowd with his baritone voice. The local bets give the introductions and welcome, and then the senatorial candidates deliver their spiels.
The performance combines teleserye show business, name recall, platform and politics – a routine UNA thinks fit for its target audience: the masses.
How do the candidates sell themselves to the crowd? How do they try to connect with ordinary people? What does it say about them and their view of voters?
Here are the top UNA campaign gimmicks: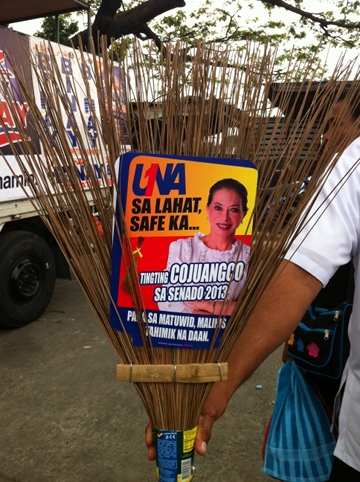 'NOT JUST STRAIGHT BUT CLEAN PATH.' UNA senatorial candidate Tingting Cojuangco gives out a unique freebie, one that she says is practical and will help voters remember her name. Photo by Ayee Macaraig
1. Walis Tingting, soaps and spiels
Nancy Binay, the perennial early bird in sorties, takes a page out of the title of ABS-CBN's primetime soap opera "Ina, Kapatid, Anak" starring Kim Chiu, Xian Lim, Enchong Dee and Maja Salvador.
"Marami sa inyo nagtatanong: sino ba si Nancy Binay? Alam niyo, katulad niyo po ako. Ako po ay isang ina, isang kapatid at isang anak. Parang teleserye noh?" (Many of you ask: Who is Nancy Binay? You know, I am like you. I am a mother, a sibling, and a daughter. It's like a soap opera, isn't it?)
"Bilang isang magulang, alam ko kung gaano kahalaga sa inyo ang kalusugan at edukasyon ng inyong anak. Kaya 'pag nasa Senado na ako, isusulong ko para madagdagan ang daycare at feeding centers." (As a mother, I know how important health and education are for your children so when I'm in the Senate, I will push for more daycare and feeding centers.)
Asked why she harps on the "ina, kapatid, anak" line, Binay said it fits her background as the vice president's personal assistant. This is the same defense the political neophyte cites amid persistent questions about her lack of qualifications.
"There's a point where our leaders have become detached from their constituents. That's why I think I become effective in my job. When my dad's on stage, I'm the one with the crowd so I am able to talk to people and report to him their sentiments."
"He says, 'Really? Let's act on that.' So that is our working relationship as father and daughter," Binay said in Filipino.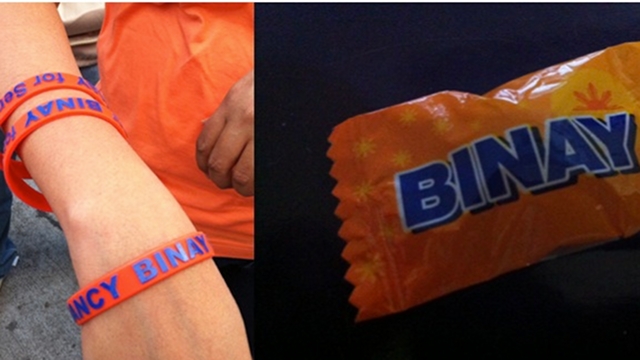 CAMPAIGN FREEBIES. Nancy Binay gives out ballers and candies during sorties. Her father says though that critics made an issue out of her candies even if she is not endorsing any product. Photos by Ayee Macaraig
It's not only Binay who is fond of talking about her kids. Former Tarlac Gov Tingting Cojuangco also opens her spiel by mentioning her celebrity daughters.
"Ako po si Tingting Cojuangco. I am married to Peping Cojuangco, sabungero, golfer, ngayon sportsman. I am the auntie of President Noynoy. Meron akong dalawang anak na siguro kilala niyo: Si Mikee, 'yung nagkakabayo at nakapanalo ng mga medalya para sa inyo, at si China, 'yung nagluluto, tulad ng mga nanay dito."
(I am Tingting Cojuangco. I am married to Peping Cojuangco, cockfighter, golfer and now sportsman. I have two children: Mikee, an equestrienne who won medals for you, and China who cooks like the mothers here.)
Even before she begins speaking, Cojuangco already draws attention as her staff hands out broomsticks or walis tingting. Erwin Maceda introduces her as "Senadora Walis Tingting Cojuangco."
She told Rappler, "Iyan ang pangalan ko eh, Tingting eh, so I give that out in the markets and in schools. Pwedeng walisin ang daan diba, hindi lang para maging matuwid, malinis at tahimik din." (That's my name, Tingting, so I also give that out. The broomstick can sweep the road so it's not just straight, but also clean and quiet.)
Cojuangco said the prop is in line with her platform of safety, peace and order.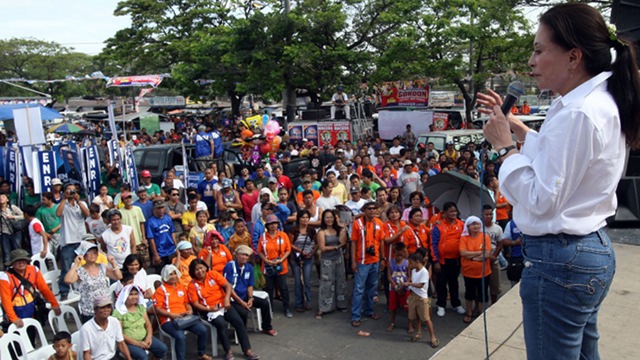 LANGUAGE BARRIER. Former Tarlac Gov Tingting Cojuangco discusses her platform in a public market in Angeles, Pampanga but at times has to switch to English to make her point. Photo courtesy: UNA
For all her efforts to connect to voters, the socialite and wife of a haciendero has a hard time speaking in straight Filipino, often switching to English or Taglish.
Another UNA female bet, Zambales Rep Mitos Magsaysay, brands herself as "Congresswoman Libre (free)," saying the label comes from the free health and education services she gives her district.
2. High five and ballot numbers
Candidates also spend time trying to make voters remember their ballot numbers, even getting literal. Again, Binay stands out.
"Number 5 po sa balota, Nancy Binay. Kapag itinaas niyo ang kamay niyo o may ka-high five kayo, sana maalala niyo." (Number 5 on the ballot, Nancy Binay. When you raise your hand or do a high five, I hope you remember.)
Binay always shares that May 12, the day before the polls, is her birthday. "Isa lang ang aking birthday wish. Sana payagan niyo ako pagsilibihan kayong lahat." (I have only one wish. I hope you allow me to serve you all.)
Voters don't really make a commitment but they have a simple response. "Happy birthday!"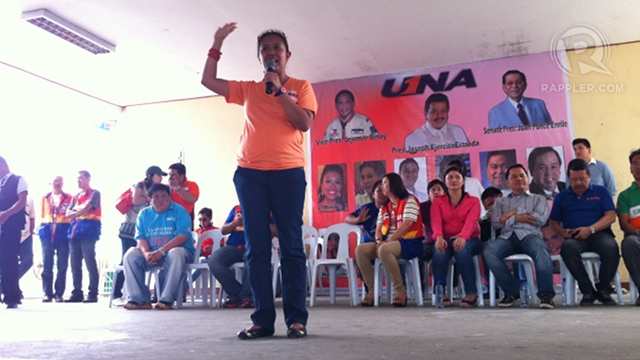 'REMEMBER ME.' Nancy Binay does the high-five to help voters in Mabalacat, Pampanga remember her ballot number. Photo by Ayee Macaraig.
3. 'My dad and I…'
There's a campaign style Binay shares with two other UNA candidates – San Juan Rep JV Ejercito and Cagayan Rep Jack Enrile – the "our father" spiel.
The 3 often mention their fathers, Vice President Jejomar Binay, former President Joseph Estrada, and Senate President Juan Ponce Enrile, banking on the UNA bigwigs' popularity.
After he discusses his advocacy of raising the budgets of state colleges and universities, Ejercito has an anecdote for the crowd in the Angeles Public Market.
"Noong nagshu-shooting ang aking ama dito noong ako ay maliit, kasa-kasama na niya ako dito sa Angeles, sa Clark." (When my father was shooting here in Angeles and Clark, I was just a child but he'd always bring me with him.)
It's not a new campaign tack. President Benigno Aquino III won the presidency in large part due to his parents' legacy. To this day, Aquino often mentions the late Sen Ninoy Aquino and former President Cory Aquino in his speeches.
The political scions admit that months after they've declared their candidacies, making their own name remains a challenge. In surveys though, their last names have proven to be an advantage.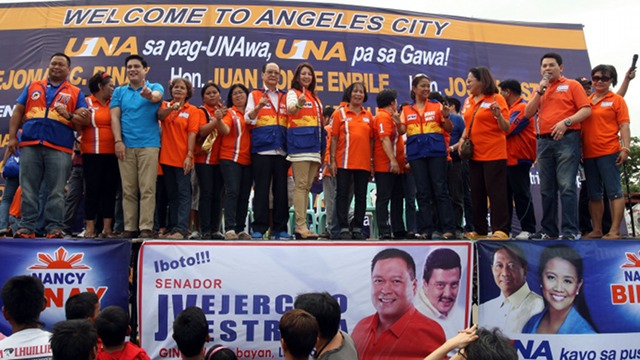 FATHER-CHILDREN TANDEM. Even in their absence, UNA's so-called 3 kings are seen in posters featuring them with their children in the senatorial slate. Photo courtesy: UNA
4. Maceda Style, Call me JV
In between speeches and in motorcades, there's a gimmick no one within hearing range can miss: the blaring jingles.
Vice President Binay's 2010 campaign jingle gets an upbeat remix in "Sa UNA, gaganda ang buhay." (In UNA, life will be better.)
Candidates also have their individual jingles. Ejercito has "Call me JV" to the tune of Youtube wonder, "Call me Maybe."
Former Sen Maceda was the first senatorial bet to use the national anthem of the campaign, "Gangnam Style." The 77-year-old is infamous for dancing to the jingle that bears his slogans, "Mr Exposé at Mr Experience."
Yet singing and dancing are not for everyone. Political consultant and ad expert Greg Garcia, who worked for Vice President Binay's campaign and now with UNA, told Rappler this in a previous interview.
"No, that isn't authentic. That isn't relevant. Ping Lacson never danced. Binay never danced. Pia [Cayetano] never danced," Garcia said in reference to his clients.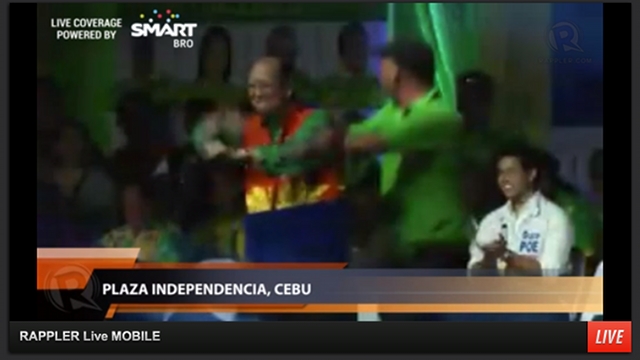 NO STOPPING HIM. Former Sen Ernesto Maceda dances to "Gangnam Style" in the UNA proclamation in Cebu City. He also performs the dance in other sorties and rallies.
5. '12-0? Ano kayo uto-uto?'
A theme that constantly comes up in UNA rallies is Liberal Party (LP) rage. From the alleged swipe against VP Binay's dark skin to the economic gains that do not trickle down, the topics vary but the mode is the same: attack and defend.
In the Pampanga leg, former Sen Richard Gordon told rally-goers, "Nasa amin ang tatlong alas: Erap para sa mahirap, kay Binay gaganda ang buhay at si Enrile na kahit Chief Justice 'di kinatatakutan. Tapos sasabihin ng kabila 12-0 daw?" (We have the 3 aces: Erap for the poor, with Binay life will be better, and Enrile who is not afraid of the Chief Justice. Then the other side will say 12-0?)
"Ano kayo, uto-uto?" (What are you, stupid?)
The barb was directed at LP campaign manager Sen Franklin Drilon's goal of a 12-0 sweep for the administration ticket. Ironically, UNA also pushes for a 9-0 win for its remaining senatorial bets despite criticizing the LP statement.
With both LP and UNA guilty of throwing mud, other candidates call for a "higher level" of campaigning focusing on issues.
It's easy to get caught up in the customary bickering, fanfare and noise but Garcia said voters know and deserve more.
"What did they stand for? What was the message? It's what you're telling them. Why should they vote for you? If they like your message and see your authenticity, they will vote for you."
He added, "To me, it's very simple. You've gotta have some authenticity. It better be true." – Rappler.com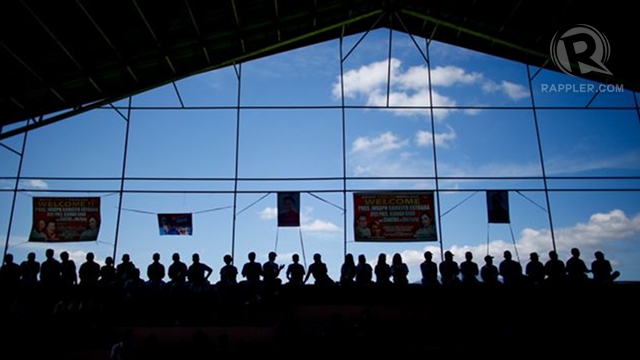 CONVINCED? Political consultant Greg Garcia says beyond gimmicks, voters will look at candidates' message, authenticity and track record. File photo by John Javellana