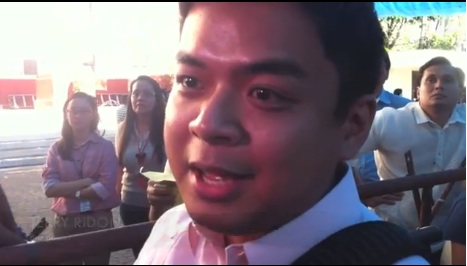 WE COMPLIED. Kabataan partylist group told Comelec it has removed its illegal posters.
MANILA, Philippines - One of the partylist groups slapped with a case of campaign violation said on Monday, February 25 that it has complied with the orders of the Commission on Elections to remove its posters placed outside common poster areas.
The Kabataaan partylist group said it has removed its posters from the following areas:
Taft Avenue

Polytechnic University of the Philippines Sta. Mesa

A single tree in Don Faustino St, Don Antonio Heights, Quezon City
It added that it has submitted its formal letter of compliance to the Comelec law department and is willing to remove other illegal posters once it received notices from the poll body.
Comelec has filed separate cases against Kabataan and Piston partylist groups and the Liberal Party for violating Comelec Resolution No. 9615, or the implementing rules and regulations of the Fair Elections Act.
Comelec Resolution No. 9615 specifies that campaign paraphernalia could not be posted "outside authorized common poster areas, in public places, or in private properties without the consent of the owner."
Terry Ridon, Kabataan partylist group president and general counsel, said that they have yet to receive a copy of the case but reiterated that they have abided by the rules.
He assailed Comelec though for allegedly being lenient towards LP. Ridon said LP should be probed for the reported distribution of Philhealth cards of its members in Bicol on February 14.
Comelec chairman Sixto Brillantes Jr said the distribution of Philhealth cards should not be stopped though because it's part of public service. - Rappler.com