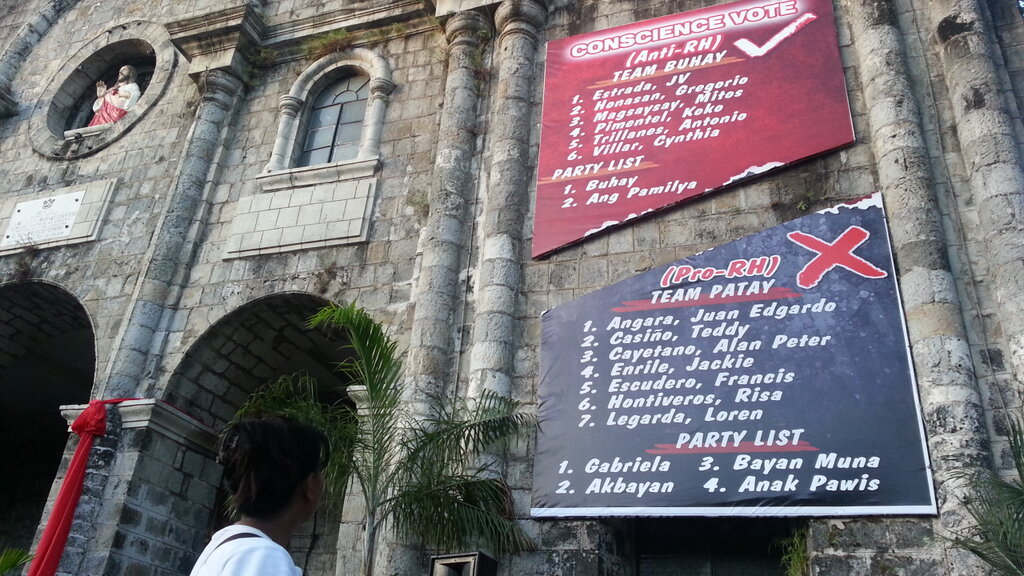 'NEW' LOOK. The smaller 'conscience vote' tarpaulins now comply with size requirements. Photo by CHARLIE SACEDA
CEBU CITY, Philippines – "Stand firm in our faith!"
More "Team Patay" and "Team Buhay" tarpaulins will soon be put-up through the Diocese of Bacolod starting Wednesday, February 27.
Fr. Felix Pasquin, rector of San Sebastian Cathedral, said over 90 priests have agreed to hang similar tarpaulins in their parishes during their meeting Tuesday, February 26, with Bacolod Bishop Vicente Navarra.
"We were unanimous with our decision. Very soon, all parishes will hang the same tarpaulins in their respective parishes throughout the Diocese of Bacolod," said Pasquin over Radyo5 Cebu.
He said they also received word from the Diocese of Tarlac that a similar camping will soon be launched in the home province of President Benigno Aquino III.
"We are targeting all those who stood by the Reproductive Heal law because for us, they were the one who would not be for life. Remembers that it was PNoy who signed the RH bill into law," he said.
He added that their decision "transcends political consideration," adding that their top concern is on the moral issue and not on politics.
The church aims to guide the public and not to "dictate and pressures them with the list," said Pasquin, who is also the chairman of the Diocesan Commission on Social Communication.
'Not enough'
In an earlier statement, Cebu Archbishop Jose Palma, president of the Catholics Bishops Conference of the Philippines (CBCP), stressed that the church role is only to help voters choose candidates through discernment and prayer.

But for the Diocese of Bacolod, this stand is no longer enough especially when "the doctrine of life is being challenged".
"We respect the decision of the Archbishop of Cebu. Usually, in the past, that has been our position. To help the people discern, through prayer and presentation of criteria for voting. But then for us, we know and we are convinced that the issue of life is the paramount issue in our life," Pasquin said.
"We believe that the time has come for the church to stand firm in our faith," he added.
Pasquin also apologized to politicians who were included in the Team Patay list. He said they have no intention of jeopardizing their campaign, and that they are just doing their moral obligation of guiding the faithful.
"If it has such a negative effect on people, we apologize. But then there is something that transcends consideration and it's the issue of life itself," he explained. - Rappler.com
---