BUKIDNON, Philippines - Proxies in the campaign trail take center stage in Bukidnon, where only 3 candidates show up.
But do they help, or do they leave people who want to engage candidates feeling frustrated?
Natashya Gutierrez reports:
This voter's question to Sen Koko Pimentel was thoughtful and personal.

He says, "Sen Koko does not get much love in Northern Mindanao, what reforms will he push for to sway our vote?"

The problem? Pimentel is not in Bukidnon.

It emphasizes the value of having the bets themselves present on the campaign trail… especially in forums for students like this.

Astra Pimentel, the re-electionist's cousin, represents him. She answers the question, but even campaign manager Franklin Drilon admits, its not enough.

FRANKLIN DRILON, TEAM PNOY CAMPAIGN MANAGER:
You know, as we go along, we learn these lessons, I will relay to them what happened here with the very warm exception of the youth and the fact they missed it. I am only the campaign manager I cannot bring the horse to the water.

Of the 12 bets of Team PNoy only 3 show up, 3 send proxies and 1 sends a video. The rest are a no-show.

It's a surprising decision especially with Northern Mindanao having voted former President Joseph Estrada and vice president Jejomar Binay over President Benigno Aquino III and his vice presidential candidate in 2010.

Binay and Estrada are stalwarts of the opposition, United Nationalist Alliance or UNA.

Bukidnon's Miguel Zubiri, a candidate under UNA, also garnered more votes in the region than Pimentel.

But it is not enough to convince Pimentel nor the others to appear in the province.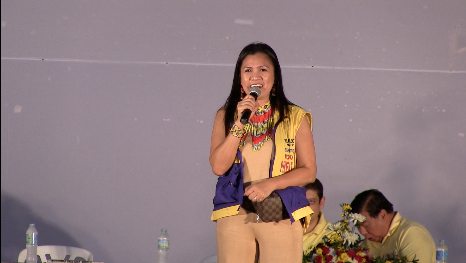 REPRESENTING KOKO. Koko Pimentel's cousin Astra represents the re-electionist in Bukidnon, the home of his biggest rival Miguel Zubiri. Photo by Natashya Gutierrez.

Sheryl Cruz, a proxy for candidate Grace Poe, speaks in general terms when asked about her cousin's platforms, and even gets Poe's educational backgorund wrong.

She says she is confident in representing but Poe, but admits she could use more work in symposiums.

SHERYL CRUZ , GRACE POE PROXY:
When it comes to more forums, they should let me know more, I am comfortable when it comes to my cousin when it comes to helping her out… I hope that people who are actually listening will not be too critical of whatever it is that I say.

The request is ironic considering scrutiny is the main point of senatorial forums.

Despite the absence of most bets, Drilon says he is confident of a Team PNoy victory in Northern Mindanao…
but is crossing his fingers more bets show up when they return to visit Southern Mindanao, especially it also having supported the opposition in the past.

Candidates send proxies to maintain a presence. In sorties, maybe. But does it work for forums, where bets are scrutinized for their platforms?
Natashya Gutierrez, Rappler, Bukidnon. - Rappler.com