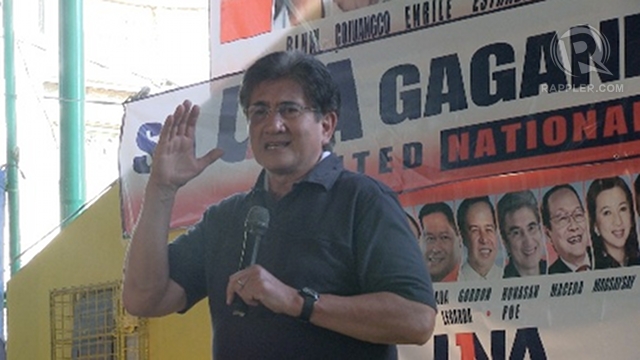 'DEFINING CHARACTER.' Sen Gregorio Honasan II said the "defining character" of UNA's campaign is the ties it makes with local leaders, even those not allied with the alliance.
CAVITE, Philippines – For the opposition, it helps to have friends not just in high but in local places as well.
In courting Cavite's more than 1.6 million voters, senatorial candidates of the United Nationalist Alliance (UNA) outlined its campaign strategy here and in other provinces.
While UNA has only a few candidates here, it counts personal allies and friends from other parties as key players in its ground war.
"This will be the defining character of UNA's campaign. We are crossing party lines because first of all, there is no political party system in our country," Sen Gregorio Honasan II said on the sidelines of a sortie in Dasmariñas City on Thursday, February 28.
"Tawiran nang tawiran kaya dudulog ka sa taumbayan at alam iyan ng local government officials and parties." (People keep crossing party lines so you go directly to the people, and the local government officials and parties know that.)
In Cavite, Honasan enjoys the support of 7th District Rep Jesus Crispin "Boying" Remulla of the Nacionalista Party (NP).
"Historically, in my case, I've been independent so I enjoy that advantage or disadvantage so to me [party] is not an issue, I go directly to the people."
Zambales Rep Milagros "Mitos" Magsaysay echoed Honasan, saying there is a rationale behind UNA's strategy of wooing the support of local leaders, and capitalizing on personal ties.
"Sa pulitika, walang demarcation (In politics, there is no demarcation) Usually, sometimes you transcend political parties when you want to help somebody. This election will show leaders will not support you based on party lines but they will support you because they are your personal friend o may pinagsamahan na kayo (you have history together)."
Magsaysay added that this was why Team PNoy cannot ensure a straight 12-0 for its slate because in Cavite and other provinces, many leaders were once allies of UNA members in the past administration.
"Mas nananaig dito ang personal friendship," she said. (Personal friendship overrides parties.)
In Cavite, while UNA is not fielding any candidate for governor, former Sen Ernesto Maceda said he and other senatorial bets are backing the reelection bid of Gov Jonvic Remulla of Lakas against the Liberal Party's 3rd District Rep Erineo "Ayong" Maliksi.
Remulla is affiliated with the NP, whose partnership with the ruling Liberal Party (LP) is only in the national level and does not apply to Cavite politics.
Maceda said, "[Gov] Remulla is very sympathetic to the UNA lineup. He's also supporting 3 or 4 Nacionalistas but then there's room for 9 candidates that's why it's easier that we're only 9 now in UNA."
The NP senatorial bets are former Las Piñas Rep Cynthia Villar, Sen Alan Peter Cayetano, and Sen Antonio Trillanes IV. They are all running under the administration slate Team PNoy.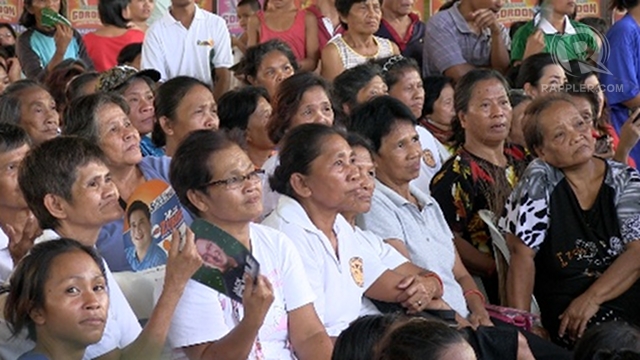 CANDIDATES, NOT PARTIES. UNA senatorial candidates say voters will ultimately choose candidates based on personal preference, and not party affiliation.
Migz fans, Tagle cousin
Supporters and onlookers cheered the UNA senatorial candidates in Barangay Paliparan in Dasmariñas.
Besides Honasan, Magsaysay and Maceda, Resigned Sen Juan Miguel Zubiri, Nancy Binay, former Tarlac Gov Tingting Cojuangco, and former Sen Richard Gordon campaigned in Cavite.
Cagayan Rep Jack Enrile was absent in the UNA sorties for the second week in a row while San Juan Rep JV Ejercito had his own campaign in Zamboanga.
Zubiri was mobbed as he made his way into the covered court.
"Hinalikan na po ata ako ng 100 nanay, pati 'yung mga walang pustiso. Pati ata lalaki. Buti wala dito ang aking asawa," joked Zubiri. (I think about 100 mothers kissed me, even those without dentures. I think even guys kissed me. It's a good thing my wife isn't here.)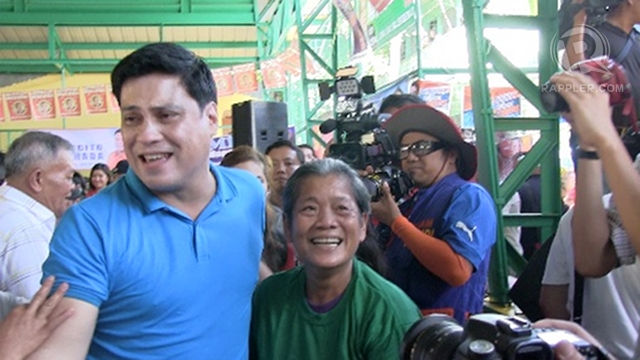 NANAY-KISSING. Resigned Sen Juan Miguel Zubiri says he is getting used to being mobbed and kissed by elderly women on the campaign trail. Zubiri is welcomed into UNA's sortie in Dasmariñas, Cavite.
While other candidates stuck to their usual spiels and speeches, Zubiri sought to establish a connection with the crowd, saying he was the principal author and the sponsor of the Dasmariñas Cityhood bill despite objection from his colleagues.
"I said I would resign if it's not passed," Zubiri told Rappler.
"Mahal na mahal ko kayo, Cavite," he told the crowd." (I really love you, Cavite.)
Gordon also highlighted his ties to Cavite, saying he is the cousin of Manila Archbishop Luis Antonio Cardinal Tagle of Imus, Cavite.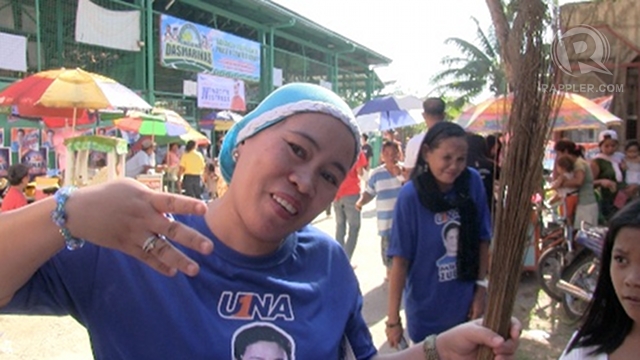 COMBINING SLOGANS. Zubiri supporter Hadji Sara plays around with UNA bets' slogans saying, "Walisin ang mga trapo sa Senado, maka-Migz kami."
'What did you do in office?'
An active crowd member, Hadji Sara of the Muslim-Christian Federation, said she was impressed with Zubiri and other UNA bets. A Mindanaoan who settled in Cavite, she said she valued Zubiri's support for Muslims in Mindanao.
Yet she did not like all the UNA candidates.
"Yung iba dati na silang nakaupo sa Senado, wala naman silang ginawa. Kaya naiinis ako tuwing mangampanya, lahat na lang ng magandang sabihin, sinasabi nila pero 'pag nakaupo na sila sa Senado, wala naman silang ginawa sa sinabi nila." (The others have long been in the Senate but have not done anything. That's why I get annoyed every campaign because they say good things but when they're elected, they do not act on what they said.)
She agreed with UNA candidates' observation that parties are not a primary consideration for voters like her.
"Wala namang epekto ang partido basta kung sino ang magandang plataporma, 'yun ang susuportahan namin." (It has no effect. We will support whoever has the good platform.) – Rappler.com