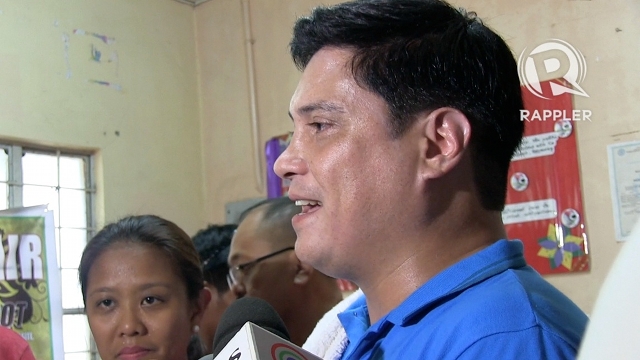 ZUBIRI VERSION. Resigned Sen Migz Zubiri sings his own version of "Imagine" by John Lennon to respond to Sen Koko Pimentel's campaign song.
CAVITE, Philippines – The rivalry between Sen Aquilino "Koko" Pimentel III and resigned Sen Juan Miguel Zubiri takes on a different form, this time through song.
In his campaign, Pimentel is fond of singing his version of the song "Imagine" by John Lennon, with lyrics changed to emphasize his anti-cheating crusade.
Pimentel is harping on his experience of being cheated in the 2007 polls, taking a swipe at Zubiri who was initially declared the winner in the contest.
He sings:
"Imagine there's no cheating,
Imagine there's no cheating,
It isn't hard to do.
No cheating in elections
And no swindlers too.
Imagine all the people,
Living honestly.
You may say I'm a dreamer,
But I'm not the only one.
One election day please join us,
On this road called Tuwid na Daan."
Now, Zubiri is singing the same tune, but with different lyrics. In an interview with reporters in Dasmariñas, Cavite on Thursday, February 28, Zubiri responded to Pimentel's message also through song. Watch this:
"Imagine there's no cheating
'Di mag-automated na tayo. (Then let's go with automated polls.)
'Wag na bumalik sa mano-mano (Don't go back to manual.)
Sana makinig kayo. ( I hope you listen)
Iyan ang payo ko sa kanya." (That's my advice to him.)
Zubiri said Pimentel has the right to say he was cheated but they were both victims of poll fraud. The former Bukidnon congressman insisted that while he may have benefitted from cheating, he did not have a hand and was not aware of it.
The opposition United Nationalist Alliance (UNA) candidate also hit Pimentel for his supposed anti-automation stance. Pimentel is running under the administration slate Team PNoy.
"Sino ba ang kumontra na magkaroon ng automated elections, 'di ba kapamilya din niya? Kaya nakapagtataka na iyan ang kinakanta. Even now, sinasamahan niya ang mga grupo na kumokontra sa PCOS at automated elections," Zubiri said. (Who opposed automated elections, isn't it his relative? Now, it's surprising he is singing that song. Even now, he joins groups who are against PCOS and automated elections.)
Koko: I'm pro-automation
Pimentel told Rappler that contrary to Zubiri's allegation, he is in favor of poll automation.
The senator heads the Senate Committee on Electoral Reforms and People's Participation and has been conducting probes on the conduct of automated polls.
"I am not against automation. What I want is for us to examine the source code. I am in favor of automation but let us implement the law that says that political parties and other interested groups have the right to examine the source code. Zubiri even had a hand in that law," Pimentel said in a phone interview.
"I am actually strengthening the automated election system by applying the law," he added.
The source code is defined by the Automated Elections Law as the "human readable instructions that define what the computer equipment will do." Election watchdogs have insisted on a source code review by local groups.
Pimentel gave Zubiri unsolicited advice.
"Huwag na siyang mag-comment sa election law kasi 'di naman siya lawyer." (It's best for him not to comment on election law because he is not a lawyer.)
On Zubiri's song, Pimentel said, "So his message is if it's manual elections, you can cheat? I don't know what he wants to say."
The animosity between Pimentel and Zubiri is rooted in the 2007 polls. Pimentel claims Zubiri cheated him of 4 years in the Senate after he was initially proclaimed the 12th senator.
Pimentel filed an election protest against Zubiri, contesting votes in provinces including Maguindanao, where some opposition candidates then questionably got zero votes. Zubiri was a candidate of the Arroyo administration's Team Unity.
In 2011, Zubiri resigned amid a series of exposes of election cheating in 2007. His resignation came just days before the Senate Electoral Tribunal proclaimed Pimentel the rightful winner of the polls.
'We'll go all out in CDO'
Zubiri said he plans to sing his version of "Imagine" when UNA campaigns in Cagayan de Oro this weekend. Cagayan de Oro is Pimentel's hometown. UNA's Northern Mindanao sorties come on the heels of Team PNoy's campaign there.
"'Iyan ang kakantahin ko sa hometown niya, CDO. 'Di lang kami pupunta, magbababad kami sa CDO," Zubiri said. "Sana kinanta niya ['yung Imagine] sa Bukidnon." (We won't just go to CDO, we'll stay there for a long time. I wished he sang Imagine in Bukidnon.)
The statement was a barb against Pimentel who skipped Team PNoy's sortie in Zubiri's hometown of Bukidnon last Wednesday, February 27.
Pimentel explained though that he had to catch a flight back to Manila to prepare for a Senate election hearing the next day.
Both Zubiri and Pimentel claim their slates will win big in Northern Mindanao.
The question is whose song, message, and track record do you like more? – Rappler.com