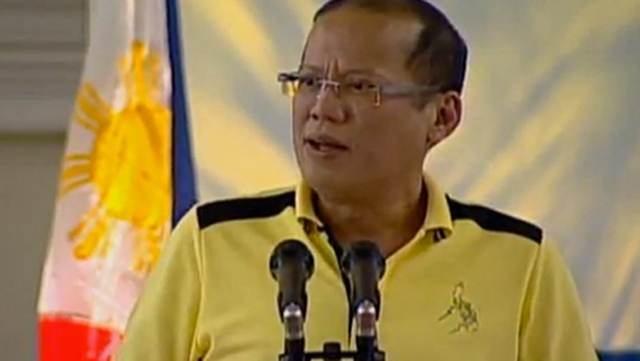 'CHOOSE PRIORITY.' Zambales Rep Mitos Magsaysay hits President Aquino for campaigning for his senatorial candidates in Pampanga while the Sabah standoff was ongoing. Screenshot from RTVM
CAGAYAN DE ORO CITY, Philippines – What is your priority?
Opposition senatorial candidate Zambales Rep Milagros "Mitos" Magsaysay posed this question to President Benigno Aquino III, criticizing his decision to campaign for his slate in Pampanga amid the Sabah standoff on Friday, March 1.
In a chance interview here on Saturday, March 2, Magsaysay said Aquino "definitely had the wrong priority."
"Dapat mamili si PNoy kung ano ba talaga ang priority niya: to run our country or to be the campaign manager of Team PNoy. Which is more important?" (PNoy should choose what his priority really is: to run our country or to be the campaign manager of Team PNoy.)
"Kung na-monitor nila iyan, bakit may mga namatay na Pilipino? Bakit walang nagawa ang DFA? Bakit 'di nila napigilan na umabot sa punto na magpapatayan sila sa Sabah." (If they were able to monitor it, why did Filipinos die? Why was the Department of Foreign Affairs helpless? Why weren't they able to prevent bloodshed in Sabah?)
Aquino was monitoring the standoff from San Fernando, Pampanga Friday. He was in the province for a sortie of his senatorial slate. He apologized to the crowd for going up and down the stage, saying he is waiting to get complete details on the incident once he heads back to Manila.
News of a gunfight in Sabah broke Friday morning. Later in the evening, Malaysian authorities confirmed that there was a firefight and 12 Filipinos and two Malaysian security personnel were killed.
Magsaysay said it was in bad taste for Aquino to campaign amid an emergency.
"He should have stayed with the issue of Sabah anyway kaya naman ng mga kandidato niya to fend for themselves pero itong issue ng Sabah, mas malaki ang implications at consequence. Ngayon na may mga namatay na, imagine for them to downplay na may namatay na Pilipino?" (His candidates can fend for themselves but the Sabah issue has greater implications and consequence. Now that there are fatalities, imagine for them to downplay that Filipinos died?)
She added, "So ngayon ang tanong ng mga Muslim kay PNoy: kanino ka ba talaga? Are you working for the Malaysian interest or the Filipinos' interests? (So now, the question of Muslims to PNoy is who are you really for? Are you working for the Malaysian interest or the Filipinos' interests?)
Magsaysay made the statement as the opposition United Nationalist Alliance (UNA) kicks off its sorties in Cagayan de Oro, Bukidnon and Iligan this weekend.
Read the other candidates' stand here.
Team PNoy said though that the Sultan of Sulu is to blame, not Aquino.
'Missing letter unfortunate'
Unlike Magsaysay, UNA senatorial bet and vice presidential daughter Nancy Binay said it is up to Aquino to balance his roles.
"Kung kaya naman niya pagsabayin ang trabaho at pangangampanya, [okay lang]. Mukhang kaya niya kasi naka-attend siya ng rally habang nagmo-monitor ng [Sabah]," Binay said Friday night. (If he can balance work and campaigning, that's okay. It looks like he can because he was able to attend the rally while monitoring Sabah."
Binay said the government should have prevented violence. She cited the letter that Sultan Jamalul Kiram III sent to Aquino in 2010 about the Sultanate of Sulu's claim to Sabah.
Amid the 17-day standoff, Kiram had mentioned writing Aquino but said he got no response. The President admitted the letter "was lost in the bureaucratic maze."
Binay said, "If they did not lose the letter, perhaps they could have discussed the issue and Kiram's group would not have reached the point that they take the matter into their own hands because they felt they were neglected."
The senatorial bet said it was high time the government addressed the Sabah claim.
"Even our fellow Filipinos in Sabah are having a hard time. For example, we cannot build a consulate there because it is part of Philippine territory but at the same time, we have many Filipinos there who encounter problems, who are imprisoned or abused but we cannot fully help them because there is an issue of who really owns Sabah."
"Because if we build a consulate there, it's like we're already admitting it's part of Malaysian territory," Binay said.
Who made representation?
For UNA senatorial bet former Sen Ernesto Maceda, Aquino should have taken action on the Sultan of Sulu's Sabah claim.
"I think President Aquino should have made personal, direct, aggressive representation with Prime Minister [Najib] Razak of Malaysia. I did not see anything like that. What he did was, he left it to [Foreign Secretary Albert] del Rosario. The incident happened because there was no communication with Malacañang and the Prime Minister of Malaysia," Maceda told Rappler.
In a phone interview, UNA campaign manager and Navotas Rep Tobias "Toby" Tiangco also said an important question the administration should answer is who it sent to Sabah to be on top of the situation.
"Did the President make the effort to send a representative there? If he did not and he just took the Malaysian line, that's like a go signal to Malaysia na, 'Sige, upakan niyo na ang mga ito.'" (Okay, go ahead. Open fire.) – Rappler.com