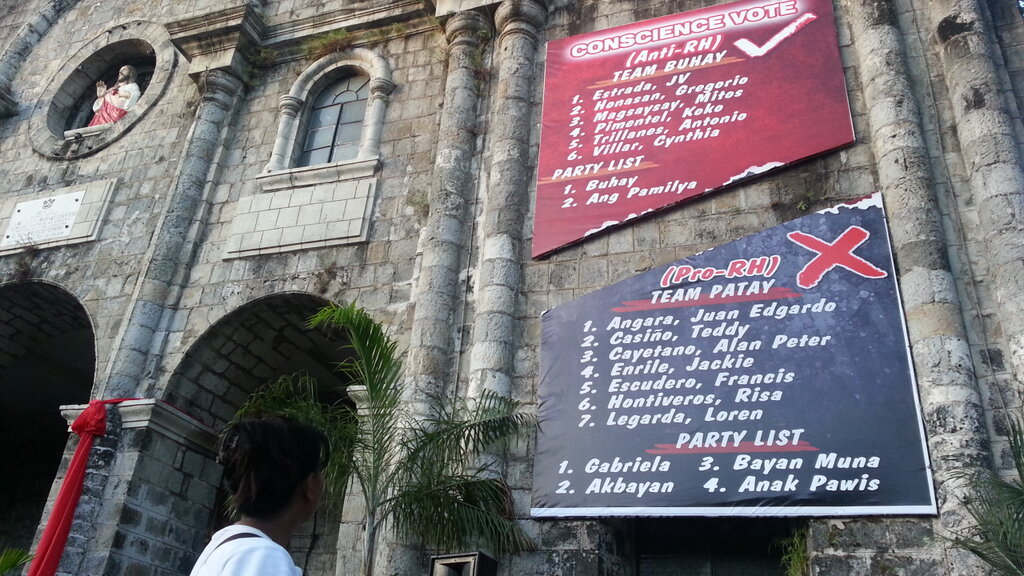 'NEW' LOOK. The smaller 'conscience vote' tarpaulins now comply with size requirements. Photo by CHARLIE SACEDA
MANILA, Philippines (Updated) - The debate over the controversial Team Patay/Team Buhay posters continues.
Although "saddened by the defiance" of the Diocese of Bacolod to take down posters posted in front of the San Sebastian Cathedral, Commission on Elections (Comelec) Chairman Sixto Brillantes Jr -- through Twitter -- said the Comelec maintains that the diocese committed an election offense. The Comelec will file election offense cases against the local diocese next week, Brillantes said.
Brillantes' statement comes a day after the Diocese of Bacolod filed a petition before the Supreme Court for injunction and temporary restraining order against the order of the Commission on Elections (Comelec) to take down its controversial "Team Buhay/Team Patay" posters.
Brillantes said they "quietly met and pleaded" with the diocese to remove the posters and sent them two notices but the diocese still refused to comply with their orders.
Comelec Resolution 9615 states that posters must not exceed the prescribed 2 feet by 3 feet size. However, streamers up to 3 feet by 8 feet in size may be displayed on candidates' headquarters or sites that will be the venue for a public meeting or rally, and such posters may be displayed only 5 days before the date of the event and must be removed within 24 hours after.
Three days after Comelec notified the diocese, the Bacolod Cathedral cut the posters in half -- down to the prescribed size of 2 feet by 3 feet from their reported original size of 6 feet by 10 feet.
Brillantes, however, said that their original size of the poster was "estimated" to be 10 feet by 20 feet, contrary to earlier reports.
Emil Marañon, head executive assistant of the poll chief, told Rappler that they were "barred from measuring" the material, but it was definitely more than the 6 feet by 10 feet originally reported.
So even if it was cut by half, each part was still oversized.
Marañon said they got reports that the church "re-attached the 10 feet by 20 feet tarp yesterday (March 1) after they filed the SC case."
Brillantes maintains that the cathedral violated election laws.
Brillantes has been actively using Twitter as a tool to collect information and notify concerned parties about election offenses. - with a report from Angela Casauay/Rappler.com