MANILA, Philippines – Having been well associated with "Operation Quick Count" during elections in the past, the National Movement for Free Elections (Namfrel) is broadening its scope to ensure honest and fair elections this 2013.
They are pursuing a holistic approach this mid-term elections by involving volunteers in various stages of the electoral process and re-defining the task of poll watchers.
Instead of the traditional poll watching, Namfrel will be deploying roving and mobile volunteers to assess the election process "as it happens" in various areas.
This is one of the 6 innovations that Namfrel is introducing for the coming May 13 elections.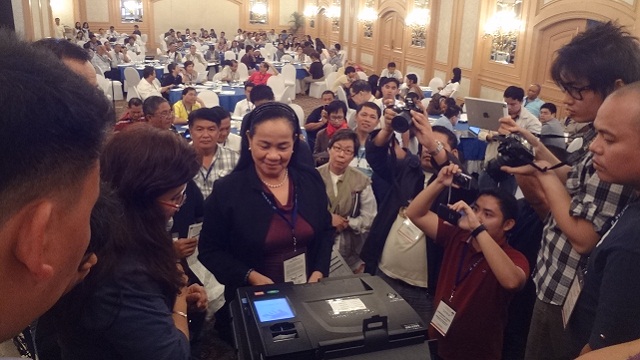 TESTING THE PCOS MACHINE. Participants of the NAMFREL National Assembly test the PCOS machine. Photo by Paolo B. Maligaya, NAMFREL Senior Operations Associate

The other 5 areas that Namfrel volunteers will be involved in are:
Voters' Education and Information - Modules that provincial chapters can run in their respective areas will be released
Election Paraphernalia Deployment Monitoring – This involves monitoring the deployment of election paraphernalia and accountable forms from Comelec holding areas to the precincts
Campaign Finance Monitoring – As a supplement to Comelec's efforts to monitor campaign funding and expenditures, Namfrel will provide data on campaign financing and compliance guidelines.
Voters' List Monitoring – Namfrel aims to verify the accuracy of the voters' list and facilitate easy access of voting information to citizens
Random Manual Audit Monitoring – Namfrel chapter volunteers will observe the manual count conducted by the Comelec's random manual audit teams in 234 districts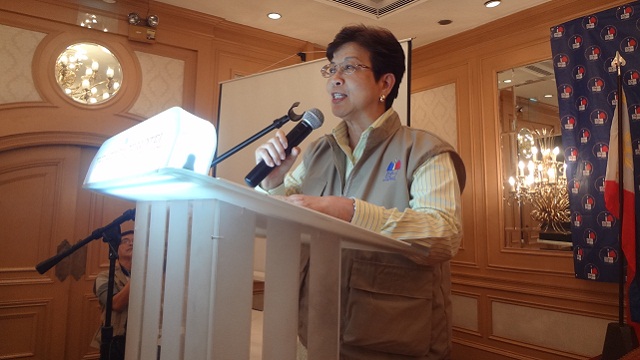 ENGAGING THE CHAPTERS. NAMFREL Chairperson Corazon S. de la Paz-Bernardo speaks before NAMFREL members during the Pre-Election National Assembly. Photo by Paolo B. Maligaya, NAMFREL Senior Operations Associate
From Feb 28 to March 2, 2013, Namfrel gathered over 150 of its chapter heads at The Heritage Hotel in Pasay City primarily to discuss these initiatives during its pre-election national assembly.
Namfrel has been globally recognized for its expertise in poll watching. According to Damaso G. Magbual, chairperson of the Asian Network for Free Elections (Anfrel) and Namfrel membership committee chairperson, after Namfrel gained popularity for its participation in the 1986 presidential elections, countries like Thailand, Cambodia and Burma have used the Namfrel system as a model for election monitoring.
According to Magbual, Namfrel's move comes from the recognition that "as election observers, our role is to point out areas where you can improve the system." This entails looking at the processes involved before, during, and after the elections.
Namfrel national chairperson Corazon S. de la Paz-Bernardo challenged chapter heads to mobilize a stronger volunteer force coming from various sectors of society. She said she believes the key to Namfrel's success in its endeavors will be to "engage every Filipino who loves his nation." – With reports from Bon S. Cabiles/ Rappler.com

Namfrel is inviting volunteers to participate this coming election. For those interested, you may visit their website.