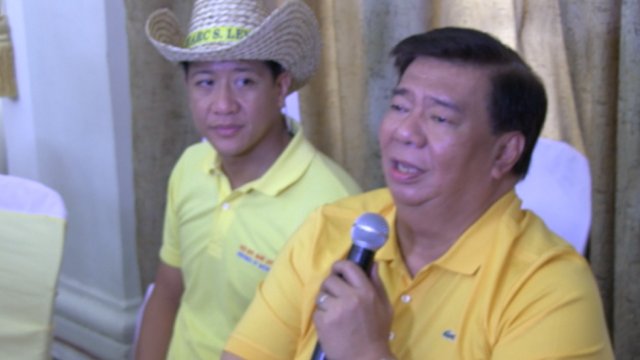 MANILA, Philippines - A day after he was criticized for being a turncoat, Team PNoy campaign manager Franklin Drilon defended himself and his past alliance with former President Gloria Macapagal-Arroyo.
"I parted ways with GMA at the height of her political power because we really saw that she was not heading towards tuwid na daan (a straight path)," Drilon said in a press conference on Monday, March 4.
"We took a position against GMA when it was not politically convenient, we took political risks when we parted ways with Gloria."
On Sunday, March 3, former President Joseph Estrada slammed Drilon for allegedly blocking efforts to expose election cheating by Arroyo. He said Drilon and his coalition now have a penchant for bashing the Pampanga congresswoman, despite having been allied with her before.
But Drilon argued he does not fit the definition of turncoat, citing the timing of his cutting ties with Arroyo. "It was a matter of principle, not a matter of convenience. That is not balimbing," he said.
The criticism from Estrada came after Aquino and his senatorial slate visited Arroyo's home province of Pampanga on Friday, March 1, and attacked her there. Drilon said the province is an Aquino bailiwick even if the former President hails from there.
Estrada is now one of the leaders of the opposition United Nationalist Alliance (UNA). When UNA visited Pampanga two weeks earlier, they chose to remain silent on Arroyo's alleged sins, even if UNA's key leaders were her fiercest critics.
Also in the same press conference, Estrada belittled the small crowds attending Team PNoy events. He pointed to the huge turnout in UNA's rallies, saying it was indicative of the support for its bets.
Drilon scoffed at the crowd estimate of Bukidnon Rep Juan Miguel Zubiri who pegged UNA's first campaign sortie in Mindanao at 50,000. The sortie coincided with the province's annual Kaamulan ethnic thanksgiving feast. The number has yet to be confirmed, although the event was grander than UNA's proclamation rally in Cebu.
"You were all there," Drilon told reporters. "The 50,000, everyone can claim that kind of crowd. We don't make those claims, we want the media to see it for themselves."
"You saw the crowds in Cagayan de Oro, there were stadiums full of people," he said.
The CDO sortie of Team PNoy was held in Pelaez Sports Center that has a capacity of 20,000. During the rally, only half of the stadium was filled. - Rappler.com