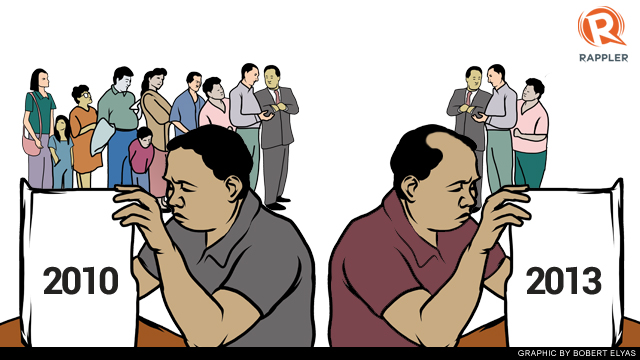 MANILA, Philippines – The number of registered voters in the country for the 2013 elections has increased by around 1.3 million from the last polls.
Eleven provinces, however, have gone against the nationwide trend. Their voters' populations have decreased since 2010.
An election official told Rappler that with the delisting of many voters in these provinces, the results in these areas are expected to reflect the "true will of the electorate."
According to data obtained by Rappler from the Commission on Elections (Comelec), the total number of registered voters for this year has reached 52,014,648. It jumped from just 50,723,733 in the 2010 elections.
The drop in the number of voters was recorded in Benguet, Quirino, Bataan, Lanao del Norte, South Cotabato, Dinagat Islands, and the 5 provinces in the Autonomous Region in Muslim Mindanao (ARMM).
Of these 11 provinces, 8 are located in Mindanao, and 3 are in northern parts Luzon – one each in the Cordillera region, Cagayan Valley, and Central Luzon.
Quirino and Dinagat Islands have traditionally been among the provinces with the least number of voters.
South Cotabato and Dinagat, meanwhile was among the provinces with lowest turnout in 2010.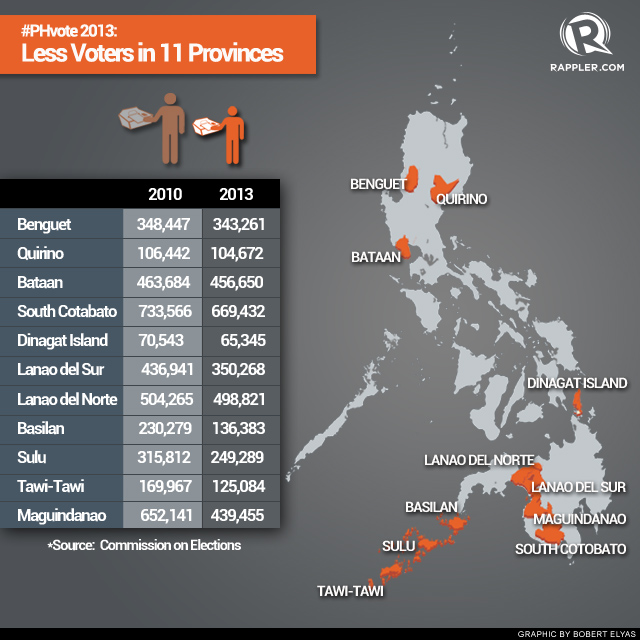 Among these 11 provinces, those in the ARMM have posted the greatest decrease in voters' numbers from 2010 to 2013, with figures dropping in double-digit percentages. Basilan has shown the largest drop, with 40.77% reduction from 2010 to 2013.
The reduced number of registered voters in the ARMM is due to the general voters' registration conducted in the region last year. Its aim was to clean up the region's list of voters and weed out multiple registrants and "flying" voters.
The region had gained notoriety for election violence and massive cheating.
This fear is all the more heightened in 2013 since this is the first time that the elections for the ARMM regional assembly will be synchronized with the national and local elections. The current ARMM regional officials are appointed and all belong to the ruling Liberal Party.
More than 500,000 names were removed from the voters' list of 2010 after the re-registration in the ARMM.
Outside the ARMM provinces, South Cotabato in Region 12 has also recorded a decrease in the number of registered voters. Region 12 posted a decrease by around 2,000. Out of its 5 provinces, only South Cotabato has reduced its voter population, by almost 9 percent.
Divina Blas-Perez, director of the Comelec's Election and Barangay Affairs Department, told Rappler that the cleansed voters' lists in the said areas will contribute to the conduct of more honest elections.
"With the decrease of voter population in these areas, election results would be more reflective of the true will of the electorate," Perez said.
The increase in voters population means additional precincts will be created for the 2013 elections. This year, 11,259 established precincts and 1,482 clustered precincts will be created. A total of 77,829 vote counting machines will be deployed across the country. – Rappler.com