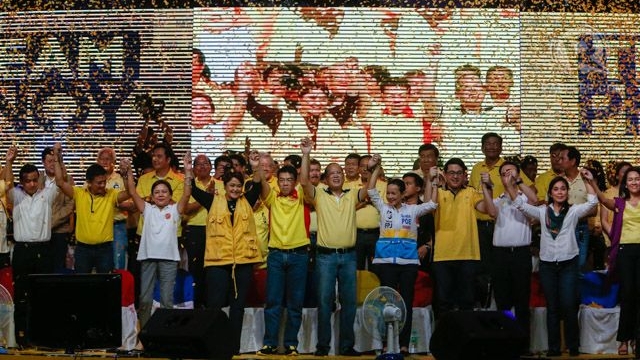 RIGHT TRACK, FOR NOW. A file photo of the administration's senatorial slate
MANILA, Philippines - For the second week in a row, the coalition of President Benigno Aquino III heads to Mindanao to woo a region that overwhelmingly supported leaders of the opposition in 2010.
On Tuesday, March 4, Team PNoy visits Sultan Kudarat and cities in South Cotobato, before making stops at General Santos City and Davao City on Wednesday, March 5. It will wrap off its Southern Mindanao tour on Thursday, March 6 with a rally in Tagum City, Davao Oriental.
The efforts of Team PNoy to keep exposing its candidates to Mindanao is understandable. In the 2010 presidential race, it overwhelmingly supported former president Joseph Estrada over now president Benigno Aquino III. Estrada's running mate, vice president Jejomar Binay, also got the same support over Aquino's vice presidential bet Mar Roxas.
Estrada beat President Benigno Aquino III in 12 provinces in Mindanao, in addition to 12 more in Luzon. The former president is so popular in the area that he got the largest number of votes in Mindanao ever given to a senator, vice president, and a president.
The trends are consistent in Southern Mindanao.
In all the provinces Aquino's coalition plans to visit, he lost to Estrada. It is a potential problem area for Team PNoy, considering Estrada and Binay are now the leaders of the opposition, United Nationalist Alliance (UNA). Estrada joined his coalition when it visited Northern Mindanao last week, where he pushed for their senatorial bets.
Sabah context
There is also the context of Sabah, where Malaysian authorities and Filipino gunmen are in a standoff, causing a bloody firefight that has claimed the lives of at least 26 people. Malaysia launched fresh attacks on Tuesday.
Gunfire first broke out in Sabah last Friday, March 1, between the followers of former Sulu Sultan Jamalul Kiram III and Malaysian security forces, which potentially strains the Bangsamoro Framework Agreement put forward by the administration. The framework is considered one of Aquino's biggest achievements during his term so far, and has been emphasized by the coalition during their trip to Northern Mindanao.
UNA candidates have criticized President Aquino's handling of the Sabah problem.
But Team PNoy spokesperson Miro Quimbo expressed confidence that Aquino's peace process continues to enjoy the support of leaders in Mindanao.
"Judging from how the leaders in Mindanao reacted (to Kiram's decision), there's no consolidated support for this particular undertaking," he told Rappler. In fact, Quimbo said they will further emphasize the peace process this week during their trip especially in light of the Sabah conflict.
Individually, the regions may not carry many votes. But collectively it is a significant number. South Cotobato (with General Santos City) has 669,432 registered voters, Sultan Kudarat has 396,841, Davao del Sur has 1,491,806 and Davao Oriental has 304,552.
Estrada's opposite
Team PNoy is aware of Estrada's popularity in Mindanao. Quimbo attributes this to Estrada being able "to drive a wedge between Christians and Muslims."
"Electorally, if you want to win in Mindanao, the easiest way is to separate, to create a war between the Christians and the Muslims," Quimbo said.
Estrada has repeatedly said that the 2010 results were proof of Mindanao's approval of a controversial decision he made as president: to declare an all-out war against the Moro Islamic Liberation Front (MILF) in 2000.
The war led to the fall of the MILF base Camp Abubakar, and claimed hundreds of lives. Despite the backlash, Estrada points to the 2010 race as "the vote of the families that wanted peace."
While it may have been popular, Team PNoy will stick with its own strategy -- to back the President in what Quimbo calls "diametrically oppressed to what [Aquino] is pursuing."
"You've seen with the peace process how he can galvanize. The President has taken a different route in Mindanao, a more difficult route for that matter," he said.
Quimbo said he believes opinion surrounding the topic has changed in 3 years, and that Muslims in Mindanao are ready to "give peace a second chance," because of Aquino. "[Now], you have a president who has the credibility to carry out a peace process. There have been many presidents in the past who have proposed to do it because it's the right way to do it. But nobody has been able to," Quimbo said. "[Mindanao has] never trusted anyone because its double speak for a lot of politicians." Aquino, however, is the "only one" who can achieve just that, he said.
Other issues
When UNA visited Mindanao in recent days, their message to the crowd was simple: the administration is not doing enough to address Mindanao's concerns like Sabah, the power crisis, and the needs of the victims of Typhoon Pablo.
But Team PNoy refuted this claim and said it would discuss these issues during their visit.
"I've personally talked to (Energy) Sec Jericho Petilla and he has outlined the plan that will be presented and will address the power issue in Mindanao. It is a very specific issue. It is an issue that we are addressing," said Drilon.
Quimbo also said candidates are expected to speak about what they have done for the victims of Pablo, which ravaged the region last year. The regeneration of the area as the nation's food basket will be another issue of focus. - Rappler.com