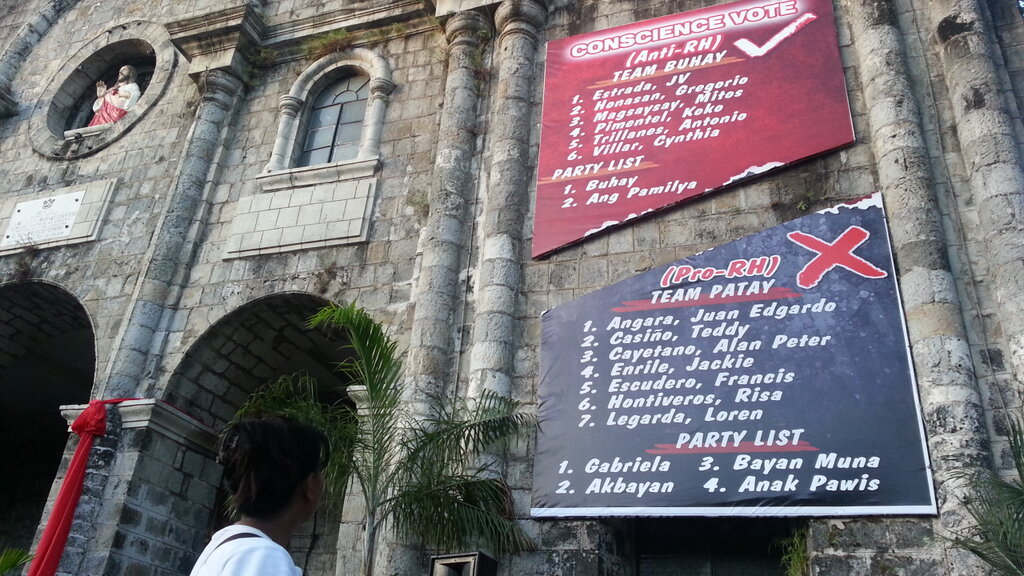 'NEW' LOOK. The smaller 'conscience vote' tarpaulins now comply with size requirements. Photo by CHARLIE SACEDA
MANILA, Philippines (UPDATED) - The Supreme Court on Tuesday, March 5 stopped the Commission on Elections (Comelec) from enforcing its order to have tarpaulins with names of candidates who were for or against the reproductive health law taken down in Bacolod.
The SC issued the temporary restraining order sought by the Bacolod diocese, which posted oversized "Team Patay, Team Buhay" tarpaulins in San Sebastian Cathedral.
"Team Patay" contained the names of candidates who supported the controversial RH law, while "Team Buhay" has the names of those who were against its passage.
Comelec ordered the Bacolod diocese to remove the tarpaulins because they were oversized. The diocese argued, however that they were put up in church grounds and should not be covered by the restriction on campaign materials.
The Comelec was set to file an election offense against the Bacolod diocese, but the TRO would effectively prevent them from doing so. The SC also set the oral arguments on March 19 in Manila.
Poll body 'welcomes' case
In a tweet on Monday, March 4, Comelec chair Sixto Brillantes Jr said the poll body "welcomes" the suit filed by the Bacolod Diocese before the SC.
"We maintain, however, that the Team Buhay/Patay tarpaulin is an 'election propaganda' and thus covered by the size restriction imposed by law," Brillantes said.
He added that the Comelec is not acting unreasonably for asking the diocese to take down the tarpaulin. He said the Comelec, after all, sent it two notices on this, which it disregarded.
"I'm saddened by the defiance of the local diocese as the Catholic Church is a trusted and long-time partner in securing orderly elections," Brillantes said.
In Bacolod City, Bishop Vicente Navarra described the TRO as a "miracle" of St. Therese.
The pilgrim relics of St. Therese of the Child Jesus and Holy Face, one of the most popular saints of the Catholic church, arrived on Tuesday, March 5, in Negros Occidental.
"We are not fighting for our personal fight, we are fighting the fight of God to defend His rights," Navarra,who officiated the mass for the relics of St. Therese upon arrival at the San Sebastian Cathedral, said. - With reports from Paterno Esmaquel II and Gilbert Bayoran in Bacolod City/Rappler.com