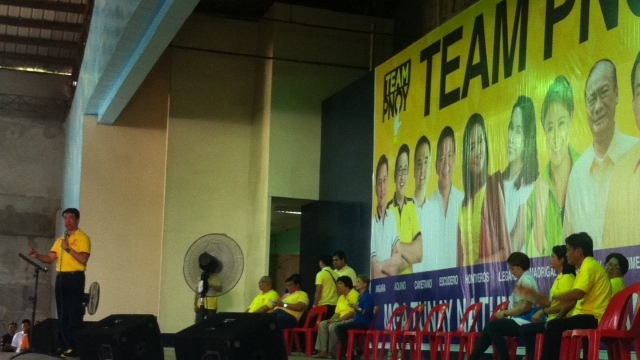 EMPTY STAGE. Few Team PNoy bets showed up in Sultan Kudarat to the dismay of locals. Photo by Natashya Gutierrez.
SULTAN KUDARAT, Philippines - The crowd was underwhelming and underwhelmed.
Team PNoy, the coalition of President Benigno Aquino III, held a rally in Tacurong City here where a relatively small crowd showed little excitement and tepid reaction to the bets on stage.
Perhaps it was because only a few senatorial hopefuls came: Former senators Jamby Madrigal, Jun Magasaysay Jr., Akbayan Rep Risa Hontiveros -- the 3 who have yet to make it to the Magic 12 in the surveys. Later, re-electionist Koko Pimentel, the lone Mindanaoan bet in Team PNoy, joined his teammates.
Or perhaps it was the fact the rally started almost two hours behind schedule. Or maybe, it was just proof that Mindanao is still "Erap country."
In the 2010 presidential race, Mindanao overwhelmingly supported former president Joseph Estrada over now president Aquino. Estrada's running mate, Vice President Jejomar Binay, also got the same support over Aquino's vice presidential bet Mar Roxas.
Estrada beat President Benigno Aquino III in 12 provinces in Mindanao, in addition to 12 more in Luzon. The former president is so popular in the area that he got the largest number of votes in Mindanao ever given to a senator, vice president, and a president.
And it sure felt that way on Tuesday, March 5, during Team PNoy's visit here.
While posters of bets lined the venue and a huge tarpaulin of the coalition's candidates served as backdrop of the stage, there was little fanfare over the senatorial hopefuls and the 3 other proxies sent by former censors chief Grace Poe, Aurora Rep Sonny Angara and social entrepreneur Bam Aquino.
Top-ranked senator Loren Legarda joined later rallies in South Cotobato, but it was pretty much the same atmosphere even in the province, where they visited the cities of Koronadal, Tupi and Polomolok.
Lethargic crowd
Administration bets have expressed confidence times have changed, and Mindanao would now surely support Aquino, but by the looks of the unexciting rallies, the coalition still has work to do.
The crowd was most responsive to Madrigal who gave away her customary plastic bracelets, but the enthusiasm was not sustained throughout her speech.
There was little reaction to the candidates' messages, even when the crowd was addressed by the bets. Hontiveros delivered her usual speech, asking the people if they choose to do "urong o sulong (take steps backward or forward)" but voices were thin in their response.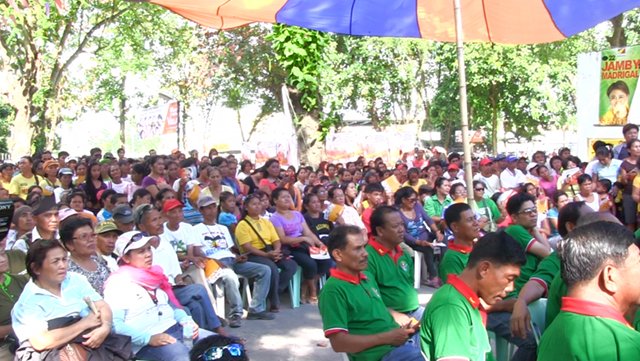 SMALL CROWD. Team PNoy's crowds were small in number in Southern Mindanao. Photo by Franz Lopez.
Even Pimentel's version of John Lennon's song "Imagine," in which he addresses electoral cheating, was not received as warmly compared to other times he sang it.
And the reception was much less for proxies, even for former actress Sheryl Cruz who represented Poe.
It was a stark contrast to the crowds that came to see the coalition in Northern Mindanao, where Team PNoy was received excitedly by supporters in Bukidnon, Misamis Oriental and Cagayan de Oro City. In those rallies, there was a lot of singing, dancing and squealing, a drastically different atmosphere from the reception here.
The rallies come days after Estrada criticized the coalition for the small number it is able to gather in its sorties, scoffing at their crowds in comparison to theirs. UNA staged a show of force in Northern Mindanao.
Disappointing attendance
Campaign manager Franklin Drilon admitted the attendance of his slate was less than preferred, acknowledging it would be better if the candidates appeared before voters themselves to have their "personal presence felt."
"This is the reality of the campaign… it is difficult to cover all the regions in the country," he said. "There is limited time, that's why you have to find substitutes."
Drilon said other candidates have also chosen to do their own campaigning around the area.
Netizens also expressed their disappointment over what they lamented as poor planning.
Marielle Estevar, @Mar3st on Twitter, posted several tweets to share her thoughts.
"Well so sad that only 3 Team PNoy senatorial candidates. Should I vote only for those who are present? #disappointed."
She continued, "When we heard only few bets are coming, majority of the residents decided not to watch the rally. More so, there were no advance info that they will visit here."
President Benigno Aquino III will join his coalition on Wednesday, March 6, when they visit General Santos City and Davao City. More candidates are expected to attend sorties there.
Perhaps the crowds will be bigger and more enthusiastic then. - Rappler.com