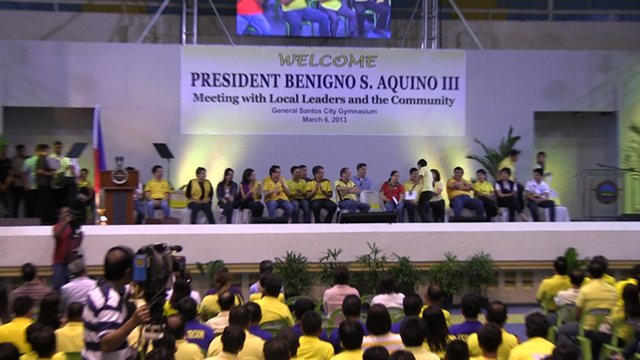 INSENSITIVE? President Benigno Aquino III attends sorties in Mindanao to endorse his slate while Sabah conflict is ongoing. Photo by Franz Lopez.
DAVAO CITY, Philippines - While violence in Sabah continued, President Benigno Aquino III attended not just one but two sorties in Mindanao where he pushed for his coalition, Team PNoy.
Aquino first joined his bets in General Santos City before a packed gym of yellow-clad voters, and later in Davao City in an outdoor, evening rally.
His visits come a day after protests broke out in Manila in front of the Embassy of Malaysia, accusing Aquino of mishandling the situation in Sabah which saw at least 19 Filipinos dead. Aquino also received some backlash for attending a sortie in Pampanga on Friday, March 1, the day the Malaysians launched their first assault on the armed Filipinos in Sabah.
Earlier that day, gunfire broke out in Sabah between the followers of one of the Sultan of Sulu's heirs, Jamalul Kiram III, and Malaysian police at the disputed island, after a 17-day standoff. Kiram's supporters have refused to leave despite escalated violence there and please from the administration to return to the Philippines.
But Aquino's candidates saw nothing wrong with his decision to join his slate.
Mindanao-born re-electionist Koko Pimentel said "sorties do not hamper governance," especially because he can monitor the situation because of "the wireless communications age" and "technology." He said his attendance on the campaign trail does not mean he is not on top of the situation.
"If the President's schedule can accommodate going to sorties then why not? Just because there is Sabah he will lock himself in Malacañang Palace?," he asked.
Meeting leaders
Other Team PNoy candidates agreed his attendance is a non-issue.
Former senator Jamby Madrigal refused to look at Aquino's visit in Mindanao as just election-related. She said his being here is actually a good thing -- because it allows him to speak with those most affected by the conflict in Sabah, the Mindanaons.
"It's good that he's reaching out to people in Mindanao. I think you shouldn't look at this as just campaigning, you should look at this as the President trying to get the opinions, the consensus of all the people affected by the Sabah standoff," she said.
Campaign manager Franklin Drilon agreed with Madrigal, adding that Aquino had been meeting with leaders in the area about Sabah while he was here.
Aquino's efforts are likely needed to bolster his coalition, after he lost in Mindanao in 2010 to former president Joseph Estrada who now heads the opposition United Nationalist Alliance.
'What do they want me to do?'
In both of his speeches in General Santos City and Davao City, Aquino endorsed each and every one of his Team PNoy bets. He also talked about Sabah, and defended his stance on the issue.
He even apologized for getting emotional about the subject in General Santos City, where he recalled an ambush incident he was involved in -- to highlight the seriousness of the loss of lives.
In Davao City, he also criticized Kiram and his followers for "only thinking about themselves and not the welfare of the people."
"What do they want me to do? If I send armed men over there, do you think Malaysia will let us be?"
He continued, "You think they'll give us sampaguita when we confront them with M-16s?"
Aquino has been accused by Kiram of siding with the Malaysians instead of Filipinos. The opposition has also slammed Aquino for supposedly sending mixed signals to Kiram and his followers which they said contributed to the violence.
Others, like Zambales Rep Mitos Magsayaysay, an UNA bet, questioned why Aquino campaigned during the standoff, and said he had the wrong priorities.
Netizens react
On social media, netizens also voiced their mixed reactions on Aquino's decision to attend sorties in Mindanao.
Many defended Aquino, agreeing he had other affairs to tend to.
Lala Macaraeg or @LalaMacaraeg on Twitter posted, "Nothing wrong with it. He can't be held hostage by that crisis as well. As long as he's not NOT attending to matters pertaining."
Her view was echoed by @raggster or Jego Ragragio, who said, "As long as the DFA keeps its eyes on the ball, then it's fine. Political agency, DFA execs are an extension of PNoy himself," he said, referring to the Department of Foreign Affairs.
But still others reacted sharply and expressed their disappointment.
Mark Anthony Neri or @MarkAnthonyNeri on the social media site said, "He needs to set his priorities straight. Fix the Sabah conflict first then return to the sorties."
Another Twitter user, Lady Ann Salem or @ladyannsalem agreed. She posted, "OMG. The gall, the nerve of this insensitive, unfit President. Callous to Pinoys suffering and dying in Sabah." To which user account @commmentator replied," You're blaming the Sabah incident on PNoy? You want him to go to Sabah and carry people with him back to PH?"
Aquino was scheduled to spend the night in Davao City. - Rappler.com